El Tri readies for busy 2013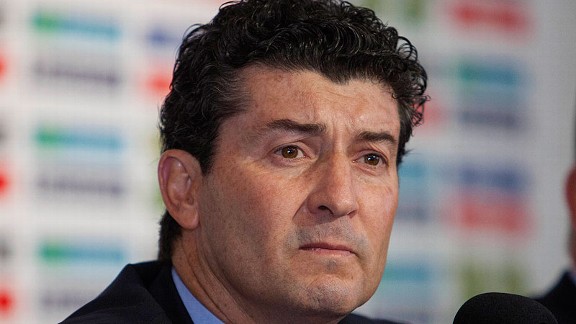 Miguel Tovar/LatinContent/Getty ImagesJose Manuel 'Chepo' de la Torre's Mexico side will be very busy in 2013 starting with this week's friendy versus Denmark.
Mexico takes the field for its first test of 2013 on Wednesday night in Phoenix, in a game that means more than it might seem on a surface level.

This first match of the year is a chance for Jose Manuel 'Chepo' de la Torre to experiment with a few areas and try to create some confidence and depth across the board.

El Tri has emerged internationally as a threat on the back of some spectacular play from its European-based stars and solid contributions from the rest of an up-and-coming group. And the rest of that group -- those aside from Giovani Dos Santos, Javier Hernandez, Hector Moreno and Andres Guardado -- will be leaned on more heavily in 2013 as the calendar gets more congested and the constant travel potentially begins to wear on their aforementioned European-based stars.

The latest roster shows that De la Torre continues to look for that depth. Inclusions such as Raul Jimenez, Jesus Molina and Paul Aguilar demonstrate that there's still a chance to make the team just about everywhere on the field.

With the year about to get underway in Phoenix, here's a look at some of those battles down on the depth chart, and some situations that could be key to El Tri's all-around success in the year to come.

Center back

Center back is a prime candidate to become a problematic spot for El Tri in 2013.

Maza Rodriguez and Hector Moreno have been a solid pairing for years. Though Moreno continues to go strong in Spain, Rodriguez's departure from the Bundesliga and move back to Mexico could spell eventual trouble for El Tri. Club America is a great place for Maza to get the playing time he hadn't been getting in Europe, but the question becomes: How much more does he have in the tank?

The safe bet is that it is enough to make it through the World Cup 2014 near the top of his game, but under the circumstances the backup center back spots become all the more important.

In step Olympic heroes Diego Reyes and Hiram Mier, who are now set to break out for the full national team. Both have impressed at the club level in Mexico, but with Reyes set to embark on an overseas adventure to FC Porto this summer that could entail a long adjustment period, the older and more experienced Mier may be a better bet to step in immediately should El Tri need a stand in at center back.

Without Moreno in Arizona, the center back pairing for the Denmark match will go a long way towards determining what this crucial spot might look like for Mexico in 2013 and beyond. Keep a close eye on the starting tandem.

Approach to the central midfield

Holding midfield is a key spot in De la Torre's scheme -- in fact, he likes defensive midfielders so much that he usually plays with two -- and he's got plenty to choose from. That makes the continued inclusion of Carlos Salcido in the squad all the more interesting. Salcido is clearly a player on the decline, while others at the spot are rocketing upwards. But to this point, De la Torre has stuck with his veteran leader.

Jorge Enriquez and Hector Herrera provide interesting alternatives, and are especially complementary alongside each other. A pairing of the two young Olympians promises an attack-oriented, forward-looking Mexico side capable of playing the aggressive football that fans want to see.

The friendly with Denmark will give us an idea of whether that possibility has even crossed De la Torre's mind.

Forwards and formations

A final question to be answered on Wednesday night: What type of formation will Mexico use, especially in the attack?

El Tri's talent at different spots begs for a 4-4-1-1, with the likes of Marco Fabian or Dos Santos ultimately playing in the hole behind Hernandez. If that's what De la Torre plans to do in qualifying and the Confederations Cup, it would be best to audition the current squad for those spots as well.

But of late, De la Torre has preferred a 4-4-2 with two target men -- a somewhat confounding choice given the manner in which the Mexican attack tends to stagnate with two targets in the way of the upward movement of its lightning quick wingers and attacking midfielders.

Without Hernandez on Wednesday, it would make a lot of sense for De la Torre to try Fabian from the start in that forward spot behind Oribe Peralta, allowing the wingers more space to roam on the flanks.

Starting with two target forwards instead -- especially if it's Peralta plus Aldo Di Nigris --- means more waiting on the two-target man approach to bear fruit.