Herculez Gomez earns his stripes playing in Mexico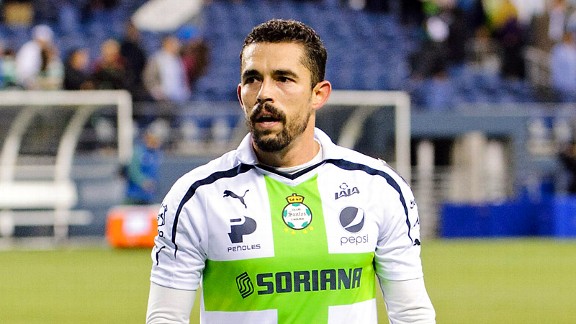 Steven Bisig/USA TODAY SportsSantos Laguna and USMNT striker Herculez Gomez has won league titles in both MLS and Liga MX.
The first U.S. President to meet Santos Laguna forward Herculez Gomez messed up his name, calling him Hector. That was back in 2005, when his goal-scoring accomplishments with the Los Angeles Galaxy had earned Gomez an invite from George W. Bush to an event celebrating Hispanic Heritage Month. The mistake could be a metaphor to Major League Soccer itself, where Gomez went from a championship in 2005 to seemingly washed out of the league by 2009.

It was Mexico that helped Gomez rescue his career. He signed with Puebla in early 2010, then went on a scoring tear, eventually leading the league in goals, earning a return to the U.S. national team and eventually, a spot on the American team for the 2010 World Cup. At the send-off ceremony for the squad, both President Barack Obama and former president Bill Clinton were on hand to wish Gomez the best.

The first time Gomez played in Mexico, however, things didn't go so well. In 2001, he signed on with the reserve squad of Cruz Azul, then went on to play for Aguilas Blancas de Puebla, before signing with Durango. A lack of playing time frustrated Gomez and he contemplated leaving the game entirely.

It was the U.S.A. which turned things around for Gomez. He moved up from lower-division soccer in San Diego to the Los Angeles Galaxy in 2002, just before that club's first MLS championship. After loan and injury spells, Gomez became an integral part of the next Galaxy squad to win the title in 2005.

The first time an MLS team won the CONCACAF Champions Cup, it was in 1998 when D.C. United, under current Galaxy coach Bruce Arena, managed to defeat Toluca in the final. That game was played in D.C. United's RFK Stadium, giving a clear advantage to the eventual victors.

It was Mexico that dominated CONCACAF club competition, however, once the current home-and-away format was instituted in 2008. Not only have Liga MX teams won every CONCAChampions tournament since then, but they have also provided the final opponent every year but one, when Real Salt Lake had a chance at the title in 2011.

The first time Santos Laguna and Monterrey played each other for the title was only last year, and Monterrey was triumphant by a single goal. Now Monterrey is gunning for its third title, though it must finish off the Los Angeles Galaxy first.

It was the U.S.A. club which became the last MLS team to win the old CONCACAF tournament. Back then, Sigi Schmid coached the L.A. Galaxy, and they claimed the title versus Olimpia of Honduras. On April 9 versus Santos Laguna, the current Seattle Sounders coach could only look on helplessly as his squad fell short of the final goal needed to eliminate the opposition and advance to the final. Yet the charged atmosphere when the possibility existed revealed the importance of the international competition. Though the dominance by Liga MX clubs is evident, the effort to stay on top helps them maintain a high standard.

The first time any player claimed league titles in both MLS and Liga MX, it was Herculez Gomez accomplishing the feat, after Santos Laguna won the 2012 Clausura. As a key part of their current advance to the CONCAChampions final again, adding that triumph to his MLS and Liga Mx trophies would be sweet indeed.

It was Mexico that probably expected to have a national team player of theirs dominate the USA league and win championships in both countries. After all, Mexico's league was the established one, already experienced in developing players. But Mexico tends to keep its own talent, or send certain young hopefuls to Europe, rather than MLS. Though the likes of Cuauhtemoc Blanco and Omar Bravo played in MLS after winning championships in Mexico, they weren't in their prime and best form.

The first time I wrote about Herculez Gomez, he was still internationally eligible to play for either the USA or Mexico. Because he felt deep connections to both countries, he was open to either option. In 2007, he represented the USA in their ill-fated Copa America campaign, and some probably thought that would be the extent of his international career. It wasn't, of course, but neither was the 2010 World Cup.

It was the USA versus Jamaica in 2012 when Gomez last scored for the Stars and Stripes, but the veteran has also provided leadership to the American squad when called upon. With the USA team in a bit of a crisis in early 2013 after media reports of dissent with coach Jurgen Klinsmann, Gomez used his experience with the Mexican press to give his teammates a lesson in dealing with criticism, basically calling the American reporting soft by comparison to that of journalists who cover Liga MX and El Tri. In a sense, Gomez is actually a media presence into his own now. The player who would stay after games to greet fans now posts regularly on Twitter to his nearly 70,000 followers.


On a serious note, Seattle fans are pretty classy. Much appreciated applause on my way out to the tunnel. Very proud to represent! #USMNT

— herculez gomez (@herculezg) April 3, 2013


The first time an American held aloft the CONCACAF Champions League trophy, it was Jose "Gringo" Torres with Pachuca in 2010 --the same year he went to the World Cup with Gomez. Torres is now helping Tigres in their march to Liga MX perfection. Gomez, meanwhile, will wait for either a chance at revenge versus Monterrey or a shot at facing his old MLS club. He has racked up a total of nine goals versus MLS competition in the CCL.

It was Mexico which taught Gomez to appreciate the skills of ball control and game management, skills that MLS teams still don't seem to be able to put together well versus international competition. But even if American teams still struggle to reach the CCL final, let alone win the trophy, with players like Torres and Gomez it's clear there's a cross-border interchange of soccer talent and development between the USA and Mexico.