Vela is sailing in Spain while adrift from El Tri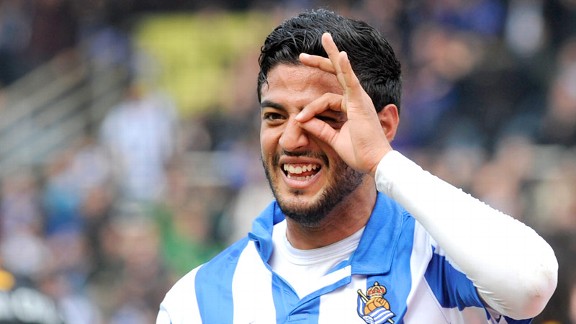 Ander Gillenea/Getty ImagesMexican Carlos Vela is one reason Spanish club Real Sociedad is thinking Champions League.
Carlos Vela is a star striker coming into his own in seemingly every regard - except with the national team of Mexico. Playing for Real Sociedad against Malaga in Spain's La Liga action, the forward had a classic poacher's goal, using a quick reaction to put away the rebound from the goalkeeper's initial save. It wasn't an amazing goal, perhaps, but it was a historic one, since it was the 3000th league goal in La Real's history. The strike also helped propel Real Sociedad to a 4-2 victory over Malaga, and closer to securing a Champions League spot for next season. They hold fourth place in the league table, thanks in large part to Vela, who has contributed over a dozen goals in the campaign thus far.

Real Sociedad and Vela have been such an ideal match that the striker turned down an opportunity to return to former club Arsenal last year, instructing his agent to secure a permanent deal to the Basque organization instead. Vela has thrived there after bouncing around on previous loans and only finding intermittent playing time in England with the Gunners.

In so many ways, Vela would seem to be the ideal solution for the problems of Mexico's current national team. He was born in Cancun and nurtured in the youth team cradle of the nation's most beloved club, Guadalajara. He was the Golden Boot winner who led the U-17 El Tri to their first youth World Cup Championship in Peru in 2005. He was the half-time substitution that sparked Mexico versus the United States in the 2009 Gold Cup final, helping to turn a 0-0 deadlock to a 5-0 rout. He is currently scoring in Spain at a rate not seen for a Mexican player abroad since the heyday of Hugo Sanchez.

- Rafael Ramos: Veterans needed to rescue El Tri

Meanwhile, El Tri has struggled to score in World Cup qualifying, unable to manage even a single goal in the last two matches in the famed Azteca.

No less an authority than the Pentapichi himself, Sanchez, opined in a column recently that Vela would help the squad. "(Vela) can help the team improve, both in quality and talent. We have to use the weapons we have that are available, and even more so when we're losing the sporting battle."

Of course, Vela's absence from the squad isn't accidental, nor innocent on his part. After all, it was his choice to engage in the post-game activities with other national team stars on that fateful September night in 2010 following a friendly versus Colombia. Drinking, breaking curfew and partying with prostitutes resulted in a six-month fine for Vela and Efrain Juarez, but the punishment seemed mostly symbolic, given that they would only miss a single friendly during that time.

The incident seemed to trigger something, though. Up to that point, Vela's flashes of talent had generally been for the benefit of El Tri. Now, his club career is rolling merrily along, while he last played for Mexico over two years ago in a friendly. "Personal reasons" have been his excuse when refusing the call-up invitations from El Tri coach Jose Manuel 'Chepo' de la Torre.

These could be resentment of some kind, or internal conflict with coaches, teammates, weariness of the microscope Mexican players are subjected to by press and fans, or a simple desire to avoid derailing his club career momentum with long trips from Europe to the American continent for matches where he might incur an injury. No one really knows, except for Vela himself.

"If Vela doesn't want to come back to the national team," stated former El Tri coach Ricardo Lavolpe in a recent interview with ESPNDeportes analyzing Mexico's issues, "there are others. Guardado, Aquino, Barrera. . ."

Lavolpe's right, of course, though Pablo Barrera's anterior cruciate ligament injury means he will be unavailable for Mexico's entire qualifying effort. The others have talent, but they haven't been able to be effective so far.

"I believe Vela can be the player who reverses the current path of the national team and gets it going where it needs to be," claimed Sanchez, who also guided Mexico as a coach for a time.

Perhaps there he made contacts that have informed him that Vela's absence from the team can be remedied if more effort is made on behalf of team administrators to heal the breach. Sanchez painted a rosy picture of a future for El Tri that included Vela.

"'Chepo' and some directors could relax a little, giving Carlos the opportunity to show that he's the Mexican player in the best present form which should be used to the team's advantage," Sanchez said.

While few doubt that Mexico will eventually right the ship and qualify for the World Cup in Brazil, Vela's prodigal son return would be cause for celebration among El Tri fans indeed.