Calling for experienced players to rescue El Tri
MEXICO CITY -- Crisis. Nobody can reject or dismiss this diagnosis. Mexico's improvement against Honduras wasn't backed up in the game against the United States.

The numbers are daunting: 3 out of 9 possible points; 21 still to play for and Mexico needs at least 57 percent of them to qualify for the Brazil 2014 World Cup.

Crisis, because Mexico faced the worst version of a U.S. team whose best weapon was playing old school, far from Jurgen Klinsmann's offensive aspirations.

Is there a solution? It must be dramatic, possibly unpopular, and very likely far from the horizons in Chepo de la Torre's vision.

Mexico's national team has good soccer players who are also very committed. But the desire to keep promises, to satisfy demands and to carry out assigned missions, weighs them down to the point of desperation.

Nobody can deny the ability that Chicharito, Giovani, Guardado, Aquino, Zavala, Meza, Reyes, Ochoa, Corona, Moreno have, but the reality is that nowadays they don't pool their efforts, they don't perform where it matters: on the scoreboard.

Against the United States, Mexico was dominant once again, at times and particularly at the end of the game. They took the enemy by the back of the neck, but let it live when it seemed suffocating the foe was next.

Depth and efficacy are the urgent needs right now. It's not enough to prowl the penalty area, and crosses to the area solve nothing when rival players are taller and stronger athletically.

It would also be a foolish and useless exercise to try to prove whether two fouls in the United States' area were penalties, when they weren't called. In the end, those eventual referee errors only contrast with the insufficient results.

It's true: if those two fouls in the area against Jamaica had been called, or if the penalty against Honduras had not been called, or if the two against the United States had been called, this probably wouldn't be an issue. But the only countable reality consists of the aforementioned numbers.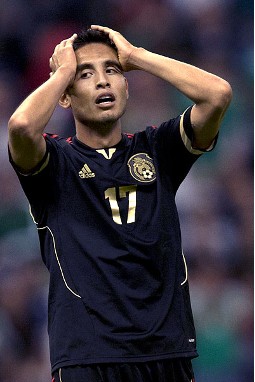 Yuri Cortez/AFP/Getty ImagesJesus Zavala shows the desperation that now has Mexico against the ropes in World Cup qualifying.
Simply put, Mexico didn't know how to play against Jamaica and couldn't play against Honduras and the United States. Thus, its possibilities for qualifying, with worse numbers than under Enrique Meza and Sven-Goran Eriksson, are compromised at this point.

Urgent measures? Mexico does not have an abundance of players to provide the required depth and efficacy.

It has already been said in this blog that Mexico's ideal forward line includes Oribe Peralta and Carlos Vela, but the former was injured and the latter must be laughing at El Tri's financial misfortunes in CONCACAF's Hexagonal round.

When it was his turn to rescue the team, Javier Aguirre always turned to very experienced players, who were far from being valued in their own Mexican soccer, much less in Europe.

Several weeks ago, I completely ruled out Sinha; in fact, I suggested his retirement. But after 180 minutes, and even with his decreased level of play and his irregularity at Toluca these days, he is El Tri's compelling player to stop the action followed by penetration.

True, it would be necessary to reaccommodate the set plays, the routes and the tempo that Mexico plays at present. But in a time of emergency, urgent changes are a must, though this may imply benching or switching around players like Gio and Aquino.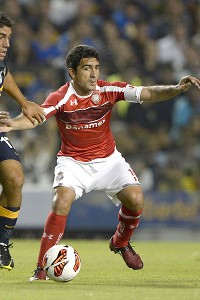 Juan Mabromata/Getty ImagesSinha, a naturalized Mexican born in Brazil, became the first foreign-born player to score a goal for El Tri.
The reality is that given his status as a naturalized citizen, Sinha reminds us that there is no other player with his attributes, even when he goes through the eventual and inevitable age deterioration. His precise passes and full complicity with teammates highlight the inadequacy in those areas in getting the ball to a forward such as Chicharito, who shows he knows how to connect in favorable conditions. Those conditions can be created by Sinha.

It's true that credit and merit must be given to Mexico's rivals in the first three games of this Hexagonal. But what can't be denied is Mexico's deficiency in establishing dominance in the periphery of their adversary's penalty area, a zone that Jamaica and the United States guarded very well and which Honduras' national team recuperated by kicking it into overdrive.

The time has come to follow Aguirre's formula without bringing Aguirre in: call up players who may not make it to the World Cup, veterans who deliver the ticket to Brazil 2014, like Miguel Sabah did the last time around in qualifying, with a redeeming goal.

On top of everything, Mexico, devalued and dragging its charisma and credibility, is facing two international friendlies (Peru and Nigeria) of which Chepo de la Torre (?) must take advantage, with his team and points total in dire straits.