Calling on Europe, 8 added to El Tri roster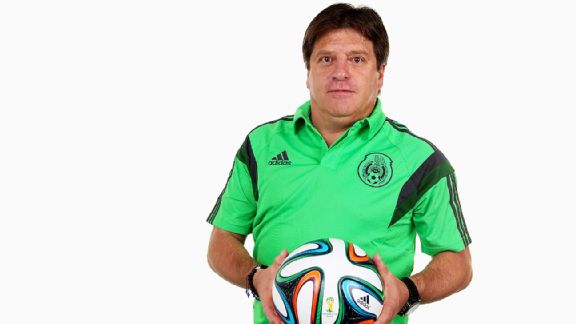 Friedemann Vogel/Getty ImagesMexico manager Miguel Herrera is closing in on his World Cup roster.
With the latest lineup of El Tri players released, Miguel Herrera's prefered team is emerging. While still heavy on Club America players (five), it's not the TriAmerica of previous editions. Against Nigeria in the upcoming friendly on March 5 (8:30PM ET on ESPNEWS, WatchESPN) at the Georgia Dome, fans will finally be able to see how Herrera incorporates the European-based Mexican players into his system.

Certain domestic players have clearly emerged as his favorites, though.

There's no denying that Herrera holds veteran Rafael Marquez in great esteem, for example. The coach has avowed that the defender will go to Brazil as captain of Mexico's World Cup squad.

Everyone one else is fighting for spots, however. Alan Pulido's hat trick in Mexico's last friendly, for example, seems to have pushed Raul Jimenez out of the picture, despite his bicycle-kick miracle versus Panama in World Cup qualifying.

Meanwhile, Marco Fabian's latest run of form with Cruz Azul, while impressive to many doesn't appear to have convinced Herrera to call him.

In some ways, it's surprising that so many Club America players were called in, given that the club isn't dominating Liga MX as it once did. But Herrera sticks with those he knows, so Miguel Layun, Paul Aguilar, Moises Munoz, Juan Carlos Medina and Francisco Javier Rodriguez are all on board.

Then again, Herrera is also counting on four Leon players, even though that club is struggling even worse than Las Aguilas. Besides Marquez, Jose Juan Vasquez, Luis Montes and Carlos 'Gullit' Pena have been called on to form a key part of the squad.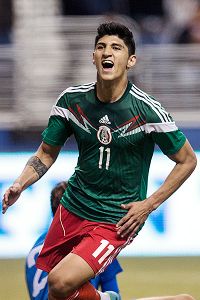 Miguel Tovar/Getty ImagesAlan Pulido will get another look after his impressive hat trick last month against South Korea.
What's interesting is that despite their heroics for the national team, Alan Pulido and Oribe Peralta have struggled somewhat in domestic action lately. Pulido's club, Tigres, is dead last in Liga MX and Peralta's scoring touch has deserted him with Santos Laguna. Yet they've managed to score with El Tri, so perhaps they are the perfect partners to help pull Javier Hernandez out of his international scoring drought. Giovani Dos Santos, while listed as a forward, will probably play more as a withdrawn forward or attacking midfielder.

Aside from Carlos Vela, the number of European players called in indicates that this match, for all intents and purposes, is their tryout for Herrera. If the participants do not disappoint, this roster could closely resemble the eventual World Cup list of players.

Players who have the most to prove include Andres Guardado, who is in a bit of a career slump. Diego Reyes is also looking for redemption after making crucial mistakes in Mexico's last match. Guillermo Ochoa will also need to have top-level performances in both practices and match play in order to convince Herrera to consider him seriously as the team's top goalkeeper. Ochoa shines as a shotstopper, while Herrera's team play requires someone who can also distribute the ball well.

Besides Pulido's goalfest, young players who have impressed Herrera in recent matches include defender Miguel Ponce and midfielder Isaac Brizuela. Both Toluca players have shown initiative and creative ability in matches to help spark Mexico's attacks.

Mexico's squad has performed well, if not brilliantly, in previous matches with Herrera in charge. His perfect coaching record of consecutive victories bears this out. With players eager to prove their worth to lock down a World Cup spot, there is every reason to think Mexico will perform well again. If not, a reshuffle of players could be the result.

From Liga MX: Jesus Corona, Moises Munoz, Paul Aguilar, Enrique Perez, Juan Carlos Valenzuela, Rafael Marquez, Francisco Javier Rodriguez, Miguel Ponce, Miguel Layun, Jose Juan Vázquez, Juan Carlos Medina, Isaac Brizuela, Luis Montes, Carlos Pena, Alan Pulido, Oribe Peralta

From Europe: Hector Moreno, Guillermo Ochoa, Javier Hernandez, Giovani Dos Santos, Javier Aquino, Hector Herrera, Diego Reyes, Andres Guardado