El Tri Hot List: Herrera continues to impress for Porto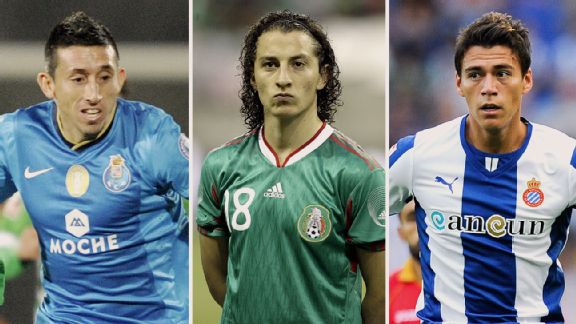 Getty Images, USA TODAY Sports, Getty ImagesThings are going well for Hector Herrera, left, and Hector Moreno, right, but Andres Guardado is struggling to adapt to life in Germany.
GUADALAJARA, Mexico -- There is a certain amount of repetition in this week's El Tri Hot List, and that is for good reason: Certain players are hitting a streak of form.

It is exactly what national team managers all over the world are looking for as the World Cup creeps up. While Mexico's Miguel Herrera may be suffering from a few sleepless nights over whom to play where and whom to leave out, especially in the midfield positions, it is a good problem to have.

Aside from the likes of Omar Bravo's two-goal performance for Chivas, who has not been included for the simple reason that he appears a long way away from making the Mexico squad for Brazil 2014. Same goes for Carlos Vela and his winner for Real Sociedad against Malaga on Monday, with the 24-year-old ruling himself out of national team contention earlier this month.

Warming up

Hector Herrera, CM, Porto (Portugal)

Why he's here: Another 90 minutes under the belt for Herrera at Portugal signals coach Paulo Fonseca believes the Mexican has adapted to life with Porto. On the field, Herrera has responded, whipping in a superb cross for Silvestre Varela for Porto's opener in the 2-1 win over Gil Vicente on Sunday and passing the ball well all game.

What this means: Herrera looks more comfortable in Europe than ever and is set to feature heavily as Porto look to chase down Benfica in Portugal's first division and win the Europa League. The competition is fierce in Mexico's midfield positions, but Herrera is edging in front.

Marco Fabian, LW, Cruz Azul (Mexico)

Why he's here: Fabian was highly involved for Cruz Azul against Puebla for the 90 minutes and then produced one inspired moment in the third minute of second-half injury time to leave the crowd purring.

Fabian nonchalantly brought a long ball down on the edge of the box, swiveled and launched a Eric Cantona-esque chip over the keeper to hand Cruz Azul a 1-0 victory and the three points.

The former Chivas player spoke on Monday of the "fresher airs" of Cruz Azul and how he is very much at ease in his new environment, something that is clear from his performances on the pitch.

What this means: Not many players have the ability to pull off such strokes of genius, and Fabian is high on confidence at the moment. A call-up to the March 5 friendly against Nigeria seems likely, but the key to Fabian being at the World Cup is him remaining consistent, something that has previously been his downfall.

Isaac Brizuela, RW, Toluca (Mexico)

Why he's here: Once again "El Conejito" makes ESPN's El Tri Hot List, thanks to a devastating display for Toluca on Saturday in its 3-0 away victory against Veracruz.

Brizuela played a defense-splitting pass for Edgar Benitez to open the scoring for Toluca and added the second himself with a deft lofted finish after being put through one-on-one with the keeper.

Like Fabian, Brizuela is riding a wave of confidence that he hopes will continue for the coming months.

What this means: There is no doubt Brizuela is now a serious contender for a World Cup place and even possibly for a start. Herrera is sure to want another look at Brizuela in the attacking midfield position next month against Nigeria.

Armando Zamorano, MF, Morelia (Mexico)

Why he's here: A quality performance in the Copa Libertadores playoff first leg against Santa Fe announced Zamorano on the big stage, but the assist for Christian Valdez's winner against America on Friday was top class. The 20-year-old scooped the ball over the defense, putting Valdez clean through.

What this means: Zamorano is very much an outsider for the national team at this stage, but he is showing that he has a big-game mentality and is one for the future. Stranger things have happened than Herrera calling Zamorano into a squad ahead of the World Cup. Just ask Pachuca's Rodolfo Pizarro.

Hector Moreno, CB, Espanyol (Spain)

Why he's here: The former Pumas player was a rock at the heart of the defense as Espanyol inflicted Athletic Bilbao's first defeat of the season on Sunday. Moreno's team is in a lofty ninth position in La Liga at present, and the Mexican is a key figure in that success story.

What this means: Moreno is well aware that there is a strong possibility he will be sold this summer, and recent performances will be attracting increasingly important suitors. In terms of El Tri, Moreno is already one of the first names on Herrera's team sheet, especially as a left-footed center back.

Cooling down

Jesus Zavala, CM, Monterrey (Mexico)

Why he's here: A regular in the national team under Jose Manuel "Chepo" de la Torre, Zavala has seen his form dip along with Monterrey's, culminating in a 2-0 loss to a Leon reserve side on Saturday that ended with fans booing the team off the pitch.

What this means: The fact Herrera didn't call up Zavala to the New Zealand playoff was a bad sign for the midfielder, but he did get the nod against South Korea. Instead of consolidating that spot, Zavala's lack of form means he is sliding down the pecking order.

Andres Guardado, LB, Bayer Leverkusen (Germany)

Why he's here: A poor debut in the German cup defeat midweek and zero minutes in the Bundesliga as Bayer fell 2-1 to Schalke add up to a poor start for Guardado at the German club.

What this means: Before Guardado can think national team and the debate over which position he should feature can begin, the 27-year-old first has to win a place at Bayer and hold it. On Tuesday, Bayer faces Paris Saint-Germain in the Champions League. Guardado's role in the encounter could be very revealing.