Ochoa's time for playing in a World Cup has passed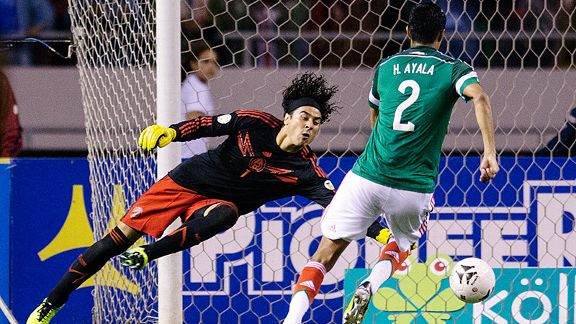 Miguel Tovar/Getty ImagesGuillermo Ochoa blocks a shot on goal against Costa Rica in a CONCACAF qualifier last October.
MEXICO CITY -- On June 11, 2010, in Johannesburg, Guillermo "Memo" Ochoa's life would change forever. It had already been foretold, but he and all of Mexico wanted to believe that it was all a bad joke on behalf of Javier Aguirre, just the coach's absentmindedness ahead of the game against South Africa. But it wasn't so; Oscar "Conejo" (Rabbit) Perez was the starting goalkeeper for El Tri's debut in the World Cup. Memo would remain on the bench for a second World Cup in a row.

Even though the decision didn't impact El Tri's performance in the end, many still don't understand it. I include myself. I am a fan of what El Conejo once was, and I applauded that he'd been called up for that World Cup, thinking he could play the same role as Pepe Reina with Spain, cheering on, providing his experience, but I never thought, or wished, that he'd be the starting keeper in South Africa. It was Ochoa's time, the time for El Tri's future goalkeeper. He was at a great moment in his career, and his first-team status seemed inevitable.

Four years prior to that, Ricardo La Volpe had taken the first step in the emergence of Mexico's goalkeeper of the future by calling him up for the 2006 World Cup in Germany, despite his youth. He wanted Ochoa to be with the group, to lose the fear of being at an event of such magnitude. La Volpe would no longer be there, but he wanted to help the team from a distance. Another one of his great contributions.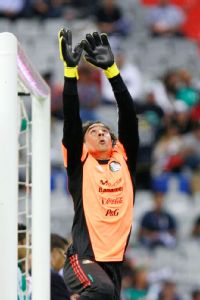 Hector Vivas/LatinContent/Getty Images"Memo" Ochoa had some decent performances in World Cup qualifiers.
But that backup role in South Africa continued to be his albatross, and in the qualifying for that World Cup, its ghost did now allow him to be undisputed starting goalkeeper. First it was Jose de Jesus "Chuy" Corona, and it ended up being Moises "Moi" Munoz. There were a couple of games in between where Ochoa had good performances. Even when they visited Honduras, he almost became El Tri's hero by stopping a penalty, but unfortunately for him, the local team was alert for the putback and the ball ended up behind him. Some even blamed him for that goal, saying he "poorly cleared the ball." Absurd.

Now he is not Mexico's best goalkeeper, at least not for me; I believe Corona is undergoing a better moment and it seems that Herrera prefers Munoz, who is on Guillermo's level. And once again, I look back to 2010 and I start over: Where would Ochoa be now if he had played against South Africa? Would he be the undisputed starter for El Tri? Would he be on a better team in Europe?

But this isn't so tragic for Mexico's national team, which has bigger concerns than its goal. Memo, Chuy or Moi, any of them can do a great job, just like four years ago there was no drama, on a team level, about whether El Conejo, Corona or Memo would be goalkeeper.

I ask myself once again: Why did they make Ochoa the eternal promise of El Tri in goal? And the feeling that he will attend his third World Cup without playing, behind three different goalkeepers, makes me think that perhaps his time for playing in a World Cup has passed ... It was back in June 2010, not 2014.