Smile for the camera, Chepo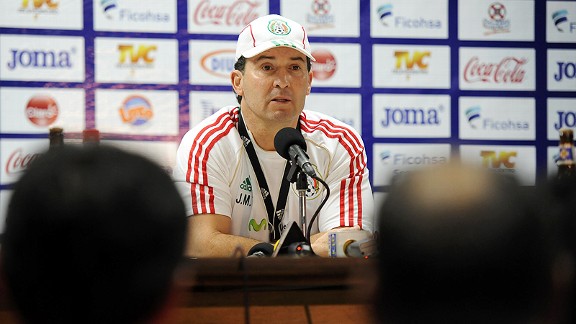 Orlando Sierra/AFP/Getty ImagesChepo de la Torre
MEXICO CITY -- On Monday, Mexico National Team coach Jose Manuel "Chepo" de la Torre put up for sale the best version of his worst product: himself. And nobody bought it.

After the hysterical, pathetic, critical news conferences in San Pedro Sula, Honduras, Chepo tried to sell a different version of himself.

From the moment he arrived at the press conference, facing a hundred mainly-Mexican members of the media, de la Torre seemed affable. He gave a friendly and relaxed greeting, as if reuniting with old friends.

Of course, the farce was short-lived. At one moment, Chepo went back to being Chepo.

Then he exploded. A reporter asked him if his mysterious discourse with so many nooks and crannies, implied that the referees had a pattern of behavior against Mexico at CONCACAF's Hexagonal round.

"Why should I have to say? You do it, you say it, you put it!... or aren't you an analyst, aren't you, or don't you dare? Do you want me to say it? We have been affected by the refereeing! There it is, I said it! Let's send in a protest with facts, videos, details on how it has affected us. That way they'll understand that it's okay that I don't complain, but that doesn't mean that I don't notice (that refereeing has the tendency to harm Mexico)," he explained.

For that intervention he was already yelling, exasperated, no longer attempting to keep calm, and ignoring the glares he was receiving from the director of national teams Hector Gonzalez Iñarritu, sitting a few rows away at the Estadio Azteca auditorium.

In fact, he reprimanded the media. "In every country, the national team has support from the media, and they speak out when refereeing is damaging. Against Jamaica there were two penalties against "Cepillo" (Oribe Peralta), and (you, the media) never said anything about the refereeing, but you did attack us."

Chepo should have understood by now that in Mexico, contrary to many other countries, the media doesn't necessarily wear the national team jersey when analyzing and informing, that is, except the television stations who sell it as their own product.

The media, through a journalistic principle, cannot, should not and, for the most part, doesn't want to turn into heralds or lawyers of their soccer national team. However, many members of the media, violating FIFA's or their company's rules, crowd the press box dressed in El Tri jerseys right in the middle of World Cup action.

On the other hand, Chepo threw out a gem, which falls precisely in that limbo of ambiguity in which he functions with phrases such as, "that's your perception," "that's your interpretation," "that's what you assume."

On Monday he confirmed and then reiterated "that the selection of Memo Ochoa" as starting goalkeeper for this phase of qualifying depends "on the circumstances surrounding each player and how it affects them, how it affects the moment they are going through," adding that "a word to the wise is sufficient."

And by quoting that explanation twice, it forces Chepo to reflect, under his own deductive doctrine, that Cruz Azul's rough period is what has cost Jose de Jesus Corona his starting spot.

At the end of the press conference -- and the videos won't lie -- Chepo posed, yes, posed, smiling, in all different directions, at every photographic and television camera, as if he wanted to win the Mister Congeniality award.

"Sometimes I flip out, it's true. I explode, but I'm the same guy as always. I haven't changed. I'm not here to make friends, nor do I have pals. And look, I can smile, a shot you don't get often," he said while he scanned the room flashing a smile more plastic than the ones that Bora Milutinovic typically gave from that spot.

In the end, the gesture calmed the waters and the relationship between Chepo and the press. But it was evidently a sham, a melodrama, a soap-opera-like performance, understandable at the end of the day once you identify the madam dedicated to making the Mexican National Team her favorite prostitute.

After that impression yesterday, with a theatrical tone, I personally promise to never complain again to the Chepo who is insolent, bad-tempered, sullen, quarrelsome, closed-minded, irascible, unfriendly, unsociable, but above all, especially, authentic, genuine.

French philosopher Jean-Paul Sartre used to say that "You and me are real people... We are all free, completely free. We can each do any damn thing we want."

On Monday, of course, Chepo tried to close old wounds, but to no avail. Instead he opened a new one: the credibility on which he genuinely and legitimately relies.

It would be a pity if in aspiring to be like all other coaches, he misses the chance of respecting and safeguarding his personality or authenticity.