El Tri Depth Chart: Optimism in 2014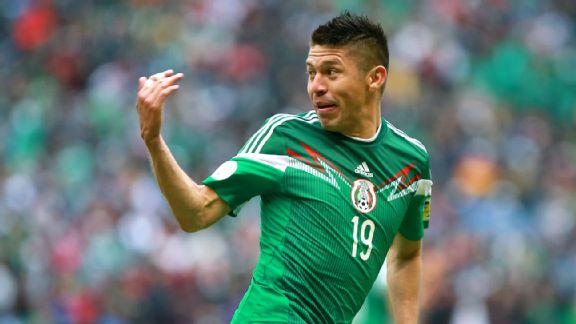 Hector Vivas/Getty ImagesOribe Peralta has one of the two Mexico striker starting spots practically locked up.
Good riddance, 2013.

The Mexican national team jumped from World Cup qualifying to the Gold Cup and on to the Confederations Cup lacking confidence, belief and a firm playing style. Fans turned against the team, and in short, El Tri looked like a collection of individuals hashed together for the first time, betraying the basics of what is expected from a Mexican national team.

It was a mess and especially damaging from a PR point of view considering that in August 2012 Mexico had accomplished its most important feat as a footballing nation with gold in the London Olympics.

Heads rolled in the fall. Jose Manuel "Chepo" de la Torre was axed as coach, Victor Manuel Vucetich lasted two games, and Miguel Herrera swooped in from Club America to guide the team past the playoff against New Zealand and into the World Cup, securing his place on the bench in Brazil in the process.

Naturally, this all has a major effect on the team's depth chart. Herrera has always adhered to a 5-3-2 formation, which in possession becomes a 3-5-2.

The headache over who will feature at right back is over, with the wing back position bringing players with quite different skill sets into play. A line has also been drawn under the debate over whether to play one or two strikers. Herrera will play with two. Period.

The problem of the defensive midfield spot appears to have a new potential solution in Juan Carlos Medina, the goalkeeping position is very much open, and the center back slots are an area of ongoing cause of concern.

Parameters
1. The 5-3-2 system will be used, with one holding midfielder and two central midfielders who need to contribute at both ends of the field. It is possible that Herrera will field two defensive midfielders against, for example, Brazil in the World Cup, but it would be only a backup plan.

2. Herrera has stated players must be getting minutes. Players like young defender Diego Reyes, who is a favorite of Herrera after their time at America, is quite capable of making a run at the starting lineup, but he is getting minutes in Portugal's second division at present, which hampers his position. Hector Herrera is playing more in Portugal, but not the ideal amount, which is the same situation Javier "Chicharito" Hernandez finds himself in at Manchester United.

3. Along the same lines, those on the long-term injury list have been discounted. Hiram Mier and Jonathan Dos Santos would likely be in the Mexico squad for Brazil 2014, but both are unlikely to have the time to prove fitness and form ahead of the event.

4. With regards to Carlos Vela, he has given no clear indication that he is available for selection. The Real Sociedad forward would walk into the Mexican national team and significantly alter the depth chart, but after almost three years on the outside, he can't be considered. It would be the easiest thing in the world for Vela to come out and say he was desperate to play in Brazil, that he would look past the problems he has had with the federation and that he was ready to wear the green jersey again. But he hasn't. Equally, Herrera seems keen that Rubens Sambueza should be involved for El Tri, but at the time of writing, FIFA hasn't given him the green light.

5. Players have been named in more than one position as little as possible to give a better insight into the overall depth at the moment. The reality is that a player like Giovani Dos Santos could come into play in one of the more attacking midfield positions while Carlos Pena has to start for Mexico with the form he is in, whether that is on the right- or left-hand side of midfield.

Starting XI: Jesus Corona; Francisco Rodriguez, Rafa Marquez (C), Hector Moreno, Miguel Layun, Andres Guardado; Juan Carlos Medina, Carlos Pena, Luis Montes; Giovani Dos Santos, Oribe Peralta.

Striker
Oribe Peralta, Santos Laguna


Peralta
What else can be said about the center forward going by the slightly strange nickname of "Hermoso" these days? Peralta was voted CONCACAF's player of 2013, scoring 19 Liga MX goals in 27 appearances and eight goals in seven World Cup qualifying games. Aside from the goal-scoring stats, Peralta can assist goals and has a work ethic that means no defender can relax for a split second when he is up against him.

2. Javier Hernandez, Manchester United


Chicharito
Hernandez's 2013 was underwhelming, and while he is playing at a much higher level than Peralta, there was mounting evidence to back up the theory that Chicharito not getting enough minutes at Manchester is related to below-par performances for El Tri.

3. Raul Jimenez, Club America


Jimenez
Chivas' Aldo de Nigris and even Tigres' Alan Pulido will have their eyes on this spot, but Jimenez holds it. The savior of the national team with a spectacular overhead kick to rescue victory against Panama in qualifying, the 22-year-old looks like he will have a long career with El Tri and is very much in the mix for a starting place already.

Second striker
Giovani Dos Santos, Villarreal


Dos Santos
The form of Dos Santos since he joined Villarreal has been a major plus for Miguel Herrera. Playing as a center forward, Dos Santos has become the type of player that so many in Mexico had hoped he would become, propelling the Yellow Submarines into the race for Champions League places in La Liga. His importance to El Tri in Brazil can't be underestimated.

2. Oribe Peralta, Santos Laguna
The 30-year-old has the intelligence to play as a second striker. With the creativity Carlos Pena, Hector Herrera and Luis Montes possess from midfield, a Peralta-Hernandez partnership has more chance of flourishing in Miguel Herrera's system than under Chepo, if Dos Santos was unavailable for any reason.

3. Raul Jimenez, Club America
Arguably, Jimenez is better playing off a main striker as he does at America. Despite his size, he is technically gifted with the ball at his feet.

Central midfield right
Carlos Pena, Leon


Pena
The Leon midfielder has started 2014 as he finished 2013, scoring vital goals and winning man-of-the-match awards with regularity. Pena walks into El Tri's starting XI at present and has the potential to be Mexico's breakout star at the World Cup.

2. Hector Herrera, Porto
The former Pachuca player ended 2013 with a fine goal for Porto, and although he would have liked more minutes in his first months in the Portuguese league, Herrera is one of Mexico's most natural talents, has an excellent attitude and is very much in the running for a starting spot in El Tri.

3. Javier Aquino, Villarreal


Aquino
It is difficult to find a place for Aquino to fit in Herrera's tactical layout, but given his energy and the great start he's had to his career in Spain, the 23-year-old is an option in midfield. Aquino is obviously a winger, but Herrera had success adapting Sambueza to a similar role at America.

Central midfield left
Luis Montes, Leon


Montes
The argument should now be at an end over just how good Montes is. The midfielder has a fine left foot, has won the Liga MX with Leon and was one of the few Mexican players to shine when he did get the chance to pull on the green jersey last year. His high energy is infectious, and he has the ability to play key passes and make things happen.

2. Andres Guardado, Valencia


Guardado
Playing the position would require some adaption from Guardado, but he's done that before in his career. Guardado has been criticized over performances in the World Cup qualifying campaign, but it should be remembered that he is in his prime, plays for one of Spain's top teams and has ample experience under his belt.

3. Alonso Escoboza, Santos Laguna


Escoboza
A real positive coming out of the Under-20 World Cup last year, Escoboza has benefited from being nurtured under the wing of Los Guerreros coach Pedro Caixinha, who has given him a first-team spot. Escoboza's other major advantage is his strong physique, which makes him look anything but a youngster on the field.

Defensive midfielder
Juan Carlos Medina, America


Medina
Medina has done little wrong, but at 30 he has little international experience and could struggle against top opposition attacking midfielders in big games. Ideally, Chivas' Jorge Enriquez would be shining in this position, but he hasn't developed as hoped.

2. Juan Jose Vazquez, Club Leon
Gerardo Torrado, Carlos Salcido and Israel Castro all appear to be off the radar at present, and Vazquez is a big mover in the defensive midfield position. Two years ago, Vazquez was playing in the second division, but like Pena and Montes, he has grown with Leon and at least deserves a shot before Brazil.

3. Jesus Molina, Club America
Medina's backup at Las Aguilas, Molina could come into play should there be a tactical shift to two defensive midfielders -- as former America coach Herrera, who is a fan of Molina, has done before at club level.

Right wing back
Miguel Layun, Club America


Layun
As remarkable a turnaround in a career as you're likely to see. Layun was the butt of an unfair social media onslaught a couple of years ago, but he's recently had to decline interest from Europe in his services. Although there may be lingering questions over his natural defensive ability, Layun has been exceptional for both club and country recently, with pace, crossing ability and stamina to get up and down the wing.

2. Paul Aguilar, Club America


Aguilar
Started twice for Mexico in early 2013 at right back and looked like he didn't belong at international level. Aguilar has flourished under Herrera, however, and is much more comfortable playing as a wing back with added protection behind him rather than as a straight right back.

3. Gerardo Flores, Cruz Azul


Flores
"Jerry" is back after a serious injury and has started the Clausura 2014 in good form, showing few signs of rustiness. A strong next couple of months could see Flores edge toward the first XI, with the player having performed well for Mexico previously and possessing the necessary characteristics Herrera seems to be looking for in the position.

Left wing back
Andres Guardado, Valencia
The 27-year-old has played wing back before, has featured regularly this season for Valencia at left back and is ideally suited to the role.

2. Miguel Layun, Club America
The right-footed Layun usually plays left wing back for America and could also do so for Mexico, depending on Herrera's outlook and how vital Aguilar is to him out on the right.

3. Jorge Torres Nilo, Tigres


Torres Nilo
A powerful unit who is constantly being linked to a European move, Torres Nilo wasn't called into Herrera's squad to face New Zealand. That was a surprise as the Tigres player has been one of the better left backs in Mexico over the past five years and appeared to be Salcido's natural replacement.

Center back right
Francisco "Maza" Rodriguez, America


Rodriguez
This isn't ideal. In a perfect world, Mier would have claimed the position for himself. But with Mier injured, Rodriguez's experience and physical presence should not be underestimated. Although he can be error prone, the 32-year-old has been a regular in Mexico's best team of 2013.

2. Juan Carlos Valenzuela, Club America
Like Rodriguez, Valenzuela has been solid for America, but the 29-year-old lacks experience at the top level for both club and country. Valenzuela isn't the tallest either, which could be a concern when Mexico plays the likes of Cameroon and Croatia in Brazil.

3. Miguel Herrera, Pachuca
The newcomer to the center back picture for the national team, the 24-year-old has fewer than 40 games under his belt in the Liga MX but has caught Herrera's eye and could come into late contention for the position.

Center back center
Rafa Marquez, Leon


Marquez
Set to become the first player to captain a country at four World Cups, Marquez has resurrected his career since joining Leon. Never the fastest center back, the 34-year-old still retains an excellent ability to read the game and distribute the ball with precision.

2. Diego Reyes, Porto


Reyes
There are two major positives for Reyes at this point. First, Herrera knows him inside out and will want him in Brazil. The second is that he has played regularly for Porto's B team in the Portuguese second division. But more minutes are required in Porto's first team if he is to consolidate a center back spot.

3. Hugo Ayala, Tigres


Ayala
Another Tigres player -- like Salcido and Torres Nilo -- to miss out on the playoff against New Zealand, Ayala has been on the fringe of the national team since the last World Cup and needs some strong performances over next few months if he is to get into the squad.

Center back left
Hector Moreno, Espanyol


Moreno
A shoo-in, the left-footed Moreno has been one of the most consistent performers for Mexico and will be hoping for a good World Cup to increase his chances of moving to a Champions League club.

2. Juan Ignacio Gonzalez, Club Leon
Another Leon regular, Gonzalez has struck up a good understanding with Marquez. Although the 29-year-old hasn't debuted for the national team, he could get his chance ahead of the World Cup.

3. Carlos Salcido, Tigres


Salcido
This very much depends on the balance between the three central defenders. You would certainly worry about the mobility of Salcido, Marquez and Rodriguez coming up against Brazil, but given the right combination, Salcido's experience could be useful.

Goalkeeper
Jesus Corona, Cruz Azul


Corona
It is a difficult choice, but Corona is in fine form in the Liga MX, he has international experience under his belt, and Herrera knows him well from their time at Estudiantes Tecos.

2. Moises Munoz, Club America
The America keeper got the nod against New Zealand after a long deliberation by Herrera, but with time between now and June, it would be no surprise if Corona was given the chance to reacquaint himself with the system.

3. Guillermo Ochoa, Ajaccio


Ochoa
Ochoa isn't in third place because of his ability or form. It is just Herrera knows the other two and has spoken positively about them. Ochoa's position isn't helped by the fact his Ajaccio team is struggling miserably at the foot of Ligue 1. Having said that, the goalkeeping position is possibly the most fluid of any.