Miguel Herrera's jigsaw puzzle
I can imagine Miguel Herrera sitting in front of the television focused on the scoring play that Real Sociedad's No. 11 just made for the third goal at Anoeta or perhaps on No. 14's dramatic shot for Manchester United in the Capital One League Cup semifinals. Then, to put together the puzzle, to imagine them, at that level, dressed in green and surrounded by other players from the domestic league. The puzzle, which is missing some pieces and has others left over, has certain logic but still needs shape. It has an image but lacks depth. The puzzle of a national team that has basic separate elements, but when these are connected to try to be a team, it does not obtain the dreamed-about results: Herrera's jigsaw puzzle, less than 140 days from the start of Brazil 2014.

More than names, more than magical or instantaneous solutions, Miguel Herrera is seeking positions, a team, a strong foundation that can give Mexico conviction for facing Cameroon's national team on the ever nigh date of June 13 at the Estadio das Dunas in Natal.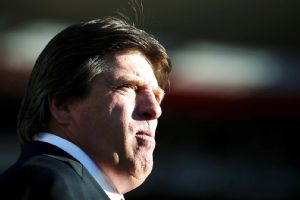 Hannah Johnston/Getty ImagesMexico manager Miguel Herrera needs to find the right fit between European and domestic league players.
And although most of the time he may think of Carlos Vela, Javier Hernandez, Andres Guardado and Giovani Dos Santos as the apparent "luxuries" that can and should amalgamate a national team such as the Mexican one, the coach seems to have his head set and determined on parts of the field, on characteristics, on situations and on game plans. Herrera knows he has little time to assemble a competitive team. He trusts that Mexican players, those who play in the top-flight leagues in Europe, will recuperate their soccer memory at last. He wants, based on what he's done in Mexican soccer with teams such as Club America and Leon, to focus on those dynamics and that type of operation.

Sadly, the track record doesn't help much. The Mexican team from World Cup qualifying, which was a mix of local and "European" players, a seemingly real national team, did not work. And the Mexican team that Herrera had in the intercontinental playoff against New Zealand found results and a level of play without the competitive conditions necessary to make a coherent analysis.

Lately some soccer stars are appearing and shining in the Liga MX. The hope that players on European teams have more activity and presence with their clubs is very much alive today, but players in Mexico function well under the scheme of a team like Leon or Club America and compete at the always dubious domestic level. And those who play in Europe seem capable of delivering results surrounded by great soccer players and immersed in the payrolls of teams that act in powerful leagues. The problem will come when Miguel Herrera has to put together the "jigsaw puzzle," when he needs for all the pieces to be connected, running, fighting and thinking in the same direction in order to face the most highly developed competition, that of a soccer World Cup. Therein will lie the problem.