A new El Tri in friendly against South Korea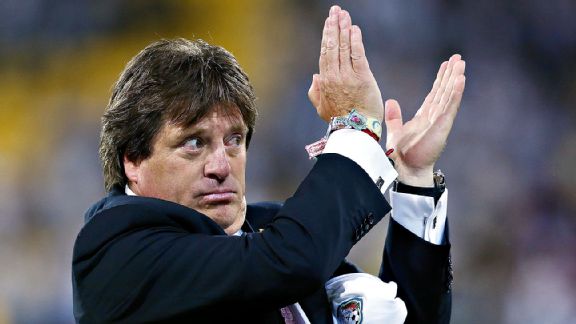 AllsportMiguel Herrera begins Mexico fans' countdown to the World Cup with his first squad of 2014.
Mexico coach Miguel Herrera has carefully selected his squad for the upcoming Jan. 29 match against South Korea. In some ways, it's the coach's first real El Tri team. Not only is it the first roster of players that he has put together since officially getting the post permanently, but this squad marks the first time Herrera has led the national team with an assured place in this summer's World Cup. This may be a friendly, but to the players who want to make the tournament cut, it is a vital match.

Since Herrera took over just before Mexico's do-or-die playoff against New Zealand, it made sense at that time to go with a TriAmerica squad, composed primarily of players from the club that knew Herrera's system and could execute it flawlessly. That plan worked but now the situation is different.

Herrera is under scrutiny for two reasons. First of all, his objectivity is at stake, given how his previous Mexico squad included so many of his own squad players. Secondly, Herrera's maturity and professionalism is a bit in question after his embarrassing meltdown when Club America lost the last year's Apertura final.

There was also the slightly shameful situation with Rubens Sambueza, whom Herrera was trying to add to the Mexican forward corps. His naturalization was completed, but FIFA rejected his petition to play for Mexico, citing his previous youth national team matches with Argentina long before he was ever eligible to have Mexican citizenship. It wasn't a tragic error on Herrera's part to attempt to add Sambueza to the squad, but coming on the heels of sadly disappointing performances in 2013, it added a bit of insult to the whole sorry scenario. Not only did it seem as if Mexico needed to be rescued by a naturalized player, but then FIFA squelched the whole scheme.

Perhaps there's no correlation between that event and the fact Herrera didn't call in a single naturalized player to the squad this time, but the coach looks to be interested in putting some distance between himself and the naturalized-player controversy.

Herrera also appears keen to kill any idea that he is too partial to players from his former club. He did not call in goalkeeper Moises Munoz or forward Raul Jimenez. Instead, Herrera granted opportunities to Toluca goalkeeper Alfredo Talavera and to forward Alan Pulido of Tigres.

Though striker Oribe Peralta has been in a bit of a slump in Liga MX, his past heroics for Mexico in 2013 can't be ignored. He made the squad along with Guadalajara's scoring threat, Aldo de Nigris.

Perhaps the biggest surprise in the squad is the young Europe-based defender Diego Reyes. Here, Herrera definitely seems to be in World Cup scouting mode. Reyes hasn't been playing regularly at Porto, so the only way Herrera can judge if he is up to par is to personally bring him in and see his form alongside Mexico's best.

Despite Herrera's attempt to give others chances, there are still five Club America players on the squad. Miguel Layun, Paul Aguilar, Francisco Rodriguez, Juan Carlos Valenzuela and Juan Carlos Medina assure that the club is represented more than any other Liga MX squad.

Youth is served, however, with the additions of Miguel Ponce, Reyes, and Isaac Brizuela -- all young players whom Herrera no doubt hopes can perform without fear and perhaps push their way onto a bigger stage.

Yet experience also is a key part of the roster, especially in the quartet of players from Leon. Rafael Marquez, Juan Carlos Medina, Carlos Peña and Luis Montes not only show the cohesion of teammates, but they are also veterans of previous Herrera rosters. They will no doubt take Jose Vasquez in hand and help him transition to the senior Mexico squad.

What remains to be seen is how well Herrera can combine the new personnel of a non-TriAmerica squad. Though friendlies are ultimately meaningless, every game before the World Cup will go a long way toward displaying his leadership. What should also be showcased are the players who are most able to contribute to Mexico's effort in Brazil. There can be no lack of incentive. The countdown to Mexico's first World Cup match against Cameroon on June 13 has already started.

FULL MEXICO ROSTER:

Goalkeepers: José de Jesús Corona (Cruz Azul), Alfredo Talavera (Toluca)

Defenders: Diego Reyes (Porto), Rafael Márquez (Leon), Francisco Javier Rodríguez (America), Juan Carlos Valenzuela (America), Miguel Ponce (Toluca), Miguel Layún (America), Enrique Pérez (Atlas), Jorge Torres Nilo (Tigres), Paul Aguilar (America)

Midfielders: Rodolfo Gilbert Pizarro (Pachuca), José Juan Vázquez (Leon), Jesús Zavala (Monterrey), Juan Carlos Medina (America), Carlos Peña (Leon), Luis Montes (Leon), Isaac Brizuela (Toluca)

Forwards: Oribe Peralta (Santos), Alan Pulido (Tigres), Aldo de Nigris (Guadalajara).