El Tri Hot List: Dos Santos impressing, Enriquez's stock falling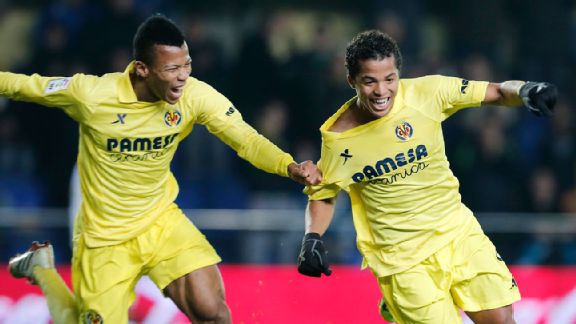 JOSE JORDAN/AFP/Getty ImagesGiovani Dos Santos has impressed during his time at Villarreal in La Liga.
GUADALAJARA -- In the first of what is going to be a weekly feature as Mexico builds up to June's World Cup in Brazil, we take a look at which Mexicans are pushing hard for places in the national team and who is falling by the wayside.

So far this year, there have been plenty of positives in terms of players hitting form, with Carlos Pena excelling, a number of goalkeepers playing well and the European contingent performing consistently in teams in the top half of some of the best leagues across the Atlantic.

As far as what coach Miguel Herrera is thinking, we'll know more after Jan. 23, when he is due to announce his domestic-based squad to face Korea Republic on Jan. 29.

For now, though, here are the players who have impressed, or not, over the last week:

Warming up

Giovani Dos Santos, F, Villarreal (Spain)

Why he's here: The 24-year-old continued his blistering form in La Liga. Early in Villarreal's game against Almeria on Sunday, Dos Santos dropped into midfield to receive a pass, controlled with his first touch and lobbed a ball straight into the path of Ikechukwu Uche, who finished to hand Villarreal an early lead. It was a real touch of class.

What this means: As long as he is fit, Dos Santos is going to the World Cup, but his increasing domination of the second striker role has significant consequences for other players. Herrera's challenge from now to Brazil seems to be finding who can play best up front with Dos Santos.

Alfredo Talavera, GK, Toluca (Mexico)

Why he's here: The Red Devils' 2-0 win over a struggling Pumas might have looked on paper like a comfortable victory, but Talavera made two world-class saves in the second half. They were equally as important as the goals at the other end of the field, and while Paraguayan striker Pablo Velazquez is taking plaudits for his goal-scoring at present, Talavera is in superb form in goal.

What this means: Moises Munoz, Jesus Corona and Guillermo Ochoa all appear to be ahead of the Toluca shot-stopper in line for El Tri's No. 1 shirt, but Talavera is doing his chances of jumping up the order no harm.

Hector Moreno, D, Espanyol (Spain)

Why he's here: There are only five teams with a better defensive record in La Liga than Espanyol, and Moreno has been at the heart of that success. It might not be the most exciting side in La Liga, but Moreno and Co. kept Real Madrid down to just one goal earlier this month and last weekend kept a clean sheet in the 1-0 home win against Celta. On Tuesday, Moreno's Espanyol face Real Madrid once again, this time in the Copa del Rey.

What this means: With the center back spots for El Tri still a problem, Moreno is increasingly a key figure for Mexico moving toward the World Cup.

Cooling down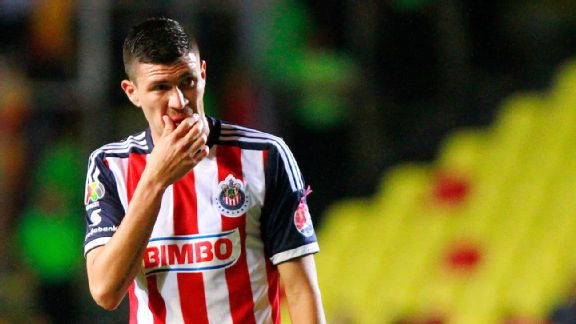 Hector Vivas/LatinContent/Getty ImagesJorge Enriquez's hamstring injury could hamper his chances of being on the Mexico national team.
Jorge Enriquez, M, Chivas (Mexico)

Why he's here: 'Chaton' could very easily be on the 'warming up' side, but for the fact he picked up a hamstring injury in the first half of Chivas' 1-1 draw with Veracruz and will miss at least three weeks. Every-time the Olympic gold medal winner seems to be hitting some form and getting people talking, he tends to get injured.

What this means: There were no legitimate calls for Enriquez to be called back into the national team straight away, but he was picking up, and he could bring attributes to the center of midfield that most Mexican players don't have. Chaton needed an exceptional season to try and worm his way back. That has now already been disrupted.

Gerardo Flores, RB, Cruz Azul (Mexico)

Why he's here: It's a pretty similar story to that of Enriquez. Flores had returned from an ACL tear in the right knee for the first two games of the Clausura 2014, but the injury flared up last Thursday in training. While the player says it isn't serious, he missed Cruz Azul's 1-0 victory against Chiapas and doesn't know whether he'll be fit this coming weekend.

What this means: Flores had played well for the national team in 2013, and he would seem to fit perfectly at right wing back. The injury likely means Flores will miss the Mexico friendly against Korea Republic on Jan. 29 in San Antonio.