Queretaro remain at the top of tight Liga MX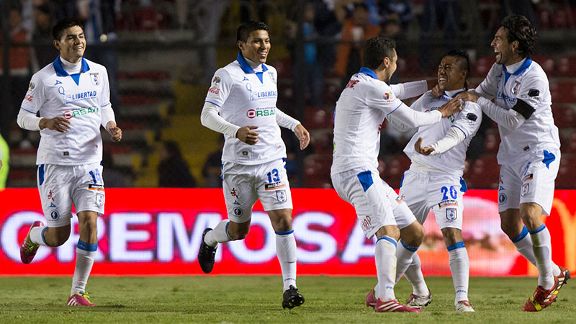 GettyImagesQueretaro remain at the top of Liga MX.
To a certain type of fan, the past weekend of Liga MX games could not have gone any better. These fans are the ones who speak of goats with reverence and eagles with disdain. The faithful supporters of Guadalajara had a one-goal victory over Chiapas FC to cheer about, while gloating about the one-goal loss of Club America to Tijuana.

• Marshall: Chivas work hard to secure home win

The result left Chivas sitting ahead of Las Aguilas in the table, which has not happened for a long while. It's enough to revive a rivalry between the clubs that has gone a bit dormant, given how, of late, Club America has dominated while Chivas has been struggling.

That's as it should be for the two historic Liga MX clubs which have never been relegated and are tied at 11 league titles apiece. Though their current table positions could merely be an early-season blip, it might also herald a return to the times when the two clubs battled regularly in matches that mattered.

Aside from the longtime legends of Liga MX, the come-lately clubs are also making some noise. The Xolos of Tijuana showed that they have serious championship ambitions, going toe-to-toe with Club America and emerging victorious via a Cristian Pellerano goal. Queretaro, for their part, are the White Chickens at the top of the league table, since a stunning Rodolfo Vilchis header took down Pumas.

The early part of the Clausura 2014 has revealed a parity that gives each match new energy and meaning. Queretaro may lead the league, but they're not an intimidating club and others are hungry to move up, especially defending champions Leon. Gustavo Matosas' club hung three goals on Atlas before a late consolation goal cut the margin of victory down a bit. Behind the goal-scoring exploits of Carlos Alberto "Gullit" Pena, Leon may soon lead the league.

For sheer entertainment, no other match equaled the lively 2-2 draw between Toluca and Morelia. Carlos Morales notched for Morelia in the fourth minute, then Edgar Benitez matched it two minute later. Morelia went ahead again off a Christian Valdez goal, but Toluca pulled even once more in the second half via a successful Pablo Velazquez penalty. On the other end of the spectrum, Tigres and Pachuca failed to do any damage in a 0-0 defensive draw. Puebla and Monterrey traded first-half goals for a 1-1 result.

Cruz Azul got its season on track with a come-from-behind 2-1 victory over Santos Laguna with Mariano Pavone scoring the winning goal in the 89th minute. The Red Sharks of Veracruz left their victory over Atlante even later, Luis Alberto Sanchez sealing the win in the 92nd minute.

Queretaro is, for the moment, alone at the top of the Liga MX with six points, followed by Leon and five others -- Toluca, Veracruz, Guadalajara, Cruz Azul and Club Tijuana tied at four points. Club America has three points, while Puebla and Monterrey have two. All the others: Morelia, Santos Laguna, Pumas, Atlante, Chiapas FC, Atlas and Tigres, have a single point.

Only Pachuca and Tigres have failed to score even one goal. Considering that last year Tigres nearly had a perfect unbeaten season in the Clausura, it must be disconcerting for the players and coach RIcardo Ferretti to look at the rest of the league from the opposite direction as the last team in Liga MX. Things have certainly changed since then but it's early days in the Liga MX season, and there are many more games to be played.