A look back and a look ahead on Mexico's best and worst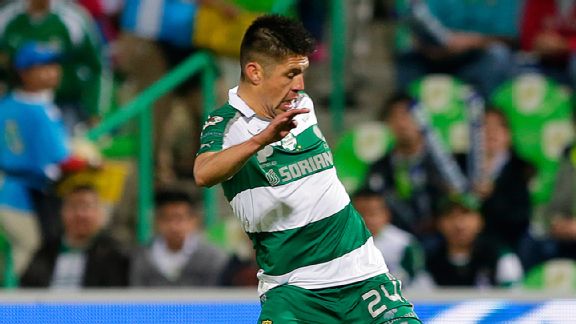 Natalia Perales/LatinContent/Getty ImagesSantos and Mexico striker Oribe Peralta was superb in all phases in 2013.
Though in many ways 2013 was a year to forget for Mexican soccer, the adage about those who don't learn from their history are doomed to repeat it rings true in many ways. Thus, the lessons from this past year are important to keep in mind as 2014 dawns. So it's worthwhile to take a look back while looking to improve for the future. Who stepped up, and who must step up in the year to come?

- Marshall: Good start a must for Chivas
- Bell: Mohamed with golden chance in debut

2013's Player of the Year

It's not even close. Oribe Peralta had a year that would have been remarkable even if the rest of Mexico's national team had been playing consistently to his level. At times, the forward was like a one-man army keeping Mexico's hopes alive in World Cup qualifying games. He scored at a rate of better than a goal per game by the time the year was done. Though the Santos Laguna striker didn't manage any trophies in league action, he kept his team in the thick of things, making it to the Liga MX playoffs twice, as well as to the final of the CONCACAF Champions League. The one downside for Peralta is that at 29, he might be expected to slow down a bit soon, and thus, can't necessarily be counted on to have many more big years in the future. He should do just fine in 2014, however.

2014's Player of the Year

This needs to be Carlos Vela. It's simply sad that the forward, who had an excellent year with a quality team in Europe, Real Sociedad, is not contributing to his own national team. The blame on whether that's his fault or the federation's problem has to be put aside so that Mexico can go to the World Cup and face Brazil, Croatia and Cameroon with the best players the country has to offer. For his part, Vela needs to transfer his improved skills to El Tri, showing that he is up to caliber of top international competition.

2013's Best Young Player

This list is limited to players born in the 1990s, and Raul Jimenez leads this pack. Besides playing superhero for El Tri against Panama that fateful night in the Azteca with a stunning bicycle kick that was voted CONCACAF goal of the year, Jimenez showed increasing confidence in his game tactics and more creativity around the goal. That played a big part in Club America's success in 2013, even though the club fell just short of the Liga MX back-to-back championship.

2014's Best Young Player

It's best for Mexico if Jimenez continues on his upward trajectory. He tends to ball-watch a bit in big games. Jimenez is capable of big plays, but he hasn't shown as much initiative to step in and carry his team in big moments. His ability to link up well with teammate Miguel Layun could be crucial to Mexico's success if he really asserts himself continues to progress as a striker. A good World Cup performance will inevitably lead to a move abroad.

2013's Comeback Player

Many believed Rafael Marquez was done as an international player, but the once (and future?) captain proved that idea wrong when he moved on from a poor stint in Major League Soccer to Liga MX. At Leon, Marquez improved steadily and eventually became crucial to the domestic-based El Tri squad that finally secured Brazil 2014 qualification. He may yet feature in his fourth World Cup.

2014's Comeback Player

Giovani dos Santos simply wasn't ready in the 2010 World Cup to be the player that Mexico wanted him to be. His second try at the tournament should go better than the first. Though he has worn the #10 jersey for El Tri for some time, Dos Santos hasn't yet found a consistent groove of play that elevates the entire team. Part of the reason, no doubt, is that the midfielder has bounced from team to team in Europe. Dos Santos was part of the European contingent of players who failed to perform well in crucial qualifying matches in 2013. Though he is young for a comeback player, he has a lot to prove in 2014. Dos Santos seems to be hitting his groove with Villarreal, and the timing is perfect for his transition to become the engine of El Tri.

2013's Worst of the Year

Though qualifying for the New Zealand playoff from a USA goal was a definite low point, one can't really blame a situation when there are people to be held at fault for creating that event. None was more responsible for El Tri's poor 2013 than the coach in charge for most of that time. #FueraChepo became a top hashtag on Twitter in 2013 because of the sheer number of Mexico fans frustrated with the tenure of Jose Manuel "Chepo" de la Torre as coach of El Tri.

Despite poor result after poor result, starting in February with an unprecedented home draw versus Jamaica, the country's administrators were reluctant to make changes before the Confederations Cup tournament or the Gold Cup, or even after. The FMF finally fired him in September, then went through two more managers, Luis Fernando Tena and Victor Manuel Vucetich, in quick succession before settling on Miguel Herrera as the team's new coach.

2014's Worst of the Year

If there's any justice, fans shouldn't let the brash Jorge Vergara off the hook in 2014. The downward spiral of historic club Guadalajara, the team he owns, has been hard for loyal fans to watch. The club wasn't in the playoffs all year and their poor play was mirrored by a similarly poor product in Chivas USA of Major League Soccer, also owned by Vergara. The American club has record low attendance numbers and was even sued for racial discrimination. Vergara was also part of the group of owners who stuck with De la Torre for far too long before embarking on the whirlwind merry-go-round of replacement coaches. Yet Vergara never fails to act as if he is a supreme authority on all matters in the sport, putting the blame of failure on whichever coach he has just dismissed. Things don't look likely to improve unless he is forced to change that approach in some way.

As much as 2013 was a difficult year, part of the reason for the disappointment was because Mexico has the talent to offer so much more. The lessons learned may create a positive progression. With a dedicated fanbase and a thriving domestic league that also sends players abroad with regularity, Mexican soccer can bounce back in a big way in 2014.