El Tri anxiously hope for Chicharito resurgence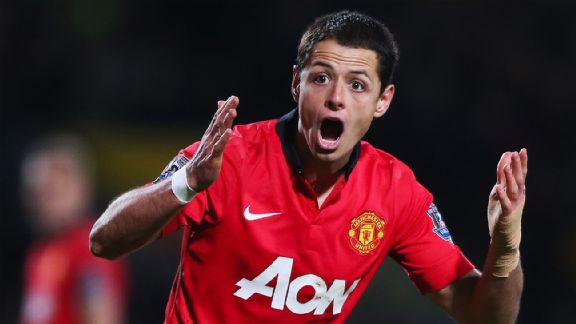 Matthew Peters/Man Utd/Getty ImagesJavier Hernandez's frustration over playing time and not scoring is beginning to show, though he did have a role in Danny Welbeck's game-winning goal Saturday for United.
Boxing Day seemed like the perfect time for Javier 'Chicharito' Hernandez to make a scoring comeback. The Manchester United striker has scored only once this season, back on Oct. 26 against Stoke City. Two months from that date, with United facing down feisty Hull City and all tied at two goals each, the hero role awaited as Hernandez trotted onto the pitch in the 61st minute. It wasn't to be, however. Manchester United was victorious, but the thumping header that was the winning goal came from Hull City's own James Chester.

Despite limited playing time last season, Hernandez still managed to score 10 goals in league play, but he is well off that pace as the 2013 part of this season draws to a close.

Manchester United could certainly use his scoring touch, as the club is fighting to regain a top spot in the competitive Premier League. As defending champions, their current place in the table is a disappointment to their legions of fans.

Though not afforded many opportunities under coach David Moyes, Hernandez has been granted some chances. He came close to scoring Dec. 21 against West Ham United, but was offside.

For Mexico, however, Hernandez's scoring drought is truly dire. The 'little pea' hasn't found the net for El Tri since June. Considering that Hernandez is already tied for third place on the Mexican all-time national team goalscorers list (25), the lack of goals in the last half of 2013 is both surprising and worrisome.

It makes perfect sense, however, that a striker having trouble scoring for one team would soon find similar problems with another squad.

The easy antidote to the scoring issues facing Hernandez would seem to be more playing time. He hasn't found a regular rhythm at Manchester United this season as a starter because he's low on the depth chart. Barring injuries to other players, though, Hernandez is not moving up the list quickly. Not scoring certainly isn't helping his cause in that regard. Hernandez has in fact cracked the top 10 list of Manchester United's all-time substitutes, but that's a dubious honor when the primary objective is to start a match, not just appear in it.

Yet a move during the January transfer period could prove difficult for Hernandez, given the variables involved trying to adjust to a new team just before the World Cup in the summer.

In other words, staying with the Red Devils you know might be better than venturing into the unknown. Hernandez may benefit from fighting his way back into form with the team and players he best understands.

He got another chance Saturday against Norwich City with more game action, partly because Wayne Rooney was absent due to a groin injury. However, though Hernandez had the benefit of starting, he still wasn't able to score. Hernandez did manage to get a touch on the ball to push it free for Danny Welbeck, who scored the only goal to give Manchester United another win.

Welbeck has, in a way, appropriated the super-sub role in which Hernandez once excelled, scoring four times in the past four league games. It is still a useful skill to contribute to goals, but Hernandez, even if he is becoming more proficient at setting up goals, is primarily expected to score.

Besides league matches, Manchester United is still alive in League Cup action, which should offer even more playing time for Hernandez to find form. Hernandez has excelled in this competition, scoring three goals.

Before the season began, Hernandez turned down transfer offers to go to Spain. That may have been a mistake. Now that he has stuck it out with Manchester United thus far, a move to Arsenal or Tottenham in the transfer window (both rumored as possibilities), could well be counterproductive to his finding top form before the World Cup.

If he stays, Hernandez is still likely to be given chances with United. Breaking out of his scoring slump could release the floodgates of goals for Hernandez both with his club team and for international games. Though El Tri has come to count on the scoring prowess of Oribe Peralta, a two-pronged attack with Hernandez in good form would be ideal.