America and Leon present a fascinating final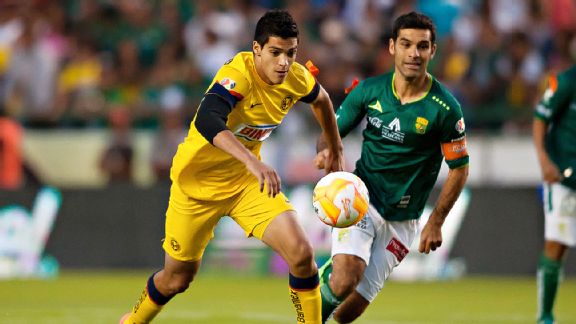 Gerardo Zavala/JamMedia/LatinContent/Getty Images Rafael Marquez (R) of Leon struggles for the ball with Raul Jimenez of America last April. Both played with El Tri last month and will meet again in the Liga MX finals.
MEXICO CITY -- A unique soccer culture. A unique national team. A unique final.

In what other country in the world would the national team coach bring his club team to the final of his country's league tournament with 16 national-team players, from both clubs, on the field?

Yes: America (and Mexico national team) manager Miguel Herrera has 11 national-team players on his America side. And he had five players from the opposing team, Leon, under his tutelage during Mexico's World Cup qualifying playoff games against New Zealand.

The first leg of the America-Leon Apertura tournament final is slated for Thursday in Leon, with the return leg on Sunday in Estadio Azteca.

Does Herrera's situation seem like an unquestionable advantage? It's actually relative. And let's see why.

1. Herrera became familiar with the strengths and weaknesses of the spinal column of the Leon team during El Tri's preparation stage, and during the team's call-up and games against the Kiwis.

Having directed, observed, assessed, judged and spent time personally with five Leon players, Herrera (and 11 of his 23-man squad) should know Rafa Marquez, Jonny Magallon, Luis Montes, Gullit Pena and Edwin Hernandez intimately, inside and out.

Herrera coached and trained with the core of Gustavo Matosas' Leon squad.

2. But the five Leon players also obtained in-depth knowledge of the tactical requirements Herrera demands from his players, or at least from seven of them directly on the field.

And if we add that the Leon players possess that spark of intelligence that defines players who can improvise tactically, they will surely have valuable information for their coach.

There is no doubt that Marquez, Gullit and Montes, more so than Edwin and Magallon -- who were cut out of the process -- could fill Matosas in on the instructions that Herrera gives regarding movements on the field.

Clearly, Herrera, without knowing it, had five friendly and loyal partners in the buildup and subsequent playoff against New Zealand, without knowing they would turn into efficient spies as his daunting adversary in the final of the 2013 Apertura.

And watch out, because Matosas has proven that he is as good or better a coach as Herrera.

And be warned: It was not a normal get-together. The relationship between the components of this emerging national team, tasked with rescuing qualification for the World Cup, must have been intense.

Intense because the mutual understanding of the group, and the commitment that they showed, makes it clear that they formed a perfect understanding of each other's movements on the field.

Who will make the best use of this state of affairs?

The information Herrera and his 11 America players were able to memorize in those days of intense cohabitation with those five Leon players? Or the report the five Leon players can deliver about Herrera's tactical habits, preferences and demands regarding where and how to play?

Really, it's unique, it's strange, it's abnormal, it's insane and crazy, it's unbelievable -- but that's what happened: Key players from both teams were heroic partners during Mexican soccer's time of need, and they were able to meld together in an unprecedented way while shouldering their shared task.

But even though it is so dramatic and unique, in the end, because of the aggressive nature of both teams and because they know each other so well, the two games of the final will probably be even more fascinating and compelling.

And this, all of this, could only have happened in Mexico.

And to quote the brilliant Ney Blanco de Oliveira for the umpteenth time: "In Mexico, things happen that even God doesn't believe."