Following draw, Mexico can't complain
We did well. The draw went very good for Mexico, we can't complain: the best manifestation of South American football, an African team with spectacular athletic skills and a European squad that knows how to compete on the pitch. We can't complain.

I am familiar with this type of plan: "We beat Croatia, we tie Brazil and we get a result against Cameroon."

Mexico landed right where it had to end up in the World Cup draw: in Group A, and there are many ways to read into that. The first, the most real and drastic, indicates that it is a very complicated group, with the five-time world champion Brazil that can't fathom failure in an event that was practically pre-fabricated so that they dictate the terms. Then, against an African squad like Cameroon that exhibits a fast and spectacular game with players like Samuel Eto'o (Chelsea), Pierre Webo (Fenerbache) and Alex Song (Barcelona). And finally a Croatia eleven that is quite competitive, tough and has some particular stars who happen to play with the top clubs in the world: Luca Modric (Real Madrid) and Mario Manduzick (Bayern Munich).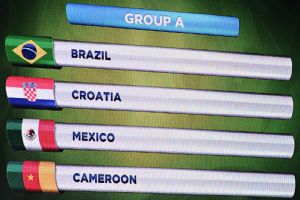 Vanderlei Almeida/AFP/Getty ImagesBrazil and Mexico should prevail in Group A.
The World Cup never presents an easy stage, but a quick reading shows that if you end up in the host country's group, you will have increased attention and heightened expectations to demonstrate what you're made of, formidable conditions for the emerging Mexican soccer to shine. To have the opportunity to face the Brazil of Felipao, of Neymar, of David Luiz, of Marcelo and Dani Alves, and to capture the attention of a country of 200 million, can be a magical moment.

However, following World Cup qualifying and a the subsequent playoff, Mexico definitely is not at a level to compete against Brazil, Cameroon or Croatia. Mexico will have to reinvent itself, concentrate, work together and just go for it. There is little time to do this.

Each one has a different mission in this World Cup. No one is going there to merely speculate. In Mexico's case, a World Cup presents an opportunity to gain experience, to learn, to try and leave a good impression. It is a precious opportunity: Brazil, Cameroon and Croatia are great rivals. It will be a battle. No matter what.