Mexico will face a familiar foe, Brazil
The suspense of the FIFA World Cup draw seemed interminable, but finally, the groups -- and Mexico's fate -- were decided. El Tri is in Group A, facing Brazil, Croatia and Cameroon.

It may not be the Group of Death, but it is a dangerous and tricky group nonetheless.

For the second World Cup in a row, Mexico is in a group with the host country, and if any host country is expected to advance, it is certainly Brazil.

Brazil is a familiar foe for Mexico, and the squad has taken measure of El Tri recently and found them wanting. Only this summer, in the Confederations Cup, the two squads faced off, with Mexico losing 2-0. It wasn't a crushing defeat, and Mexico was quite stout defensively, but there wasn't ever the sense that Mexico was threatening Neymar & Co.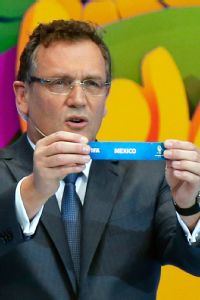 Reuters/Sergio Moraes FIFA Secretary General Jerome Valcke holds the slip showing "Mexico".
The Confederations Cup as a whole heralded a renaissance for Brazil, whose confidence had been shaken by some subpar performances, including losing the Olympic gold medal to Mexico. Neymar seemed to come into his own, meshing well with other Brazilian stars to lead the Selecao to the title.

Yet, as they did in the Olympics, Mexico's players have risen to the occasion before against Brazil. Though the hosts and five-time champions will be motivated to perform well in front of local fans, there should be the sense among El Tri players that they can get a positive result versus Brazil.

Mexico has met Cameroon only once before in international play, for a friendly played in 1993. El Tri won by a single goal, while holding the Lions scoreless.

While Mexico has at times struggled with the speed and athleticism of African teams, it's an interesting coincidence that a team that looked dire much of the year appeared to find its best form versus Nigeria and the Ivory Coast this past year. Of course, those matches were friendlies, and thus cannot be considered a reliable indicator of how Mexico will really perform. Yet it should give Mexico's players a boost to remember that two of their best performances in 2013 were against speedy and athletic players.

Croatia was, like Mexico, a late qualifier to the 2014 World Cup. Croatia had to qualify over Iceland, and that turned into a more complicated situation than Mexico's romp over New Zealand. However, Croatia finally prevailed, and is the only European team in the group.

In 2002, Mexico managed well against Croatia in group play, defeating the team that had been the darlings of the 1998 tournament by a single goal. That loss contributed to Croatia's group stage elimination and they have not advanced out of group play since then. They will not take Mexico lightly and their players combine skill and verve in an effective manner.

El Tri coach Miguel Herrera, however, has to be pretty happy with the final draw results, especially when considering what the draw brought the CONCACAF nations that finished first in the Hexagonal. The USA and Costa Rica have extremely difficult opponents, and Costa Rica has to travel to dreaded Manaus for its opening match.

There is no easy opponent or group in World Cup 2014, but there are various levels of difficulty. Mexico's seems manageable, so if Herrera has his team well prepared, El Tri can look forward to making an impact. The team has tended to fare better in World Cups set in the Americas, so Mexico will aim to be a contender.