A likely tough group ahead for Mexico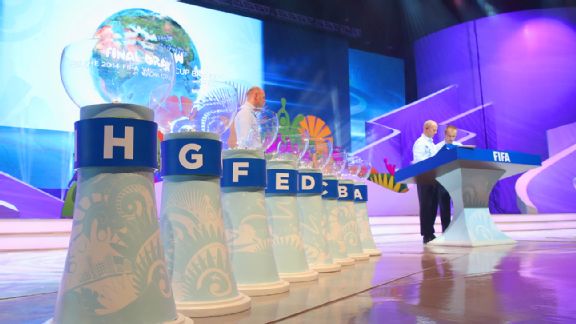 Alexander Hassenstein/Getty ImagesMexico will be drawn from Pot 2, along with CONCACAF and Asian nations.
Less than a day before all 32 qualified nations to the 2014 World Cup know their fate ahead of the biggest tournament in the sport, it is the nations from Asia as well as North and Central America who fear for the worst ahead of the draw in Costa do Sauipe.

FIFA's complicated geographically-based rulings as to how teams would be grouped ahead of the actual ceremony have added an extra layer of intrigue to proceedings. Pot 2, currently consisting of seven unseeded South American and African teams, will have an extra European team added into the mix before the actual draw gets started.

- Faitelson: Mexico is in the 'Pot of Death'
- Canales: Mexico has only Mexico to fear

Considering that no group may have three European teams in it, the extra team in Pot 2 will likely create havoc and allow certain countries to avoid big, unseeded UEFA nations such as France, England, Netherlands and Italy in their sectors. However, if none of the aforementioned teams are drawn into Pot 2, Mexico, as well as the other CONCACAF and AFC nations will have a 50% chance of drawing one of those perennial candidates in their group, regardless of who they get from the seeded Pot 1.

Given Mexico's current form after a shaky 2013, a tough draw will likely squeeze some of the budding confidence out of the nation even after it destroyed New Zealand in the World Cup qualifying playoff last month. Even then, there is hope that a best-case scenario will allow El Tri to coast into the Round of 16, where it has invariably faltered since 1994.

Scenario #1 - Group of Death
Argentina
Nigeria
Mexico
Italy

Being thrown into a group against Argentina, arguably Mexico's biggest thorn in their side in recent memory, would create instant unhappiness. Add to that a resurgent Italy, who with four titles under their belt and a win over El Tri in this year's Confederations Cup, would feel good about facing Miguel Herrera's side.

Despite beating Ivory Coast in an August friendly this year, Mexico's struggles against African sides are well-documented. They were unable to get a win against Angola in the 2006 World Cup, and could have been beaten by South Africa in the 2010 opener. Nigeria, a team with unfulfilled promises that remind many of a CAF version of Mexico, would spell trouble.

Scenario #2 – A dream draw
Switzerland
Ecuador
Mexico
Bosnia

Despite boasting obvious quality, Switzerland is frankly, the least threatening of all the seeded teams in Pot 1. Drawing the likes of Gokhan Inler, Tranquilo Barnetta and Philippe Senderos is welcome if it means avoiding Spain, Germany, Brazil or even Colombia.

Ecuador has risen to be a tough South American team of late, but they are perhaps the easiest team for Mexico to scout with several of their top players in the Liga MX already. Bosnia, a newcomer to the international stage, has actually faced Mexico in recent times, not faring well despite fielding a complete squad in their last meeting, a 2012 friendly which El Tri won 2-1. Again, though Bosnia has a wealth of talent, they are much more enticing than facing the likes of England or France.

Scenario #3 – A mixed bag
Brazil
Ivory Coast
Mexico
Greece

Based on history, it's highly unlikely that the host nation would get such a balanced draw to begin with, but still – facing Brazil on its home turf (just a year after getting clobbered at the Confederations Cup) would be no picnic for Mexico despite their recent record against the Selecao.

Ivory Coast is a strong team that has been the crème of Africa for the better part of the last decade. Mexico might acquire a false sense of confidence after beating them over the summer, especially considering the Elephants' acute physical advantages over El Tri.

Greece might look like a pushover on paper, but its stout defense gave most of Europe headaches over the qualification period. Mexico tends to struggle mightily against teams who do not allow space in the back. A complete toss-up.