Vela can shift El Tri into another gear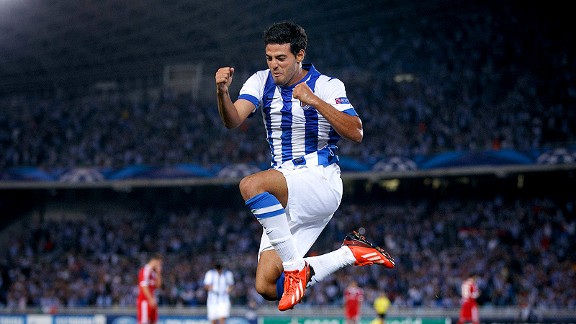 Gonzalo Arroyo Moreno/Getty ImagesCarlos Vela has had a topsy-turvy time in international football.
Recently in some interview, pop music impresario Simon Cowell mentioned that he has only driven his Bugatti Veyron, a high-end supercar, a few times since purchasing the vehicle in 2007. When I read the news, I immediately thought of Carlos Vela.

Vela made his international debut for Mexico in 2007 and he has played sporadically for El Tri since. Though he was part of Mexico's World Cup squad in 2010, the forward has averaged less than six international appearances per year. Of course, that number dropped drastically partly because Vela repeatedly refused call-up opportunities in 2013.

Sadly for El Tri, this time period not only coincided with Vela's strongest form of his career as a European club player, but also with Mexico's extremely difficult World Cup qualifying campaign.

Though the team was confident in securing a play-in victory over New Zealand to nab one of the final 2014 World Cup spots, the ghost of a scary truth still haunts the squad. Ifs and what ifs are nothing but obstacles to peaceful sleep, yet the question of where El Tri would be if the USA's Graham Zusi hadn't scored against Panama in the final CONCACAF qualification match is still unsettling. Mostly, it's a bothersome issue because aside from Oribe Peralta, Mexico of late has too often been woefully inept in front of the net. El Tri certainly didn't play against Costa Rica like a squad ready to control their World Cup fate.

That's why when Vela scores four goals in Champions League action for Real Sociedad, like he did recently against Celta Vigo, it inevitably causes excitement among El Tri fans. They delight to imagine how deadly he might be leading the attack for Mexico.

The Veyron, incidentally, has a top speed of over 250 mph. For Cowell, however, the fantasy of controlling that kind of incredible velocity seems to have given way to the reality of Los Angeles traffic and local speeding laws.

Vela's excuse for withdrawing from assisting Mexico during World Cup qualifying has consistently been his desire to maintain his top form with Real Sociedad, especially as they moved into Champions League action. That dream ended this past Wednesday versus Shakhtar Donetsk as the Ukrainian team put up four goals against Real Sociedad while holding the Spanish squad (and Vela) scoreless.

With Champions League glory gone, at least for the present, will Vela seek the sport's greatest stage of the World Cup instead? Could it become his autobahn, the place where he can truly shine, worlds away from the workaday CONCACAF qualification grind? Should Mexico's next coach try to convince the team's mercurial talent to return to the fold?

The current top candidate for the coaching position, Miguel Herrera, showed a certain lack of regard for the qualifications of European talent in leading Mexico to the World Cup over New Zealand. Herrera did not call in a single European-based Mexican player for the two-legged playoff, securing a 9-2 aggregate win with Liga MX-based domestic talent. Herrera counted on the prowess of Peralta, who carried the bulk of the scoring load.

In a similar vein, Cowell's recent car purchase has been a tiny Smart vehicle, well-suited to the parking challenges of Hollywood life. It's not as if he has traded in the Veyron, though.

Neither has Herrera given up on Vela. Herrera told ESPN recently that he would be willing to travel to Spain to speak with Vela personally about playing for El Tri. Herrera insisted that the "doors of the team aren't closed to anyone."

Of course, Herrera isn't quite in the driver's seat for El Tri. The decision to call on Vela isn't yet his to make. At some point, however, Mexico's coach, whether it is Herrera or not, will have to assess what the potential of Vela's performance is worth. People are not machines, of course, and there may be hurt feelings to deal with if players who helped Mexico reach the World Cup are left to one side while Vela waltzes in just in time for the big show.

Vela himself will have to decide what he is willing to compromise in order to be a part of Mexico's World Cup campaign. A complete overhaul of Mexico's federation is unlikely to happen, so if he expects everyone who has ever offended him to resign from team administration, that's probably a pipe dream.

On the other hand, top players, like luxury cars, can sometimes be finicky and have to be handled carefully to perform at peak level. Former El Tri coach Hugo Sanchez had a point when he said not long ago that the FMF should have utilized an intermediary in the Vela situation before now, instead of treating the player like he wasn't wanted or needed.

Sure, a Veyron isn't ever going to be vital transportation. Mexico can show up to the World Cup and put in a respectable showing without Vela. But it could be a thrill ride if the best attacker the country has at present leads the way.