Should Herrera continue to lead El Tri?
WELLINGTON, New Zealand -- Ricardo Pelaez had let it slip a few days earlier: "Yes, I have a voice and a vote to personally recommend [to Televisa mogul Azcarraga Jean] that Miguel ['Piojo' Herrera] should continue as coach of the Mexican national team."

Pelaez did this without changing his position. "Miguel and I are on loan for two games. Afterward we'll return to America and the Liguilla [Liga MX playoffs]," but he also acknowledged that at the end of the day, for his boss as well as for all of Mexican soccer, the national team is more important that the ambitions of America.

But the question stands: Should Herrera continue to lead El Tri?

He himself recognized after the 4-2 (9-3 overall) result against New Zealand that it would be ridiculous to search for a fifth coach for the national team in this long, hard and difficult process before the 2014 World Cup in Brazil.

"Nobody wants a fifth coach," Herrera explained, knowing no doubt that against New Zealand, albeit with shortcomings and deficiencies, Mexico recovered many of its lost virtues.

One of them was the ability to use the Azteca Stadium as a fortress, as opposed to during the tenure of Chepo de la Torre, who, even though he had many things going for him, ended up failing to win and even suffered another disastrous loss in the Azteca.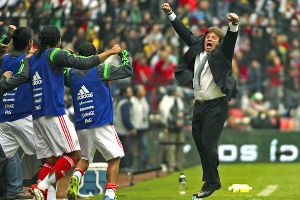 ALFREDO ESTRELLA/AFP/Getty ImagesMiguel Herrera celebrates one of Mexico's goals against New Zealand.
Another was the way they played, the team's resoluteness and fighting spirit, and the proper use of key players such as Luis Montes, Gullit Pena, Paul Aguilar and Miguel Layun, and very much in particular Oribe Peralta, a player who under de la Torre was one striker among many, while Chicharito Hernandez was given blind and slavish backing, keeping him higher than Oribe in the pecking order.

Clearly, the decision has been made. But this traditional need to hold farces, to make a big show out of things, to create a big song and dance, makes the decision the responsibility of the "Junta" of club owners, as (former El Tri manager) Sven-Goran Eriksson would say.

And we all know that the "Junta" obeys the yoke that has them by the throat. They will be notified; they are not going to be allowed to make suggestions or cast a vote.

The other 17 team owners will be allowed to speak to the America of Televisa, but will not have a chance to vote against. That is the price of submission and slavery for those who choose to live under the yoke.

But, thinking that he can fool Mexico's soccer fans, at the end of the scheduled meeting on Dec. 2, Justino Compean will emerge to cynically state that "by unanimous decision, which reflects our solidarity and our union of purpose toward the national team, Miguel Herrera is confirmed as manager."

It should clear that in Mexican soccer, the democratic process is so very important, so transparent and so false, that the vote of one against the vote of 17 always wins, by a huge majority.

In other words, democracy in Mexico is not judged by actual votes, but by invalidation, the striking out of 17 votes against the power of their ruler: Televisa.

In the world of lies, one is more than 17.

The important thing, however, is Herrera's clarity with regard to the process. Because during the news conference, after securing the passport to Brazil, his words were no longer conditioned by that meeting of Dec. 2, he spoke freely knowing that the job was his.

1. He is well aware that this team, which overran New Zealand in a resounding and emphatic way, needs a heck of lot of work to be able to reach a competitive level in the World Cup.

2. He understands, unlike his predecessors, that the Europe-based players should act as complements to a basic team spine, and they should not be punished nor expected to always be the source of miracles. These players, as Herrera knows, should provide answers, but not be the only answer.

3. And Herrera is not alone. He has a man who has already had much experience with the national team. Pelaez, obviously, knows more about soccer, about sporting structure, about the coach and team's needs, than Gonzalez Inarritu knows now, or may ever know.

4. In contrast to what Inarritu announced, Pelaez envisions an early arrival in South America, playing against European and World Cup-qualified opposition, two weeks before the tournament, even after their farewell game against Poland in the Azteca Stadium, and with a spine of Liga MX players, which will be gradually joined by the European contingent.

5. And Herrera's position is interesting as well. He has a guaranteed relationship with the five players in Europe whom he was able to reach to explain why he didn't call them up against New Zealand. He doesn't hold grudges and will approach the three players who didn't even return his calls, and will add to the list and give a chance to Nery Castillo, and will be sitting down to speak with Carlos Vela, whom he hoped was now "in a better mental state."

So the only thing remaining is to give the farcical official stamp of approval for the confirmation of Herrera as national team coach -- something which, as he explained, is not urgent, because now that he has established El Tri's World Cup passage, he is now aiming for his second consecutive championship with America.

And so in the paradise of soap operas, tear-jerking TV series and ludicrously fake programs like Laura Bozzo's, it is necessary to provide the televised stamp of approval, the elaborate protocol, the historical solemnity of the appointment.

In other words, let's not make the crowning or the appointment of Miguel "Piojo" Herrera a lousy affair.