Analysis, not celebration, required for Brazil-bound El Tri
It was a flash of brilliance from Raul Jimenez. An impressive run of form that Oribe Peralta rode into stardom. A smattering of spectacular saves from Jose de Jesus Corona. A successful gambit from manager Miguel Herrera, and yes, a little help from Graham Zusi, Michael Orozco and Aron Johansson.

Mexico's run to next year's World Cup in Brazil was a collection of individual inspiration, a comedy of errors that showed how much more difficult it is to miss the World Cup out of CONCACAF than it is to actually make the tournament. El Tri won two games in the final qualifying round, fired three coaches in 30 days, eliminated its biggest stars from contention in the two biggest games of the year, and still managed to coast into the world's most important tournament in the end.

-Canales: Sweet relief
-Marshall: El Tri player grades
-Video: New Zealand 2-4 Mexico highlights

"We're not forgetting how bad this was for the team, for the country," said Miguel Herrera moments after his incarnation of the Mexican national team bowled New Zealand over, outscoring the Kiwis 9-3 over two legs. "We made it, that's what is important now. Of course, I need to thank "Chepo" (de la Torre), (Luis Fernando) Tena and (Victor Manuel) Vucetich for their part in this."

Though he was truthful in his praise of the trio of now largely-forgotten managers, Herrera is also thanking his lucky stars for the Mexican federation's ineptitude, a series of bad decisions from the Liga MX group of owners, more a combination of group-think and Three Stooges than a brain trust. There's a reason why Mexico making it to Brazil was more a sigh of relief than a full-blown party.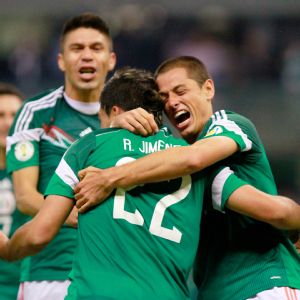 Hector Vivas/Getty ImagesRaul Jimenez almost single-handedly saved Mexico's World Cup qualifying hopes with a late goal against Panama.
What should have been a foregone conclusion became something more like pulling teeth, and Mexican media are not allowing fans to forget amid the aura of relief. This version of the Mexican national team notwithstanding, for most of 2013, this team was referred to as "El Tritanic".

It was a sinking ship and one that, despite finally staying afloat, made people look around and realize in hindsight they were never riding a luxury liner, but a flawed, mismanaged monster on a collision course. And yet, Herrera will pull into port, a dramatic finish just seconds before the whole ship capsized.

This is not, by any means, a proud moment for Mexican football. South American analysts have been somewhat befuddled as to why some in Mexico moan over what is essentially getting into the World Cup no matter what. CONMEBOL football fans lose sight over how truly special it is to qualify to any world championship out of that region given how difficult it is to wade through 10 teams of that caliber every four years.

Above that equator, there is also an imaginary dividing line when it comes to the level of football being played. CONCACAF is one of the world's worst regions. Among the cavalcade of poor play, the world could always depend on the United States and Mexico to be the cream of the crop.

The painful reality is out of the last four World Cup qualifying campaigns, the self-heralded king of the region, Mexico, has struggled to make three World Cups, often needing a change in manager and personnel to secure its position.

Eleven years ago, it would be Javier Aguirre's first turn at the wheel to save El Tritanic. Ricardo La Volpe avoided difficulty in steering Mexico to the 2006 championship. Four years ago, Aguirre made his second appearance in Mexico's managerial booth, after securing qualification when Hugo Sanchez, Sven-Goran Eriksson and Jesus Ramirez could not.

Mexican fans and owners have always seemingly settled for making the World Cup rather than creating a sensible plan on how to attack it. Instead of having three years to plan -- such as Jurgen Klinsmann does with the United States, or even four the way Luis Fernando Suarez and Jorge Luis Pinto have with Honduras and Costa Rica, respectively -- Herrera will take arguably superior talent into next summer's competition with just seven months to spare.

Given that Mexico has made the World Cup knockout rounds five straight times, Herrera's main focus will need to be just to make it six in a row. And with a potential Group of Death looming next December, it would be foolish to think that anything less will secure Herrera's position moving forward into the Russia 2018 process, a move that will undoubtedly create more instability in an already-patchwork side.

In a nutshell, that is why you're not hearing about Tri fans popping champagne bottles. A sigh of relief was had late into the night, literally the 11th hour for the 31st team to qualify for Brazil 2014. There are no chants, no spontaneous public celebrations.

There is however, doubt, a shade of resentment, and a whole lot of work to do before next summer rolls around.