El Tri have incentive to perform well, for country and coach
A coach under pressure for the team's stodgy style, players accused of playing with no heart, past World Cup honor rapidly fading as the present campaign to even reach the tournament is in peril -- no, it's not Mexico in dire straits, it's New Zealand.

While France is on the verge of elimination and other countries like Iceland have been surprisingly able to challenge for a spot in Brazil 2014, it's all gone according to script for El Tri in their playoff series. A four-goal advantage is a hefty and nearly insurmountable lead. That explains in large part why the Mexican players arrived for the final leg of the match like happy tourists, posing for pictures and visiting sites around the island nation.

For the New Zealand players the return home was a grim affair. Now their first goal seems to be to avoid embarrassment in front of their local fans. The main reason coach Ricki Herbert wasn't fired outright after the 5-1 defeat to Mexico in Azteca Stadium was that it would have been too much trouble to hire a new coach for just the single remaining match. The Kiwis are a practical people.

As it is, Herbert is expected to "stand down" after the final game versus El Tri. It was widely assumed that if Herbert was successful in qualifying the team for the World Cup again, he would be offered a new contract. Barring a completely shocking reversal of the current result, that won't happen. New Zealand will look for a new coach, while Mexico begins to prepare for the World Cup.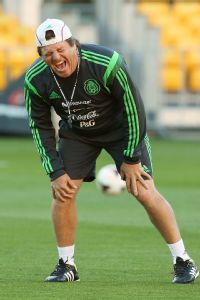 Hagen Hopkins/Getty ImagesMiguel Herrera shares a laugh at Wellington's Westpac Stadium during a Mexico training session.
For El Tri, that process brings its own questions. Miguel Herrera, at present, doesn't have a longer contract than Herbert. This game, though, is likely to be the opposite of a farewell and more of an audition for the position on a permanent basis. Herrera is already talking that way in news conferences. He recently referred to Mexico's disastrous qualifying campaign in realistic terms, acknowledging what many in Mexican soccer have denied even against overwhelming evidence: The CONCACAF region has changed too much for El Tri to assume that qualification will be easily secured.

Of course, now that Mexico practically has its ticket in hand, the temptation to upgrade to a more cultured and worldly-wise international coach may be strong. Herrera may be only a stopgap to that future appointment. But besides his understanding of Mexican talent and his ability to motivate players, Herrera has a connection to the team's fate that no foreign coach dropping by to fulfill a contract could have.

Those minutes of the final CONCACAF World Cup qualifying games when the results had Mexico eliminated were lived by Herrera and many others across the country in stunned shock. The disbelief, the slightly sick feeling of incomprehension and helplessness --no one would want to return that horrific time, least of all Herrera, whose love for team and country is enthusiastic and effusive. Qualifying in a professional and efficient manner would definitely be a priority for the coach in the future, should he be offered the position as national team coach.

To that end, the El Tri players may also have incentive to perform well against New Zealand as a way of casting their vote for Herrera's candidacy. A dominant 5-1 victory sends a message. A win in both legs of the playoff would send a stronger message.

Herrera may even have the confidence to experiment a bit and send out a shuffled lineup of players. However, look for Oribe Peralta, Miguel Layun, Luis Montes and Rafael Marquez to still be the centerpieces of the squad.

In a recent interview with FIFA.com, Montes may have revealed the secret of Herrera's success with the same players that other coaches failed to earn results with: "His ideas are very clear, and that's allowed us to start playing good football again"

Look for more of that versus New Zealand. If El Tri once again displays an excellent performance, no matter what the Kiwis do, Mexico will be on its way to the World Cup, and Herrera could join in.