Marquez primed for World Cup history
Mexico's 5-1 victory over New Zealand in Estadio Azteca on Wednesday brought El Tri's Rafa Marquez one step closer to becoming the first player in history to captain his country at four different World Cups.

Twenty-two players in total have featured in four separate editions of the international tournament, but none has captained his team in all of them, according to official game statistics on FIFA's website.

If Mexico secures the Brazil 2014 spot next week and Marquez retains the armband -- both of which are probable -- it will complete an impressive turnaround in a career that had gone off the rails after South Africa 2010 and an international career many had assigned to the scrap heap.

- Canales: Herrera's rescue mission
- Gomez: El Tri player grades

A move to MLS outfit New York Red Bulls from Barcelona in the summer of 2010 proved an unqualified disaster for both him and the club, with Marquez making only 44 appearances in more than two years.

Marquez's time in MLS was plagued by injuries, as well as indiscipline and a couple of high-profile tantrums, most famously when he threw the ball at U.S. international Landon Donovan in frustration after Red Bulls' 1-0 home loss to Los Angeles Galaxy in October 2011, causing a raucous between the two sides.

Marquez's stock with the national team dropped steeply -- he played just two games for El Tri between October 2011 and October 2013.

He pined for a move back to Mexico and, after a deal with cash-strapped Atlas didn't come off, Marquez joined the recently promoted Club Leon in December 2012, fueled by the allure of playing in the Copa Libertadores.

Los Panzas Verdes (The Green Bellies) de Leon crashed out of the continental competition in the preliminary round and struggled in the league in the Clausura 2013, but Marquez slowly found some rhythm.

It was in the current Apertura that Marquez -- with a full, injury-free preseason behind him and having been made Leon's captain -- rediscovered the kind of form that helped him become CONCACAF's most successful export to Europe in terms of major trophies (four La Liga titles, two Champions League victories).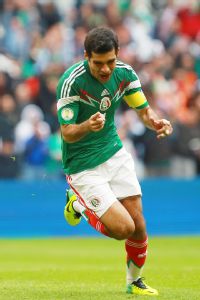 Hector Vivas/Getty ImagesEl Tri veteran Rafael Marquez celebrates Mexico's fifth goal against New Zealand.
And with Mexico struggling to find any on-field leadership as World Cup qualifying slowly slipped from their grasp, Victor Manuel Vucetich once again called on Marquez's presence ahead of the key qualifiers against Panama and Costa Rica last month. When Miguel Herrera subsequently took over, Marquez was one of only a few to survive the cull of players, and the America coach has been effusive in his praise of the 34-year-old ever since.

"Marquez is a natural leader," said Herrera ahead of the New Zealand game. "He's a guy that talks on the field, leads and shouts at the right time."

On Wednesday night, Marquez gave a reminder of exactly what he brings to the table, albeit against a poor All Whites side.

It was an exquisite, quarterback-esque pass that put Miguel Layun free to square for Oribe Peralta for El Tri's third just after halftime, while Marquez himself headed in Mexico's fifth goal of the afternoon.

Playing at the heart of the three center backs, Marquez moved up into midfield when required and organized the players around him with aplomb, as he used to at Atlas, Monaco and Barcelona.

More than 11 years have passed since the 2002 World Cup, but Marquez still shows class on the ball and reading of the game off it to be a major player for Mexico.

It was in Japan and South Korea that Marquez burst onto the international scene aged 23, after Javier Aguirre surprisingly made him captain at his first World Cup.

Ricardo La Volpe followed suit in 2006, while in 2010 Aguirre handed Gerardo Torrado, then Marquez, then Cuauhtemoc Blanco the captain's duties in the first three group games before signaling who his real leader was by picking Marquez for the Round of 16 game against Argentina.

The Kaiser de Michoacan may not have been Mexico's most popular player over the years, but he's within touching distance of history on the world stage, and all the factors are aligning for him to lead El Tri into Brazil 2014.