El Tri player grades: Mexico 5, New Zealand 1
MEXICO CITY -- El Tri practically assured themselves a World Cup 2014 berth with a 5-1 pounding of New Zealand Wednesday. Who were the heroes? Were there any weak links? We break down Mexico's strong Azteca showing.

Moises Munoz (8.0): "Moi" was just another spectator in the first half. The goalkeeper had a couple of opportunities to stretch his limbs with violent misses from Chris Wood and Jeremy Christie. Thanks to confident defending, Munoz had nothing to do when Chris James made it 5-1.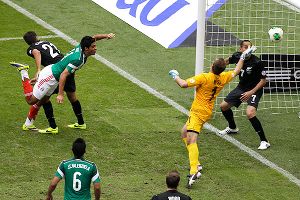 AP Photo/Dario Lopez-MillsMexico's Paul Aguilar, left, beats New Zealand's Glen Moss for El Tri's first goal Wednesday.
Paul Aguilar (7.5): Essentially a winger opposite his Club America counterpart Miguel Layun, Aguilar was especially active in the first half, launching two dangerous crosses that did not find their target. Upon scoring his goal, the defender went quiet and eventually vacated his spot.

Juan Carlos Valenzuela (7.5): Valenzuela was rarely asked to defend at the Azteca, with few attacks coming his way on the right side of the three-pronged central defensive unit. Viewed as a liability going into the game, he actually allowed his teammates some measure of calm with pinpoint passes and sticky runs against the Kiwis.

Francisco Rodriguez (8.0): In the first 45, "Maza" launched a stunning shot that Glen Moss batted away in spectacular form. He backed that up with a dangerous but effective slide against Wood, who was one-on-one with Munoz. In the second half, Rodriguez was key in keeping New Zealand off the score sheet on a pair of occasions.

Rafael Marquez (8.5): Rafa was a punching bag for Wood, who benefited from referee Viktor Kassai's "live and let live" attitude, as he was able to land a crushing elbow on the former Barcelona man. In the second half, Marquez kept the party going with a trademark headed goal to make it 5-0 for about 45 seconds.

Miguel Layun (9.0): Utter grandeur from Layun on two occasions, allowing his team to score the second, third and fourth goals against New Zealand. When asked to defend, Layun was completely in tune with club and country teammates Rodriguez and Valenzuela, the two central defenders closest to him on his side of the pitch.

Carlos Pena (6.5): Pena was the weaker link in a solid central midfield. When given the opportunity to smack home the fourth goal in a great two-on-one opportunity, both he and Raul Jimenez were unable to put the ball in the back of the net against a desperate New Zealand back line.

Luis Montes (7.0): Montes was unlucky on two tries, but he could have easily made his way onto a couple of highlight reels with strong, mid-range shots that caught Moss' attention. His coherence with fellow Leon man Pena and America midfielder Juan Medina kept Mexico attacking when the game was 0-0 early in the first half.

Juan Carlos Medina (7.5): Quiet, workmanlike mentality is what Medina is all about. His attitude was no less apparent against New Zealand, as the central midfielder never stopped running. Defenisvely, Medina allowed wingbacks to get back and cover all parts of the pitch.

Oribe Peralta (9.5): Peralta is the only Tri player to score in every match in which Mexico had a goal at the Azteca in 2013. He was the lone scorer against Honduras, opened scoring against Panama and launched into a grand brace that cinched matters against New Zealand. He has shown to be one of the few players who has maintained consistency in a torturous 2013.

Raul Jimenez (8.5): Jimenez scored and was close to a spectacular brace, with a scorpion kick being parried away in equally spectacular form by Moss. El Tri's attacking ranks will look strengthened in 2014 and beyond thanks to the 22-year-old's development.

Sinha (7.0): Came off the bench to inspire his teammates with calm, progressive midfield play that kept Mexico attacking after a second-half lull that made El Tri look complacent.

Jesus Escoboza (7.0): He turned a cameo against Finland into significant minutes against New Zealand. Young and raw, the Santos man will have a chance to keep developing as we move into 2014.

Jesus Molina (7.5): Molina started the Liga MX Clausura 2013 on the bench for America, in favor of Luis Angel Mendoza. He ended it reclaiming his starting spot and parlaying his play into a Mexico return.