Mexico's consistency tells the tale
Once again Mexico is dangling off the edge of a cliff struggling to pull itself up and into a World Cup.

Thankfully for El Tri, CONCACAF has that safety net of a World Cup playoff against Oceania's best for its fourth-place finishers and a two-legged tie against New Zealand should, on paper, see Mexico reach Brazil 2014.

But none of that changes the fact that there is and has traditionally been a vast difference between huge expectation inside Mexico towards its national team and the reality that Mexico is a middling country on the world scene.

Mexico have made just two appearances in World Cup quarterfinals, both as host, and in the last five tournaments has scraped past the group stage before going out in the first knockout stage. Even at regional level, Mexico has now struggled in the last two CONCACAF Hexagonal qualification competitions.

Should the above be a surprise? When you take a look at the win statistics for the Mexico national team since they first played, one of the first things that immediately shocks is the sheer consistency of El Tri, independent of who the coach is and the decade.

El Tri's all time record is 825 games played, 420 victories, 194 ties and 211 losses. In other words, Mexico win 51 percent of games they play.

Now take a look at the various management records of the eleven coaches who have taken charge of over 20 games for the national team:

Bora Milutinovic – Played 104, 52 wins, 32 ties, 20 losses (Win ratio of 50 percent)

Ricardo Lavolpe – Played 71, 38 wins, 16 ties, 17 losses (Win ratio of 54 percent)

Raul Cardenas – Played 59, 25 wins, 20 draws, 14 losses (Win ratio of 42 percent)

Miguel Mejia Baron – Played 54, 25 wins, 17 draws, 12 losses (Win ratio of 46 percent)

Manuel Lapuente – Played 67, 33 wins, 18 draws, 16 losses (Win ratio of 49 percent)

Jose Manuel de la Torre – Played 47, 27 wins, 12 draws, 8 losses (Win ratio of 57 percent)

Javier de la Torre – Played 38, 20 wins, 7 draws, 11 losses (Win ratio of 53 percent)

Javier Aguirre – Played 59, 36 wins, 11 draws, 12 losses (Win ratio of 61 percent)

Ignacio Trelles – Played 106, 50 wins, 27 draws, 29 losses (Win ratio of 47 percent)

Hugo Sanchez – Played 28, 15 wins, 4 draws, 8 losses (Win ratio of 54 percent)

Antonio Lopez – Played 22, 9 wins, 3 draws, 10 losses (Win ratio of 41 percent)

There are obviously other factors at play, such as strength of the rivals confronted, but each coach's record is remarkably similar, all things considered.

A look at the results for the Mexican national team decade-by-decade shows the same consistency.

2010s – Played 74, 39 wins (Win ratio of 53 percent)
2000s – Played 192, 104 wins (Win ratio of 54 percent)
1990s –Played 187, 85 wins (Win ratio of 45 percent)
1980s – Played 100, 56 wins (Win ratio of 56 percent)
1970s – Played 99, 49 wins (Win ratio of 49 percent)
1960s – Played 105, 48 wins (Win ratio of 46 percent)
1950s – Played 33, 14 wins (Win ratio of 42 percent)
1940s – Played 7, 6 wins (Win ratio of 86 percent)
1930s – Played 20, 15 wins (Win ratio of 75 percent)
1920s – Played 8, 4 wins (Win ratio of 50 percent)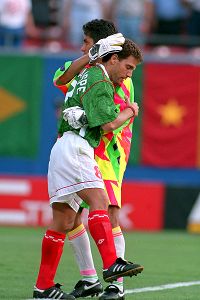 Simon Bruty/Getty ImagesMexico keeper Jorge Ramos and Alberto Garcia Aspe console each other after losing to Bulgaria on penalty kicks in the knockout round of World Cup 94.
In terms of Mexico's World Cup performance, El Tri does exactly as expected, rarely dominating qualifying as many regularly think is going to happen and then putting in a reasonable performance at the finals. El Tri win about half their games, but that must naturally go down when in a tournament with the world's very best teams. Since 1990, Mexico has featured in 20 World Cup games, winning six, drawing six and losing eight (one in extra time, one on penalties).

One thing the stats can't lie about is that 2013 has been poor for El Tri, with just a 35 percent win ratio, but there is no immediate underlying reason to make you think that Mexico is on the slide.

The book "Why England lose & other curious football phenomena explained" by Simon Kuper and Stefan Szymanski barely mentions Mexico at all, but some of its insights about why certain international teams succeed and others fail provides a template to evaluate El Tri's past and present.

In line with Kuper and Szymanski's theories, Mexico's main problem in improving that win ratio and becoming a real power at World Cup level is that they remain on the periphery of the world game, or, as the authors put it, "closed to innovations" in comparison to other countries.

Whereas the Central and Western European footballing nations have clashed regularly for many decades, exchanging ideas on best practices about how the game should be played, culminating in the Champions League, nations such as Mexico missed out.

The other main soccer hub was South America, specifically the Atlantic coast of Argentina, Uruguay and Brazil, where fierce competition increased quality and produced styles very different to the European model.

No team outside of those two hubs has won even one World Cup.

Historically and possibly even now, Mexico was shut off, with a largely apathetic United States to its north and smaller nations to its south that didn't develop as quickly soccer-wise as those in South America.

Even now in the era of the globalized game, Mexico still has very few players featuring in the Champions League on a regular basis, has very few coaches practicing abroad, a league structure that is an oddity on the world stage and very little influence from the best practices carried out in Europe.

The strong reaction that Sven Goran Eriksson's attempt to do things a little differently or Johan Cruyff's brief spell with Chivas hints that Mexicans are slightly entrenched in their way of doing things when it comes to football, not opening up to change as much as others.

That contrasts sharply with Argentina, Brazil, Colombia, Ecuador, Uruguay and Chile. They all export players from an early age and many have coaches that are increasingly making impressive inroads in Europe. One day, they will bring their experience and expertise back home and possibly plug it into improving the national team.

The "Why England lose..." book also attempts to look at which nations should do well, predicting accurately a team's place in the international standing based on size of population, income per capita and experience.

Mexico's population of around 120 million puts them about 11th place in the world, obviously giving them a deep pool of talent to choose from, but the North America nation is let down, according to the theory, by income and experience.

Mexico's GDP per capita is low at around the $11,000 USD mark, while as a footballing nation it is still inexperienced. Brazil and Uruguay had already won two World Cups each by 1962, at which point Mexico had played a total of only 95 games. The boom in Mexican football only really happened with the 1970 World Cup, after Pele was a household name.

Theses are only theories and they might not always hold tight, but they are certainly worth remembering when the boom and bust media pundits, fans and Mexico's trigger-happy federation react in the extreme to the national team's triumphs and defeats.