A gamble on a Chicharito-less El Tri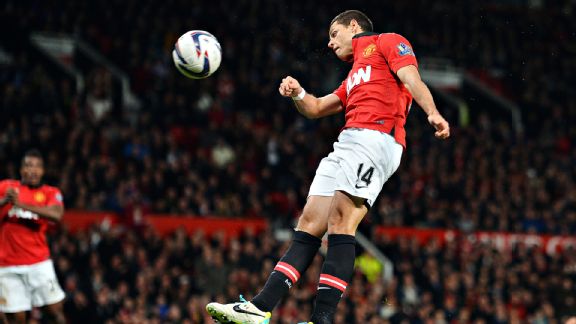 Paul Ellis/AFP/Getty ImagesJavier Chicharito Hernandez scores his second goal against Norwich in a League Cup match Tuesday.
GUADALAJARA, Mexico -- Altitude, lack of preparation time and the quality of Mexico-based players.

Those have been temporary Mexico coach Miguel Herrera's stock answers to questions about his decision to leave out Manchester United striker Javier Hernandez and other Europe-based players from El Tri's squad for the crucial World Cup playoff against New Zealand.

"We've been saying that they'd have to travel nine hours [from Europe to Mexico] and arrive at altitude between Nov. 7 and 9," said Herrera on return to Mexico following Wednesday's 4-2 win over Finland in San Diego. "We wouldn't know if they'll adapt well [to the new tactical system], and after that, they'd go 25 hours [flight to New Zealand]. It's a lot of wear."

It is an understandable train of thought considering the first leg against New Zealand (Nov. 13) is being played in the heat of the afternoon sun in Mexico City and was backed up by Manchester United manager David Moyes, who said Friday that Hernandez had endured a "slow start" to the season in part because of the frequent travel to and from Mexico for national team duty.

- Mexico selects all-domestic squad against NZ

But whatever the logistical concerns, it is difficult to overstate the size of Herrera's decision.

Imagine Uruguay not calling up Luis Suarez for its games against Jordan or the United States fighting for its World Cup life without Michael Bradley and Tim Howard and you start to get the idea.

Since becoming an inked-in starter after the last World Cup, Hernandez has raced to 35 goals for Mexico's national team, surpassing Hugo Sanchez on his way and swiftly closing in on Jared Borgetti as El Tri's top goal scorer ever.

Chicharito has become the focal point of Mexico's national team and a player who receives Beckham-esque attention whenever he's in the country, fueled by advertisements associating his name to such products as soft drinks, banks, department stores and cellphone companies.

Yet the wave of positivity has turned sour over the past couple of months as Mexico has continued to dig a deeper and deeper hole in World Cup qualifying, with just two wins in 10 matches from a group in which only El Tri and the United States were in the top 30 of the FIFA rankings.

On the field, nobody can fault Hernandez's effort for Mexico, but he's almost tried too hard to become the player to rescue El Tri, running ceaselessly for the cause and trying to make something happen instead of being the poacher in the box that frightens defenders with his very presence. The nation expects it and it is a heavy burden, but Hernandez has tried to be something he isn't.

That pressure was seen in the final rounds of CONCACAF qualifying matches.

Hernandez stepped up against Panama for a penalty in Estadio Azteca on Oct. 11, but he hit it with no real conviction and it was easily saved. A last-gasp goal from Raul Jimenez got the 2-1 win for Mexico, and Chicharito burst into tears at the final whistle, a clear indication of what playing for El Tri means and just how heavy succeeding in the national team shirt weighs.

In Mexico's 2-1 loss against Costa Rica four days later in Central America, Hernandez scuffed an opportunity to put El Tri in the lead with the goal gaping and the goalkeeper stranded. It was one for the blooper reel.

Coach Victor Manuel Vucetich was replaced after the game, and when he finally spoke about it, he was quick to point out that "if [Chicharito] had have scored the goals, things would've been different."

But a look at Hernandez's career both as a youth at Guadalajara Chivas and with Manchester United reveals that his best asset is not necessarily his finishing or sharpness in the box but his absolute iron will to bounce back from setbacks and come back stronger.

We've seen some of that recently, with the 25-year-old putting his national team woes behind him and netting three goals in his last two starts for the Red Devils.

Any chance to do the same in a Mexico shirt will have to wait.