Who is really in charge of Mexican soccer?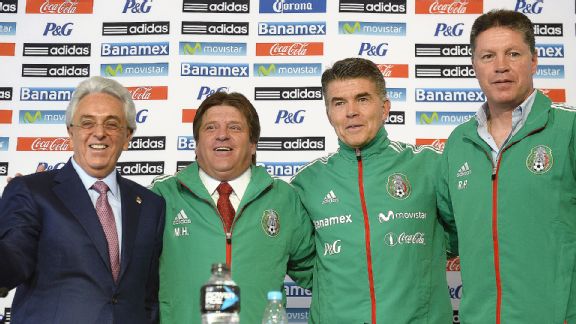 Alfredo Eestrella/AFP/Getty ImagesFrom L to R: FMF chief Justino Compean, El Tri and America manager Miguel Herrera, Mexico national team director Hector Gonzalez Inarritu and America president Ricardo Pelaez.
Jesus Martinez Jr., president of Leon, has officially stated that his club is the target of reprisals by one or "more individuals" within the Mexican Soccer Federation (FMF).

Here's a straightforward timeline of how neither the new manager nor the national team director have any authority, as related in detail by various officials of Club Leon, including the owner himself, Martinez Jr.

1. Leon requests that of its four players selected for the Mexican national team, two be released for its match against Toluca this weekend, in the hope of a victory that will put them a step closer to the Liguilla playoffs and a spot in the Copa Libertadores.

2. On Monday afternoon Miguel Herrera, manager of El Tri and Club America, accepted Leon's request. He will only need two among Gullit Pena, Rafa Marquez, Edwin Hernandez, and Luis Montes.

3. The national team director, Hector Gonzalez Inarritu, supported Herrera and confirmed that two players from Leon, at Herrera's discretion, can report for duty with their club this weekend.

4.- Leon's management informs their manager Gustavo Matosas that two of the four players will rejoin the club for the match against Toluca.

5.- The permission granted by Herrera, Club America president Ricardo Pelaez, and Gonzalez Inarritu, supposedly the sporting, soccer, and administrative authorities of the Mexican national team, has been discarded. "Early this morning (Tuesday) I received a call and was informed that we will not have two of the four players. All will remain with the team," explained Jesus Martinez Jr., adding: "It's just one more reprisal against Leon, one of many suffered by this team."

There's no mystery why this is so: the arrival of the Carso Group, with all the financial backing of Carlos Slim, has unleashed the anger, the fury, the rage, the rancor of the two television companies which duly override the decisions of Herrera, Pelaez and Inarritu, belittling their supposed authority, diminishing their supposed hierarchy, and ordering them to back down. Which the three of them duly do.

1. Note: this isn't a matter of defending the timeshare of these timeshare owners with Leon, Pachuca, Tecos, and others. It's a violation of FIFA regulations.

2. Note: this isn't a matter of amazement at this period of despair, hysteria, and risk being suffered by Mexican soccer thanks to the near-lethal tsunami that could be unleashed by its eventual elimination from the World Cup.

3. Note: this isn't a matter of wondering quite what coincidence allows America to field a full team for Herrera to choose from in its match against Alajuelense (America lost 0-1 to the Costa Rican club and was eliminated from the Concacaf Champions League), while Leon's requests find El Tri focused and working with urgent celerity to field a competitive side against New Zealand.

4. And note: this has nothing to do with America being a competitive team, even though its owners are doing a disservice to the institution with these acts of revenge.

What is worth pointing out here is, for example, the fact that even in this period of sporting desolation, the moral degradation and dishonorable behavior of the FMF is all too apparent.

1. It excludes, nullifies, and belittles the authority of those we presume to be its three supreme powers: Herrera, Pelaez, and Inarritu.

2. It sends the message that, even in times of clemency, absolute power continues to be perverse and brutal: the FMF continues to harbor vested interests and conduct shady deals, no matter who it ends up damaging.

3. It diminishes the morale and authority of the new coaching team. If Herrera permits it and Pelaez and Inarritu cover it up, they will send a clear message that all of their decisions can be rebutted and scorned if so decided in the 'oval office' of Televisa.

4. And once that authority has been eroded, there's an added message: the entire "soccer family" is simply a pawn in the game of one individual: Televisa media mogul Azcarraga Jean, who is carrying onto the soccer pitch the savage, high-stakes commercial, advertising, financial battle he is waging along with TV Azteca against multi-billionaire Carlos Slim.

When will the presidents of those other clubs not affiliated with the television companies shake off this humiliating yoke of slavery that has been imposed upon them?

The response of Martinez, Jr. gave little cause for hope: he recommended that his father, owner of Pachuca, might one day exert his power and influence on the remaining clubs.