El Tri's lost sons meet in Europe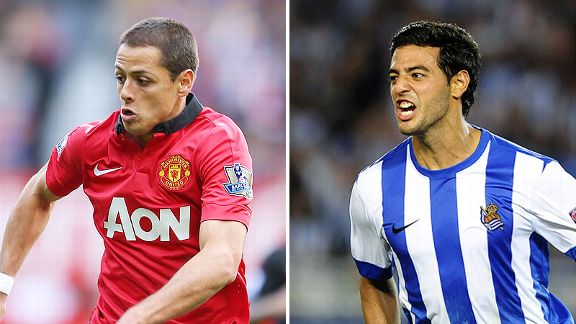 Getty ImagesFormer Chivas Guadalajara youth teammates Hernandez and Vela meet again on Wednesday.
It's going to be a reunion of sorts when two Mexican players meet in Champions League action for Real Sociedad and Manchester United. Occasional comrades-in-arms Carlos Vela and Javier "Chicharito" Hernandez both emerged from the soccer cradle of Guadalajara and went on to careers abroad at storied clubs in England. Both, at least at one point, wore the Mexico national team jersey with pride.

"I wish Chicharito all the luck in the world, but it's his turn to lose," said Vela at a press conference prior to the match. "We're convinced we can win at Old Trafford."

Vela was the first to secure the attention and adoration of Mexican fans by leading the youth national team in 2005 to its first FIFA World Cup championship in history. He transferred abroad to Arsenal soon after. For years, he struggled there to earn playing time and to develop during loan stints. Finally, Vela hit his stride as a member of La Liga's Real Sociedad, where he is now a key player.

Hernandez stayed longer in Guadalajara, remaining with Chivas until 2010 and becoming a hero to the club's fans for his goalscoring exploits. His transfer to Manchester United was made final in the summer of that year. Though he became famous there for his ability to score goals in limited minutes last season, Hernandez has been unable to earn consistent playing time in England. For Mexico, however, he has been prolific, scoring enough goals --35-- to tie for third in the all-time goals scored list of El Tri.

- Villagrana: If Herrera can't save Mexico, nobody can
- Marshall: The Mexican soccer circus

Vela barely has 35 appearances in total for El Tri, and he is unlikely to add to that anytime soon. His relationship with the national team strained in 2010 when he earned a suspension for breaking team rules by partying. Although he returned for two matches in 2011, he has not appeared for the squad since. Considering how Mexico has struggled in 2013, Vela's refusal to assist the team based on nebulous "personal reasons" has not been taken kindly by some fans, who have vowed never to forgive his decision to abstain from the disastrous 2014 World Cup campaign.

For his part, Hernandez isn't faring too well in the estimation of many fans, either. His spirit may be willing, but perhaps due to limited playing time causing a loss of form, his flesh has become very weak at goalscoring of late. He missed prime opportunities at goal in Mexico's last three matches and has not scored for El Tri since June of this year.

It's a dry spell that has cost the national team dearly and left supporters frustrated. Chicharito, nevertheless, is ineligible for Mexico's first play-in match against New Zealand on November 13 at Estadio Azteca, due to accumulation of yellow cards in World Cup qualifiers. It remains to be seen whether manager Herrera will call him for the return match in Auckland on November 20.

Vela's tactics of focusing on his club team, even at Mexico's expense, has borne some fruit. He was voted Real Sociedad's Player of the Year for last season. At the start of this season, however, the Txuri-urdin have struggled and are just beginning to find the form that made them so formidable not long ago. In Champions League action, they have yet to win a match.

To a certain extent, Vela may be able to commiserate with Hernandez. At Arsenal, it was partly the great ability of Robin van Persie that kept Vela from the playing time that he badly desired to improve. Now the Dutchman plays for Manchester United, and as long as he stays healthy, it will be difficult for Hernandez to find the field.

Vela's recent comments to media about the pressure Mexican players face could also be a sign of sympathy for the criticism Hernandez has garnered of late.

"When a player joins El Tri, he doesn't want to do things the wrong way," Vela recently told RadioMarca.

It could also be that Vela understands that in his absence from El Tri, his abilities have now become legendary. The hashtag #PerdonanosVela trended on social media as many in Mexico imagined him to be the savior the team needed. Yet Vela knows he can only stay the ideal storybook hero if he does not play. Real Sociedad fans already know he is only too human.

"What people don't understand is that no one is perfect," Vela said.

Up to that point, most could agree with Vela's assertions, but then he went a step further.

"I think that people in Mexico talk too much," the striker said.

It's unclear if Vela would prefer that El Tri fans not care so much about their team, but a passionate following is never going to be silent about their opinions. That's a right earned by the dedication given to the team in the first place.

Vela's slightly snide and, at the very least, unappreciative comments may have the effect of becoming the ideal antidote to the recent dissatisfaction with Hernandez. Perhaps people will note the contrast between the players and put aside petty criticisms like disliking that Hernandez celebrated the USA goal that assured Mexico's entry to the playoff versus New Zealand.

Yes, both are talented offensive players, but only one has stepped up to champion El Tri's cause consistently. Whatever the result of the Man United - Real Sociedad clash, Hernandez should always have the respect of true Mexico fans for doing that.