The Mexican soccer circus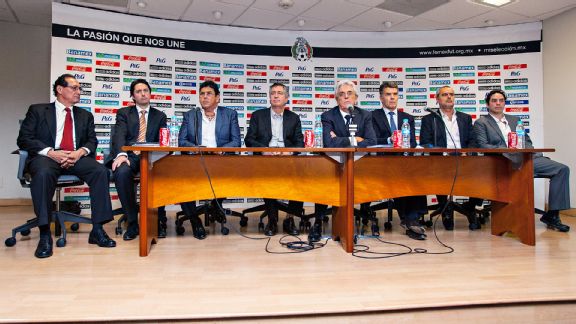 Miguel Tovar/Getty ImagesFMF chief Justino Compean, fifth from left, officials and club owners preside over a news conference Friday.
The weird, wacky world of Mexican soccer and those who control it rolled on this week as Miguel Herrera replaced Victor Manuel Vucetich as national team coach on loan from Club America.

Like Vucetich, Herrera is on a short-term contract, with any future appointment dependent on whether Mexico gets to the World Cup and, presumably, on how "el Piojo" (The Louse) and his team perform over the two crucial playoff games against New Zealand next month.

But the change says nothing about Vucetich -- the most successful Mexican manager in recent years -- or Herrera -- who has worked his way up and was supreme in guiding America to the Clausura 2013.

It says everything about the scrambled way in which the Mexican federation (FMF) and football in Mexico in general is run, something that raises its head in times of crisis like now, but gets forgotten when things are going reasonably well for the national team.

Herrera is Mexico's fourth manager in a little over a month and the fifth since the 2010 World Cup in South Africa. Since the 1960s, only Ricardo La Volpe has completed a full World Cup cycle in charge of El Tri and post-Germany 2006, there has been 10 different coaches in charge of the national team, as diverse in style and tactics as Hugo Sanchez, Sven Goran Eriksson and Jose Manuel "Chepo" de la Torre.

The system is broken, lacking direction and strong leadership from the top.

But that shouldn't be surprising considering the influence the Liga MX club owners and television companies -- sometimes the same entity -- wield in national team decision-making and the lack of transparency about who is actually in charge of what.

On one hand, it is perfectly understandable that those with big economic interests in Mexican soccer, who, after all, have invested large sums of money into it, should want some say on how it is run.

The problem is that their expertise isn't necessarily in doing things like choosing coaches, as can be verified with a quick look at history.

It may be easy to pick out Chivas owner Jorge Vergara and point to his record of 16 coaches in 11 years in charge of Guadalajara, but he isn't the only one who seems to have their finger constantly on the trigger when it comes to firing managers.

"I understood that they knew nothing about soccer," was Swede Eriksson's assessment of club owners and it is important to point out that he, unlike other former coaches of El Tri, wasn't constrained by the prospect of having to go back to the owners for a job in the future.

It is easy to belittle Eriksson's word, but let's not forget that before he arrived in Mexico he had won a league title in three different European first divisions and guided England to fourth place in the FIFA rankings.

Vucetich told ESPN Mexico on Thursday evening that discussing the aptness of Liga MX owners meddling in national team affairs is "a topic that is not advisable to talk about."

Underneath, he must be steaming in the knowledge that he took over a squad that was low on confidence, playing poorly, in desperate need and was facing two difficult, high-pressure games. But in upcoming weeks or months, he'll likely be back in a Liga MX job, if he keeps quiet.

Then we had the bizarre situation on Friday of Liga MX owners from various clubs – including heavyweights like Santos Laguna and Pachua/Leon -- talking to press after the meeting in Mexico City and declaring they hadn't been consulted about the change from Vucetich to Herrera, simply informed.

That just added to the PR disaster both inside the country and for Mexican soccer around the globe over the last week, just 14 months after the Olympic gold and the most positive story the national game has probably ever provided internationally.

One look north to bitter rivals the United States -- who saved El Tri's bacon and potentially hundreds of million of dollars for the Mexican economy on Tuesday -- puts into crystal clear perspective Mexico's shoddy organization.

The setup may not be perfect in the United States, but as an organizational example of how to choose and back full national team processes, it is light years ahead in terms of structure and decision-making.

The US has had five coaches since 1991, from Bora Milutinovic, Steve Sampson, Bruce Arena and Bob Bradley through to Jurgen Klinsmann.

It would be a lie to say everything has gone smoothly in that time, but the processes of each at least highlight a clear, rational path to improvement.

Mexico has had 16 managers since 1991.

The time for serious reflection on how to move forward must happen now, irrespective of whether El Tri gets past New Zealand. A wide, open and real debate about the national game needs to happen. On the agenda should be the FMF structure and power, the influence of Liga MX owners and television companies in El Tri, the Gentlemen's Agreement between clubs, teams getting relegated only for owners to buy up another franchise and the structure of the league.

The potential for Mexico to be a serious world power remains, but exploiting it has been woefully mismanaged for far too long.