Whirlwind week as Herrera replaces Vucetich as Mexico boss
MEXICO CITY – What started out as an enticing, yet pretty unbelievable rumor on Wednesday evening had materialized into full-fledged reality by Thursday morning and was full-on panic by Friday. Miguel Herrera, formerly manager for Club America, will take over as Mexico's new boss after a brief two-match stint by Victor Manuel Vucetich.

"Nothing surprises me anymore," said a smirky Vucetich upon arriving in Mexico City. Questioned about the possibility of being stripped of the job after a torturous loss in Costa Rica on Tuesday -- when late goals from U.S. duo Graham Zusi and Aron Johannsson against Panama bailed El Tri out of massive failure -- Vucetich simply and calmly stated that the decision was not in his hands.

It was apparently, at least in part, in Jorge Vergara's. The Chivas owner talked at length on Wednesday about "massive changes" that would occur at the Mexican federation following Tuesday night's 2-1 loss to Los Ticos. When pressed further, he implied that Vucetich's time with the national team had come to an end.

On Friday morning, a large crowd of reporters waited outside Club America's southern Mexico City training ground for news. Herrera seemed to calm reports a bit when he marched out and coached the team's practice as usual, but moments later team president Ricardo Pelaez gathered the players around and, according to information obtained by ESPN FC, told them of the decision to hire Herrera to coach the national team.

Several Mexican media outlets responded with their own accounts of the story, some confirming, some denying. An uneasy calm appeared to wash over, even with Vucetich's quotes from earlier in the day on ESPN Deportes' "Raza Deportiva" appearing on some outlets; the lame-duck manager seemed to be laying down some saucy comments that seemed to pelt Herrera with a good amount of friendly fire.

"The fact that you have strong character means that you can make smart decisions," Vucetich said in ESPN Deportes Radio's Raza Deportiva. Just because you yell, that doesn't give you strong character. There is such a thing as bad character."

Vergara's "massive changes" by then pointed toward a meeting on Friday that would clarify everything. Some reporters based in Monterrey (where Vucetich coached for four years) assured their readers that a small group of owners and executives would defend the manager and try everything short of a filibuster to keep him around.

Vucetich himself, however, seemingly came out of nowhere to dispel all rumors and set the record straight.

"Hector [Gonzalez Inarritu, the Mexican national team director] confirmed it to me," Vucetich told ESPN. Just like that, one of the most successful managers in Liga MX history was canned, after just two matches in charge. Attention immediately shifted back to Herrera.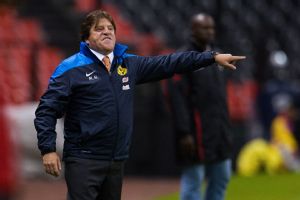 Miguel Tovar/LatinContent/Getty ImagesMiguel 'Piojo' Herrera guided America to the title last season and was poised for a repeat.
Suddenly, all those who sat on the fence jumped on the news. Miguel Herrera would be the new manager of El Tri, marking the fourth man in charge of the team since Sept. 6 of this year. The presentation of Herrera, was at the Mexican national team headquarters in the northern part of Mexico City, would carry with it a pair of surprises, as well: the addition of America's coaching staff to move over to the Mexican national team, at least for the next two playoff matches against New Zealand.

In one fell swoop, El Tri, the national team easily identifiable by its green kit, suddenly acquired a yellowish tint. That of Club America. That of a team that will likely donate a large part of its championship squad with the intent to save its owner's other, larger investment.

Meanwhile, an ocean away, New Zealand waits in silence.