For club and country, Chicharito is a formidable scoring machine
Despite not being a starter with Manchester United and at times seemingly not being trusted by manager Alex Ferguson, Javier "Chicarito" Hernandez has responded with goals every chance he gets when he enters the field.

Perhaps he is not the most talented player with the ball, nor the most skillful in a one-on-one with rivals. However, he is the Red Devils' most lethal striker. In 1,582 minutes played, he has scored 16 goals. Thus, he scores every 106 minutes, eclipsing Robin van Persie and Wayne Rooney, who score every 121 and 160 minutes, respectively.

Over the three seasons in which he has played in the English Premier League, the British press has identified him as a player who should leave the team and head to Spain, Italy and other teams in England. This situation has forced Ferguson to respond that Chicharito is not currently for sale.

Ever since the 2010 FIFA World Cup in South Africa, Hernandez has been the top Mexican goal scorer at a club level, with 48 goals. This places him far above the 10 goals that Giovani dos Santos (Mallorca, Racing Santander and Tottenham) has scored over the same period and the 29 from Carlos Vela (West Bromwich, Arsenal and Real Sociedad).

At the Mexican tournament level, Santos forward Oribe Peralta right now has slightly less goals than the Red Devils' striker. Between the Liga MX and the CONCACAF Champions League, Peralta has scored 45 goals, while ex-Chivas star Chicharito has scored 48 between the Champions League, Premier League, FA Cup, Europa League, League Cup and Community Shield.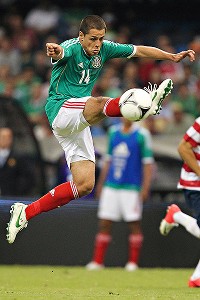 Marcos Delgado/Getty ImagesWith his 30 goals for El Tri, Chicharito is already one of the most prolific goalscorers in Mexico's history.
Chicharito's goal-scoring instincts place him on the list of top strikers with Mexico's national team since he has scored 30 times in 45 games. With his brace against Honduras, Chicharito eclipsed prolific Hugo Sanchez for the 6th spot among all-time goalscorers with El Tri, tied with Roberto Alves Zague.

At age 24, Hernandez could surpass Jared Borgetti, author of 46 goals in 89 games over the 12 year span (10 different calendar years) in which he represented the Tricolor team. Cuauhtemoc Blanco follows with 39 goals in 121 games with the National team, while Luis Hernandez and Carlos Hermosillo scored 35 goals for El Tri. In fifth-place, Enrique Borja's 31 goal mark is next in line for Chicharito.

Here's a look at 8 key stats for Chicharito:

1. Mexico has only lost two games in the 24 matches he has scored for El Tri: 17-4-2

2. Chicharito has tallied 30 goals for El Tri in 45 games, tied for 6th all-time with Roberto Alves Zague.

3. He has 5 goals in the 8 World Cup qualifying matches for Brazil 2014

4. For his Manchester United club, Chicharito has scored 6 goals against Wigan in Premier League and 7 strikes against Chelsea in all competitions.

5. In the 2012-13 season with the Red Devils, Chicharito has tallied 16 goals and 5 assists in 28 matches, with 18 games as a starter.

6. Those 16 goals scored for Manchester United this season have been spread across four competitions: EPL (8), FA Cup (4), Champions League (3) and Carling Cup (1).

7. All told, in 109 official games (67 as a starter) with Manchester United, Chicharito has scored 48 goals distributed as follows: Premier League (31), Champions League (7), FA Cup (5), Carling Cup (2), Europa League (2), Community Shield (1).

8. Manchester United has lost only 3 of the 40 games that Chicharito has scored for the Red Devils: 31-6-3

Ricardo Cariño is a journalist based in Mexico City with ESPN.com Mexico. Information from ESPN Stats and Info was used in this report.