Undeserving Mexico breaks into the playoff phase

SAN JOSE, Costa Rica -- Mexico is going to the playoff, but it is going in an outrageous way. It is going as a laughingstock. It is going with bloodstained knees.

It wasn't able to win its own battle. It wasn't even able to draw in its own war.

Mexico qualifies for the playoff like a helpless beggar, receiving handouts from others in order to survive on the misappropriated stage against a team of its own kind.

And the circumstances of its qualification are made even more pitiful by the fact that it was rescued from the grave by the United States and by a player like Michael Orozco, who was spurned by the Mexican national team. This makes El Tri's path to a direct confrontation against New Zealand actually pathetic.

Is Mexico, having lost 2-1 on Tuesday, undeserving of breaking into or usurping the playoff phase?

There is no shame or disgrace in reaching the playoffs. The sad part is that the team did so without winning its own battles.

Was Panama a better representative of the region? The difference lies in the structure of each national team.

- Chicharito: 'God has given us another chance'
- Canales: Thank your lucky stars... and stripes

Panama, with economic constraints but a powerful team ethic, rose up on its own, with vast differences compared to Mexico in terms of revenue, sponsors, player salaries and the level of its league.

El Tri has rescued its own investment just when it was about to go bankrupt. It has saved revenues of close to $800 million, and to give just one example, in a few hours the new El Tri T-shirt will go on sale. There are 4 million units in the warehouse that need to be sold to loyal, innocent, naive and gullible Mexican fans.

Some will celebrate Mexico qualifying for the playoff. Some will celebrate, assuming that El Tri has already learned the painful lessons of this CONCACAF Hexagonal final.

But there is no such guarantee. Coach Victor Manuel Vucetich's promise of bringing El Tri to the World Cup sounds like an opportunistic remark made in an effort to soften the defeat against Costa Rica, and above all intended to convince us that regardless of the thrashing that El Tri received from Jorge Luis Pinto's Costa Rican team, it had shown improvement on the field.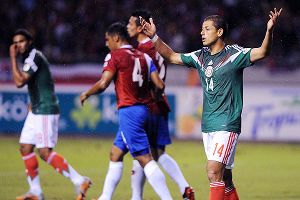 JOHAN ORDONEZ/AFP/Getty ImagesJavier Hernandez was subbed early in the second half against Costa Rica.
El Tri will start training sessions almost immediately, trying to reach the understanding that has thus far eluded it. It is obvious that the coach also made some mistakes, such as insisting in using two men up front, one of whom, Chicharito Hernandez, is going through a severe crisis due to a lack of continuity, rhythm, confidence, credibility. Above all, he is vulnerable because of the multiple pressures he experiences on the Manchester United bench and because of his responsibility as Mexico's trump card.

The truth is that El Tri has been given charitable assistance. A second chance. I repeat, we'll have to see whether it has the common sense -- not the intelligence; that would be asking too much -- to make use of it.