More than ever, El Tri fans need heroes to rekindle spark
Now that Mexico's World Cup hopes have come down to an all-or-nothing duel with Panama Friday (9:15 p.m. ET, ESPNEWS/ESPN3/WatchESPN), the El Tri players will enter Azteca Stadiumin a situation not unlike that faced by gladiators in ancient Rome.

As in that era, winning over the crowd was almost as important as achieving the objective.

With El Tri's confidence shaky given the results of late, Mexico's fans have come in for their share of blame in the situation.

-Faitelson: Mexico's memory loss

It's a distraction, really. The dismissal of coach Jose "Chepo" de la Torre made it clear that the fans disgruntled with his tenure were right. The boos were mostly directed at him. If anything, Mexican soccer administrators are to blame for waiting so long to realize that keeping de la Torre on was a mistake. Nevertheless, players and commentators have both complained Mexico's fan support doesn't seem to be what it once was.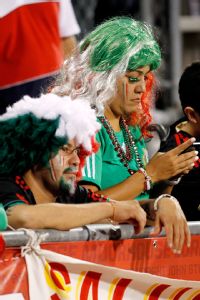 Paul Vernon/Getty ImagesEl Tri's 2013 slump has sapped the energy and emotion of their fans, including these two in the waning minutes of Mexico's loss to the U.S. last month.
It could be that the fans themselves are nostalgic for what Mexico's squad once was -- not only in results, but also playing style, it has been lacking of late.

Basically, it's asking too much of the human spirit for a supporter to not express disappointment when a beloved team doesn't play well enough to meet established expectations.

New coach Victor Manuel Vucetich knows well enough that Mexico's issues are too big to place upon those outside of the game.

"It's important," Vucetich recently said about the Azteca crowd support. "But it's not everything. What's important is what is done on the field of play. The players are the important factor. A player should be very committed. Support just gives more motivation."

The players Vucetich has readied for Friday's challenge have to find the confidence in themselves, not draw it from the crowd.

Eager for any opportunity to upset Mexico's team cohesion, Panama coach Julio Dely Valdes mocked Vucetich's three recent naturalized player call-ups. Since they all have Argentine roots, Valdes asked if the Argentina national anthem would be played at the Azteca.

Midfielder Lucas Lobos responded he hasn't even played yet for El Tri, since Vucetich hasn't yet released his final roster.

"I'm here because I want to be here. I have the same chance [to play] as any Mexican, and I'm glad to be here, waiting for the game."

The Panama coach's tactic may indeed backfire. It's likely only to make Mexican fans more eager to embrace their naturalized players, if only to spite Valdes' efforts to somehow depict them as less than Mexican.

Already there seems to be one small side benefit to Mexico's qualifying woes. Given the situation, most Mexican fans have decided that the naturalized player issue doesn't really matter. They've put that distracting debate aside and focused instead on the team as a whole.

Mexico qualifying for Brazil 2014 is what really matters.

If any or all of the possible trio of Lobos, Damian Alvarez and Christian Gimenez make the final roster and are part of an emphatic victory over Panama that puts Mexico back on track for Brazil 2014, they will be hailed as heroes, as will all the El Tri players.

The audience is the reactive element in the arena, responding to the action on the field. It should never be blamed for a loss, but nothing can make a triumph sweeter than celebrating with an ecstatic fanbase.

Win the game -- win the crowd.