Vucetich represents an open door to World Cup
Víctor Manuel Vucetich just recovered the 'Notebook' with the 'Guidelines' and 'Requirements' that team owners gave to 'Chepo' de la Torre.

A plucked notebook, by the way; certainly, an unfulfilled one, with many missing pages and obviously, lots of "what in the world?" annotations.

Justino Compean, self-confessed illiterate in practical soccer matters, said he wanted an offensive, spectacular, winning, and committed team, that qualified to the World Cup.

Vucetich has promised to fulfill all those expectations that 'Chepo' could not, did not want to, or did not know how to fulfill.

We have said this before: Mexican soccer players, or at least most of them, are scoundrels. They are predestined bums who do not understand the privilege of being a professional soccer player, with all the rewards this entails, and who despite those gifts and virtues neglect their most essential duty —being fully accountable at least four days per week.

- ESPNdeportes.com: 'Es duro decirle no al Tri'
- El DT de Panama considera factible vencer al Tri

Will Vucetich be able to accomplish the magical triple crown of winning, pleasing, and scoring? The first two are mandatory, and the third one should be entirely an accident.

During one of his final press conferences, those that stank like the autopsy of his coaching career, 'Chepo' said that he would rather "win, no matter how," than risk a new edition of the favorite, repeated excuse of Mexican soccer: "We played like never before, and we lost like we always do."

In the end, 'Chepo' fell into the same trap: El Tri played like never before —it had never played this poorly, attaining the worst record of any national coach in World Cup qualifiers.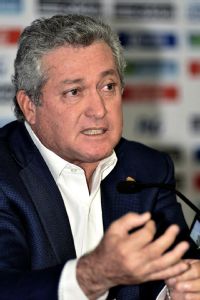 Omar Torres/AFP/Getty ImagesVictor Manuel Vucetich expects to exert control over his players.
On the other hand, Vucetich has proven that he knows not only which is the precise treatment that Mexican players need, but also foreign ones —even in conflict situations; we should just recall the cyclical, almost scheduled whims of Chilean player Humberto Suazo, whom he turned from spoiled brat to leader and symbol of his team. However, this time Vucetich has no time for lecturing, disciplining, and indoctrinating his players. He needs them to be ready to face Panama and Costa Rica.

He is aware, and thus he must be certain that a zero-tolerance approach is deeply engrained in the mind of this group. They need four out of six points to reach the home and away playoffs against New Zealand, or six out of six (plus some convoluted combinations) in order to qualify directly to Brazil 2014.

Vuce already has intelligence on Panama. As he does on Costa Rica. And he has two samples of Mexico's probable outcomes: their first-half performances against Honduras and the United States were outstanding.

As time has gone by, it became known that during halftimes the Mexican locker room was plagued with panic, wariness, fear of not winning (more than fear of losing), and absence of leadership and of a father figure (instead of a patronizing one) that was assertive, wise, and supporting.

Right there, in that halftime scenario, is where 'Chepo' lost control of his players, as did Luis Fernando Tena, after inheriting a team tired of failure.

What about the leaders? Torrado? Ruminating. Chaco Gimenez? Rallying the troops, when his legs and lungs had already given up. Corona? Those playing in Europe? Bah.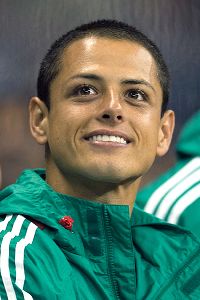 Miguel Tovar/LatinContent/Getty ImagesJavier 'Chicharito' Hernandez is said to have provided pep talks in the locker room.
According to sources, the most enthusiastic pep talk came from Chicharito Hernandez, albeit at a personal level, while the best silent boost came from Oribe Peralta, a guy whose warrior's body language is much more powerful than his limited vocabulary.

This is what Vucetich has received: capable soccer players, eager for a message lacking the hue of defeat or the nuance of mistrust.

To be able to interact, with all the power such exercise implies, is the veiled claim made by Guillermo Ochoa during an interview with Alex de la Rosa. One should be either deaf or dumb not to understand that desperate plea.

An undeniable truth, which upsets many, is that Mexican players do not have a voice. That is why Cuauhtemoc Blanco has been one of its greatest leaders. Just like Pavel Pardo was. As well as Rafa Marquez, who at 34 has been called to be the cornerstone of the change sought by Vucetich.

Vucetich, the so-called King Midas, knows it: he does not require great soccer spells or invocations, because he has plenty of talented players —although he has no geniuses. Mexican soccer doesn't have that kind of DNA. He only needs convinced, committed players, who will not break down if they see their coach anxious, obsessed, under pressure and stressed during halftimes, overcome by hysteria and uncertainty.

When 'Chepo' showed a phobia or sheer terror when "obligation" was mentioned, he chose the emergency staircase, the escape hatch, the flight tunnel.

Mexican soccer players need a ruthless whip that cracks over their skills for achieving great deeds and making them feel the urgency of reaching them.

But they also need a man wielding the whip who is sure of his power, his capabilities, and his authority, who does not need to resort to arrogance, facing the media with fear or taking visceral decisions in order to hold his ground.

Vucetich represents a transition, and consequently an open door to the World Cup, even having to pass through the uncomfortable stop at New Zealand.

A painful, dangerous, sadistic, and suicidal change process.

But as Thomas Jefferson said, "we are not to expect to be translated from despotism to liberty, in a feather bed."