Carlos Vela's refusal to answer the call
Carlos Vela left out, banished from El Tri. The Real Sociedad attacker had said yes, according to Victor Manuel Vucetich, but in the end, someone said no.

Vela had said yes, according to Mexico national team director Gonzalez Inarritu, but when the missing piece of the puzzle arrived, the will of the player, suddenly everything broke down again.

Let's scan the scenario for details that confirm, in its unique way, the surprising and fascinatingly absurd manner that things usually go in Mexican soccer.

1. The official list of Mexican players called up who play in Europe was to be issued in the afternoon. On Thursday night, the list was submitted by Vucetich, but was it approved or rejected by Mexican Football Federation officials Justino Compean and Decio de María and media magnate Azcarraga Jean? Inarritu acts like but pretends not to be an accessory.

2. The list is announced ahead of time due to a slipup by Spanish club Villarreal, announcing on its website, during the Mexican early morning, that its two Mexican players -- Giovani dos Santos and Javier Aquino -- have been called up. So two of the five players had been revealed.

And the sleepy FMF awakes to find that Villarreal has gotten ahead of it.

Providing information starkly generates disinformation and justifies speculations, especially in such a superficial matter as soccer, a playful pastime, insignificant for society's well-being but entertaining.

Theories explaining the nonappearance of Vela? They came out of the woodwork with gusto, speed, madness and astonishment. I'll share them, and then we'll review and assess the consequences.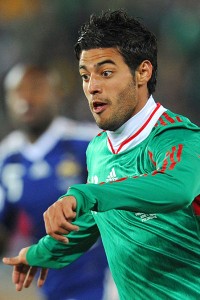 Franck Fife/Getty ImagesCarlos Vela, pictured playing for Mexico in the 2010 World Cup, has lately focused on club and refused the call to play for country.
1. The supporters of Vela claim that Vucetich was never really interested in him, to the point that he spoke by telephone with Guillermo Ochoa but not with the striker.

2. Vela's stopgap "lawyers" assert that he refused, once again, to be a part of the circus that involves filming commercials, signing autographs and enriching the FMF and its sponsors, among them Guillermo Lara, partner, confidant and close friend of Compean.

3. For others, Vela made demands, once again, for a starting place.

4. Perverse versions such as the differences between Rafa Marquez and the Real Sociedad attacker, dating to 2010, on this occasion interfered with the decisions.

5. The poor form and exhaustion of Vela, which coach Jagoba Arrasate has emphasized for a week now. (This was the excuse Vela alluded to, according to Inarritu).

6. A direct retaliation ordered by the FMF as a vindictive response to the player's prior refusals.

7. Vucetich did not consider it necessary for Vela to make the trip as he wasn't going to be included in the starting 11 and didn't want him to become a source of unrest and intrigue among the team and on the bench in the transition from the game in Panama to Costa Rica.

8. All of the above.

What are the responsibilities and obligations, of both parties, when confronted by this chaos of speculation?

1. If Vela refused to play this time, he should be erased from any further initiatives to call him up for the team.

2. If there were actions in bad faith by the FMF or disrespectful ones by Vucetich, it is essential that Vela reveal them, now or never.

What consequences will this have? None off the field, if Vucetich is able to manage the immediate effects.

In fact, by keeping silent, the coach is sending a tough message of authority and absolute control to the rest of the group he convenes to face Panama, apart from the fact that sooner or later the motives will come to the surface.

I'm in charge, Vucetich seems to be saying, to such an extent that he leaves behind the controversial figure of the moment of crisis that faces Mexico, with the risk of missing out on the Brazil World Cup.

On the pitch? Mexico loses its best soccer player, who on top of that has hit his best form, regardless of Arrasate's comments and his recent sidelining against Barcelona.

There is no soccer player in Mexico, and we've said this for years, more complete than Vela, although this new situation once again puts his good sense and position into question unless he clarifies the details soon, which, I must emphasize, is no longer just an option but an obligation.

It was said well by Mexican-Guadalajaran-Brazilian, lifelong Atlas fan and Santos legend Ney Blanco de Oliveira: "In Mexican soccer, things happen that even God doesn't believe."

He got that right.