Carlos Vela just keeps saying 'no'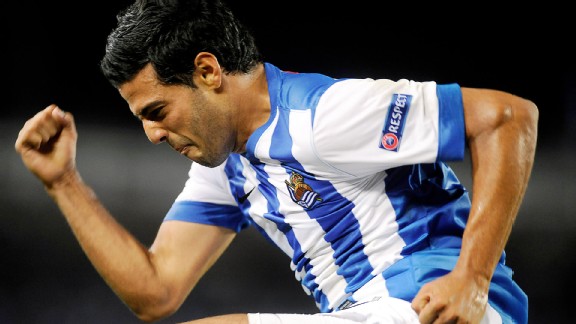 Ander Gillenea/AFP/Getty ImagesCarlos Vela's Real Sociedad may be in the Champions League this year, but is off to a mediocre start in La Liga.
Just when it seemed like happy days were here again for Mexico fans and true team reconciliation would bring back all of the squad's stars to work together and save their qualifying campaign, the recent list of players called in by coach Victor Manuel Vucetich has brought everyone back down to earth.

No Carlos Vela.

Lots of people probably blinked a few times at the list, reading it again to make sure, hoping to see the Real Sociedad striker's name on the second try. Hadn't Vela, after all, indicated a positive response to the possibility of a call-up? Had he suddenly changed his mind about playing for Mexico? Had Vucetich somehow decided against calling him? Why wasn't he on the list?

According to ESPN's John Sutcliffe, Vela contacted Mexican Football Federation (FMF) head Hector Inarritu Gonzalez on Thursday and communicated that he simply didn't feel ready to return to Mexico's team. He indicated that he didn't feel he was in the form needed to do so. Vucetich, thus, did not call him in.

The striker has long indicated that Real Sociedad, the club that has helped him realize his fullest potential as a professional player, is his priority. At present, the Spanish club has a Champions League playoff challenge to face. Vela hasn't been able to score for them like he was doing only a month ago. Key injuries to Esteban Granero and Xabi Prieto have left the club vulnerable. They are currently in 11th place in the league standings, far from where they were last season. Perhaps Vela feels obliged to stay and focus on his club's problems, rather than Mexico's.

It might also be that Vela was simply spooked by the growing expectation for him to be Mexico's savior. It takes confidence to perform well as a striker, but it also takes service from teammates. With his long absence from the national team, Vela hasn't played recently with any of his Mexico teammates. Among professionals, there is usually an implicit understanding of the sport that overcomes this lack of playing familiarity somewhat, but if there is any envy about the intense media focus on one player, or resentment about his previous absence, Vela could find himself isolated. It's difficult to accomplish much in a sport as team-oriented as soccer without the full backing of fellow players.

Vela's refusal may be a bit of a blessing in disguise for Vucetich. Working closely with the Liga MX players in their recent extended training camp may have convinced the man with the Midas touch that Vela isn't needed and could even be a distraction at this delicate time.

After all, Mexico would have been fine against Honduras if El Tri had just been able to maintain the lead established by Oribe Peralta. Javier Hernandez has also scored recently for Manchester United. If Vucetich feels that his current striking corps is well and able, a player unused to the trials of CONCACAF qualifying probably isn't the best choice for the moment.

There's a certain logic of "dance with who brought you" at play here. Even if Mexico's qualifying results haven't been ideal, the majority of El Tri players, even Guillermo Ochoa until very recently, have put their hands up to be counted, have accepted the call, have journeyed from near and far to travel to whatever CONCACAF venue was required and have tried to get the job done.

Except Vela.

To bring him back so soon and so quickly to a team that badly needs chemistry and cohesiveness in order to make a united stand and prevent the worst could destroy the foundation of what Vucetich is trying to build. With Vela's unwillingness to answer the call, however, Vucetich is spared the backlash that would inevitably result if Vela instead was left off the call-up list, even if that choice would ultimately be the best for the Mexico squad.

Vucetich has been willing to make the tough call on a number of players, however, leaving Andres Guardado and Diego Reyes, for example, off the same list that is missing Carlos Vela.

It's time now to move forward with the players who will decide Mexico's fate.