Pumas are unrecognizable in the Apertura
MEXICO CITY -- Historically, they've been known for their tenacity, their commitment, and their good soccer. Today they simply don't have any of that: they are a lost team, a team without direction, with its key players far from playing at their best level. It's painful to see such an important team reduced to this.

I write this not just because of Saturday's game against Atlante, but also because of the blow delivered by Monarcas in Ciudad Universitaria, and because of the way America steamrolled them in the Olimpico, and for the goal-fests that they narrowly avoided against Leon and Tijuana. None of this fits the Puma tradition.

Atlante defeated them even though they were playing with 10 men from the 58th minute when Mauricio Romero was expelled from the game. Curiously, that was the period when Atlante created the most scoring opportunities.

- Andrea Canales: Liga MX Week 11 Roundup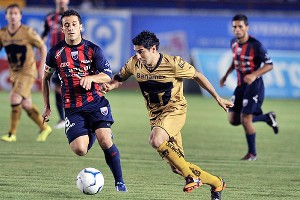 Paco Galvez/LatinContent/Getty ImagesMartin Bravo of Pumas runs past Atlante's Jose Guerrero in Cancun.
Dario Veron's individual form has decreased dramatically, and he made obvious errors of judgment; not to mention Javier Cortes, who is once again far from his best form, and Martin Bravo, whose era at Universidad ended a long time ago. The list goes on and on, and even more so if we look at the recent additions.

What have Ariel Nahuelpan, Candido Ramirez and Robin Ramirez contributed? The Paraguayan was presented as the new Salvador Cabanas and he has only scored 3 goals in 1,300 minutes; in other words, he scores a goal every 433 minutes. That speaks for itself.

The management has made multiple serious errors. The "new" administration of Mario Trejo started off with one more: the appointment of Jose Luis Trejo. They simply lack direction. But also, what were they thinking? Jose Luis Trejo hadn't kicked a ball in seven years. One can only expect the downwards spiral to continue.

The problem runs deeper than just who is on the bench. Before, they had Joaquin Del Olmo, Mario Carrillo and Antonio Torres Servin; and Alberto Garcia Aspe suffered the same fate as Vice President of Sporting Activities.

Procedures have been changed, confused decisions have been made, the academy has stopped producing, and the worst is that the university pride has been lost. Can it be recovered? As far behind as they appear in the league table, they have another six matches that will be played as 'finals' ahead of them.