America's motto: Club above country?
The Liga MX news this week should be about which team is on top. Defending champions Club America stomped back into first place by virtue of a confident win 3-1 victory over Chiapas F.C. Rubens Sambueza, Miguel Layun and Raul Jimenez put the team up by three, while Carlos Ochoa scored the lone consolation goal for Chiapas. So far, the Aguilas are having a season to make their fans adore them, as they seemed primed to enter the playoffs ready to win a record-breaking twelfth title.

Truth is, however, the team whose unofficial motto is "Hate me more", could be in for a lot more hate than just the usual suspects of envy for their success. If the rumors are true that Club America directors prevented coach Miguel Herrera from breaking his contract to coach Mexico's national team, then the club has made the ultimate choice of putting itself before its own country. Now, it could be that Club America's administration has thought what many have, that Victor Manuel Vucetich is a perfectly competent coach and that Mexico will no doubt secure fourth place in the CONCACAF Hexagonal over Panama and then defeat the island nation of New Zealand for a spot in the 2014 World Cup.

If that happens, then Club America will pat themselves on the back for not upsetting team chemistry and momentum by giving up their coach for national duty. Few will criticize the choice or even think about it.

Yet if Mexico struggles in the next round of games while America continues to soar under the guidance of Herrera, the cruel contrast of fortunes will no doubt call attention to the club's self-interest over the national interest. That could trigger an unprecedented level of hate that might even leave a few Aguilas fans remorseful about the club's choice.

Of course, when viewed through the lens of what other clubs near the bottom of the league table are doing, perhaps Club America is right to put itself first and foremost. Besides the Aguilas being the new leaders of the table, there is a new squad which is dead last - Pumas de UNAM. Yes, the derby rivals of the Aguilas, which only last season opened the playoffs against their most fervent competition, are now virtually eliminated from playoff contention at all this season. They have earned only a dismal five points, and lost meekly, 1-0, to Atlante on the weekend.

Perhaps Jets quarterback Mark Sanchez cursed the team by saying he liked their logo at the beginning of the season. Pumas has tried changing coaches, but to no avail. The historic team seems headed for a complete failure of a season.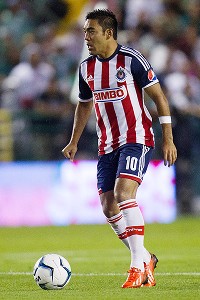 Refugio Ruiz/Getty ImagesMarco Fabian and Chivas continue to cope with a nightmare of a season.
At least for Pumas, such total failure is a relatively recent development. For Guadalajara, this Liga MX season is the second in a row to see them fail to make the liguilla. The squad isn't mathematically eliminated yet, but any reasonable scenario points to this happening soon. Guadalajara lost, 2-1 to Leon this past weekend. They have earned only seven points in the entire Apertura 2013 season. Without making the playoffs, Chivas will thus not even be able to possibly deny Club America the chance to break the title record both teams share. Like Pumas, a coaching change has not helped the team play better.

In the middle of the league table, a number of clubs held serve with draws, resulting in only slight changes of their positions. Club Tijuana and Cruz Azul, as well as Tigres and Puebla, fought to scoreless results, while Pachuca and Santos marked a goal each in their encounter. Veracruz and and Atlas gave fans a big bang for their bucks in an entertaining 3-3 draw.

Monterrey, meanwhile, is having some positive results from cutting loose their former coach, Vucetich, earning a nice 3-1 victory over Morelia.

No team, however, put up more points on the board than Toluca, which pounded Queretaro 4-0. With Raul Nava and Edgar Benitez in fine form, Toluca could be the sleeper team of the season.

Still, it's looking for all the world like Club America is king of the Liga MX world. The price of keeping Herrera on to rule that kingdom, however, may seem too costly if Mexico's World Cup hopes are the price to pay.