Vucetich makes strides with El Tri squad
As a player, Victor Manuel Vucetich took on the responsibility of a defensive midfielder, the man tasked with breaking up opponent attacks, and thus, at times saving his own team from disaster. No salvage task he ever performed as a player, however, compares to the one facing him now as the coach of Mexico. There are only two qualifying games left for El Tri, currently placed fifth in the Hexagonal standings, to grab a CONCACAF qualifying spot.

Vucetich, known as a master strategist, has taken some time to assess his player arsenal, getting permission from the national federation to call in a preliminary roster of Liga MX players for evaluation. Though he has begun his tenure looking first at domestic players for a training camp, Vucetich has also fired off some warning shots across the bow of the current player establishment and the easy assumption that a spot on a European roster equals a spot in the starting lineup.

- The list of 25 Liga MX players in the call-up

In his press comments before releasing the roster, Vucetich made it clear that players in game form, who perform regularly and consistently, are the ones he is looking toward as the base of his salvation squad.

"For me, what does it matter if they play in Europe, if they're out of game rhythm?" Vucetich declared.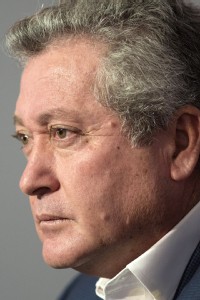 Miguel Tovar/LatinContent/Getty ImagesVictor Manuel Vucetich will call on European-based players next.
OK, so Vucetich didn't come right out and say, "Carlos Vela can give more to this team than Javier Hernandez, because Vela is getting it done with his club team week in and week out," but let's be honest, he could have. For that matter, Vucetich may have reassured Liga MX stars like Oribe Peralta that they can earn starting spots instead of automatically being shunted aside for the big names.

So after the drama of Vucetich's declaring that every player has to prove himself to the new coach, the actual names called have been put on notice. Desperate times call for desperate measures, and it's an indicator of the extremity that Mexico finds itself in that Vucetich's calling in three naturalized players, all with Argentine roots, barely caused a ripple.

No one might have been more surprised by that non-fuss than Lucas Lobos himself, who only months earlier downplayed his new status as a Mexican citizen. Now he, Damian Alvarez and Christian Gimenez are all part of the latest crop of players under consideration.

Vucetich has also climbed into the way-back machine, bringing in former captain Rafael Marquez for a look. Granted, the defender is enjoying a resurgent season with Leon at present, but it's likely that Marquez has been brought in to see if he can provide the spark that Mexico has lacked.

Part of the problem for El Tri in both their games versus Honduras was how the defense crumbled late. A lack of stamina plays a part in such circumstances, but veteran experience and mental toughness are often effective antidotes.

The door is open not only to Mexico's past, but to its future. Vucetich has brought in young players like Marco Fabian, Miguel Layun, Hugo Ayala, Carlos Pena, Angel Reyna, Hiram Mier, Isaac Brizuela and Raul Jimenez.

Truth be told, Mexico's ill-fated Gold Cup campaign notwithstanding, there hasn't been that much variation in El Tri's top roster for a while. A new look and a fresh perspective might be exactly what's needed.

So far, Vucetich is talking the talk and walking the walk of change. Now the question remains of how he will bring all the elements together. Can he bring back the top European players like Vela and Guillermo Ochoa into the fold, truly ready and willing to work? Will he be able to energize domestic talent without alienating the players struggling for playing time in Europe?

The upcoming pressure-filled games will be the ultimate judge and jury. Yet any journey of many miles begins with a single step. Vucetich's first step is a confident one.