Mexico can't afford to lose in Honduras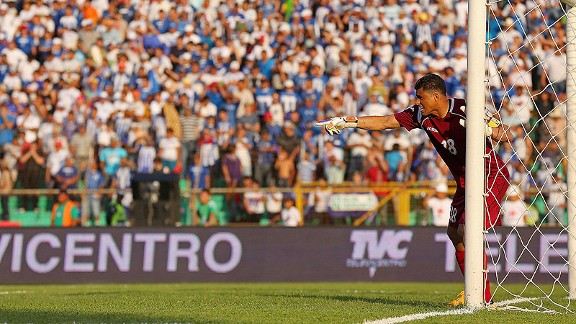 Mike Ehrmann/Getty ImagesHonduras keeper Noel Valladares will guard the goal on Friday against Mexico. El Tri last won in Honduras in 1965.
SAN PEDRO SULA, Honduras -- Seventy-eight years. A lot of water has gone under the bridge and a lot of bridges have been buried under all the water.

That event seems unreal today. Unthinkable. April 1st, at the III Central American Games in San Salvador. Mexico celebrated an 8-2 win over Honduras. Yes, impossible today.

Seventy-eight years of rivalry. Fake scars of resignation that reopen every four years. Hostility has been inflicted with no mercy: each one has held a carnival in the face of their rival's ruin, while fighting for a spot in the World Cup.

Some histories repeat themselves. The one from 78 years or 77 years and 51 weeks ago among them.

Mexico does not seem capable of perpetrating that type of abuse again, nor does Honduras seem capable of avenging such an insult, even after having just buried Canada, 8-0.

- Faitelson: No need for so much drama

On Friday there is a new meeting: Mexico has gone 48 years without winning in San Pedro Sula. 2-1 in 1965, but it was at a different stadium, Francisco Morazan stadium.

The meeting, a conclave for some and a coven for others, will be chock full of sports contrasts, beyond the fact that the heat on the field could surpass 100 degrees Fahrenheit.

The stage has already been defined as hell by two historic enemies of El Tri: Carlos Pavon and David Suazo, who this time will watch from the unwanted and undesirable stands, in the role of witnesses, far from being protagonists.

Moreover, for this Friday, Mexico and Honduras live in different, isolated, warring neighborhoods. They live on opposite sides of the competition: Honduras is coming off its convincing win over the United States, while Mexico arrives in the red, because the draw with Jamaica at Estadio Azteca only leaves a sour taste in its finances and budgets for this Final Hexagonal round.

Who will be more driven by the environment? Who will come into it more pressured? Who will come into it more committed to winning?

That, without a doubt, is fuel that adds to the drama, excitement and expectations, to a game that will already, by nature, be played on the edge of a cliff.

Mexico's passport will get stamped and its visa as favorite will be revoked for Friday's game at San Pedro Sula. Suddenly, after filling their coffers with credibility and praise in 2011 and 2012 crowned by Olympic gold in London, the game against Jamaica knocked them out of their niche.

In CONCACAF World Cup qualifying there is a basic principle: win home games to guarantee being a serious contender for Brazil 2014. Mexico suffers a deficit and must recuperate what was lost against the Caribbean team. The question is where will it steal the coins to balance its budget: when visiting the United States or Honduras or Costa Rica or Panama or Jamaica?

Honduras has the circus-like festivities standing by. There is no margin for error. It is a granite wish and the entire nation is waiting for its gladiators to hand them the tricolored sheepskin to show it off vainly and ostentatiously around the Concakafkaesque block.

The Catrachos approach it the same way: they feel they can't, shouldn't and don't want to lose. It is no longer simply an obligation on the field and turns into an edict, a decree of national pride. And it becomes a double-edged sword.

Luis Fernando Suarez is aware of this. So aware that he wants to put them "inside a bubble where there is only the team and its operation, in which the good and bad that comes from off the field should not exist for them," Suarez stresses.

Yes, 78 years are quite a few. Not only have strong water currents flowed under bridges and storms passed over them, but also tsunamis have been unleashed on CONCACAF's multiethnic, multicultural pitch.

Right now, the truth for a generous anointing of soccer on Friday is this: Honduras must win and Mexico must not lose; Honduras wants to win and Mexico does not want to lose.

Passions such as these, depending on the venue, only rejuvenate soccer.