Is Tena the savior of the Tri-tanic?
MEXICO CITY – Xerxes, after asking for the Spartans' surrender in the film "300," declared: "I will cover the sun with our arrows." Leonidas responded: "Then we will fight in the shadows."

As a player, the public outcry toward Luis Fernando Tena was, "Dominate, don't just play with the ball." He had two left feet and two right shoes. So exquisite was El Flaco on the ball.

As the coach for El Tri, the outcry from his fan base is simple: "Teach them to go out playing with the ball."

Luis Fernando Tena has everything against him. It seems like his destiny. It seems like his bar code. It seems like his sentence. And it seems that he feels good.

- Table: CONCACAF Hexagonal World Cup Qualifying
- Fixtures: CONCACAF Hexagonal October matches

Here is the scenario of the new coach for the Mexican national team.

1. He is a coach for three more games, and El Tri needs to win nine out of nine possible points, or at least six, and should make a stop in New Zealand in order to aim for the World Cup.

2. The reality is that depending on the form displayed and the result against the United States on Tuesday, Tena could end up directing El Tri for one game. If he doesn't convince, FMF head Justino Compean has a list of favorites on his cellphone, various names.

3. There are no guarantees, even if Mexico qualifies for the World Cup, that Tena will keep the job. That is, he can sow the barren land of CONCACAF and get a World Cup ticket so that someone else reaps the rewards.

4. The contract issue has not been dealt with yet. "We are going to resolve what's important, the qualification," Tena told Compean and Inarritu.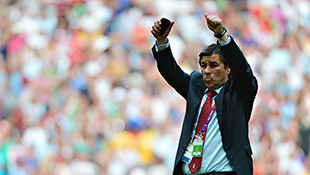 Kahled Desouki/AFP/Getty ImagesLuis Fernando Tena led El Tri to championships in 4 out of 5 major competitions, including gold in London Olympics.
5. Why the distrust? It is believed that winning the Pan American Gold, the Olympic Gold, the Toulon Tournament and the Pre-Olympic competition was necessarily due to the supervision of deposed coach Jose Manuel "Chepo" de la Torre. It shouldn't be forgotten that in the final of the Olympic Games against Brazil, Chepo was in Mexico.

6. Tena reportedly disguised his decision to remain, saying that Chepo convinced him to stay, even though there are versions that contradict that claim by Justino Compean.

7. Yet, there he is, winning four of the five tournaments in which he led the national teams in 2011 and 2012. As for the Copa America, as has been insisted, he suffered the sabotage of the kids with an excess of testosterone in the bedroom, but not on the pitch, and this experimental Tri was demolished by punishments, suspensions, replacements and a climate of entertainment.

What does Tena offer? His representative once told me by phone: "Luis Fernando is the best at finding the rival's defects and taking advantage of them. He only needs to strengthen the attack of his team." That was 19 years ago. And that was Carlos Hurtado, who did not explain to me how he got my private phone number, registered as restricted.

In that interval, during those 19 years, Tena has shut everyone's mouth.

They accuse him of keeping a "low profile." That doesn't mean he doesn't know how to manage groups.

Another accusation: "He doesn't know how to work with young people, he prefers veterans. How many have debuted during his career?" I am also guilty of this. And again he silenced us with new blood amid some veterans in the four aforementioned tournaments.

Is Tena the Messiah? Is he the savior of the Tri-tanic? There are arguments for that.

What makes you think he can do it with El Tri when Chepo couldn't do it with him as an assistant? Each person acts differently in the same job.

What is the biggest challenge for Tena in a question of hours? To raise the dead that wander in the Mexico national team and run the risk of giving up again when facing an even more complex game, against a presumptively superior rival and on a field that definitely represents a historical torment and torture for El Tri. Columbus, Ohio has been the site of three Mexico defeats, all 2-0.

That is the challenge: Get the squad on their feet, convince them of their ability, and continue where those first 25 minutes against Honduras -- where there was clarity on the pitch -- can come back. But above all, he must instill the ability to prevail, to survive the 90 minutes so that El Tri don't go from conformity to apathy, and from there to doubt and discouragement.

It is the opportunity for El Flaco to convince his national team that everyone, at some point, must learn to fight in the shadows, and that this is his momentum.

Can Tena do it? Will the team want to? Because it is our duty…