Liga MX roundup: America at the top
Unlike many other soccer leagues around the world, Liga MX continues on even during international FIFA dates, so matches went on despite a large number of stars missing from the games. That probably helped facilitate a few unexpected results.

As before, league leaders Club America continued to dominate, winning yet another match, 1-0 versus Monterrey. It could be considered a bit of a moral victory for Los Rayados that the game was tight until the very end, when a Luis Angel Rey penalty kick sealed the win for Las Aguilas with only three minutes left to play.

Club America now stands alone as the last unbeaten team, since Leon was defeated 1-0 by Chiapas F.C. on a penalty goal in the first half by Carlos Ochoa. Leon had a chance to earn yet another draw when they won a penalty of their own in the second half, but midfielder Matias Britos failed to convert the opportunity.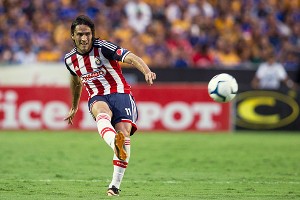 Juan Fernandez/LatinContent/Getty ImagesAldo de Nigris scored for Chivas, but in the end a three-goal lead didn't last, as Tigres drew 3-3.
But no blown chances over the weekend were as bad as those exhibited by Chivas. It's a bit mind-boggling indeed to be up by three goals and then somehow concede every one of them to the competition, thereby turning a triumphant win into a measly draw. It's especially hard to imagine doing this when a squad is so desperate for a win. Yet that's exactly what Guadalajara did against Tigres. The one positive to take away from this tie for Chivas might be that at least Marco Fabian and Aldo de Nigris are scoring again. Yet Guadalajara still sits third from bottom, and owner Jorge Vergara is running out of excuses and apologies.

Showing the hunger and drive of a young team, Club Tijuana, as Chivas did, scored three goals in their own game versus Veracruz. Pablo Cesar Aguilar got one, while Fidel Martinez doubled up. The entire Xolos squad contributed to the defensive effort that shut out Veracruz. The two teams sit in the middle of the table, but the Xolos are currently rising, while Los Tiburones Rojos are falling.

Good defense on both sides kept things scoreless in the encounter between Pachuca and Pumas. Santos Laguna and Atlas also ended in a draw, but this time, offense was involved in the 2-2 result.

Another surprising result with the same scoreline was the match between Atlante and Morelia. While the Monarchs sit in second place in the league, Atlante is dead last, and thus might not be expected to put up much of a fight. It was a back-and-forth affair, though, which ended in a split of the points.

Queretaro was able to keep all the points to itself after defeating Puebla by a mere Diego de la Torre goal.

The weekend action wound down with Sunday's tilt of Cruz Azul versus Toluca. Despite missing certain key players, namely Gimenez and Torrado, Los Cementeros managed to pull out the comeback victory.

Even though matches were played, league action definitely took a backseat to the national team drama surrounding the loss to Honduras and the firing of Jose Manuel "Chepo" de la Torre. Depending on Tuesday's result, the upcoming weekend Liga MX games could be more of a return to normal or an intrusion into a national period of mourning.