Sacking Chepo may be too little, too late
MEXICO CITY -- After Honduras coach Luis Fernando Suarez vacated the Estadio Azteca podium Friday night, it took about 45 minutes for Jose Manuel de la Torre to appear in front of the media and offer his piece. A 2-1 loss to Honduras at home, Mexico's first in a World Cup qualifier at the fabled stadium since 2001 (to Costa Rica), was the El Tri manager's cross to bear. Once the former Chivas and Toluca boss appeared, rumblings that he had been fired immediately after the match were temporarily silenced.

"Failure is when you stop trying, when you give up towards reaching a goal," a defiant De la Torre said. "I won't quit, because it has cost me so much to get here." It would turn out his future was out of his hands. The decision had been made, and, about 2:30 a.m. local time Saturday, the Mexican soccer federation sent out a terse statement confirming Chepo had been fired.

Just four days before El Tri is scheduled to take on the United States in Columbus, Ohio (8 p.m. Tuesday, ESPN/Watch ESPN), a massively difficult place for it to win, Luis Fernando Tena has been asked to take the reins and has been tasked with Mission Impossible. Tena's first job? Lift the spirits of a team that has been dragged through the mud by fans, media and yes, even its former boss.

-Mexico fires Chepo after loss
-Canales: An ominous sign of things to come
- Report: Mexico 1-2 Honduras

Only a miracle in Columbus would assure Tena continuity in the face of a World Cup qualifying campaign that has gone from seemingly effortless to an absolute nightmare in just six months. Candidates lining up to take the job on a more permanent basis include former Monterrey boss Victor Manuel Vucetich, current Club America coach Miguel Herrera and former Athletic Bilbao and Argentina manager Marcelo Bielsa.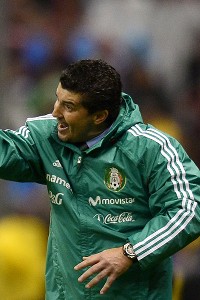 Yuri Cortez/AFP/Getty ImagesJose Manuel 'Chepo' de la Torre was unable to inspire Mexico, and is now out as coach of El Tri.
The next step is to kindly ask Mexico's best player (and yes, CONCACAF's best player, by far) Carlos Vela to come back and save a sinking ship. The Real Sociedad man has single-handedly put his team in the Champions League, and, after Friday's game, cheekily retweeted a TV host's desperate plea for his return.

Third, Mexico must gather at least seven points from its remaining matches. Honduras, despite all the furor around its win at Azteca, still must beat Panama, which is one point behind Mexico and would love to choke out at least a draw in San Pedro Sula on Tuesday to force the issue. A home win for Honduras would virtually lock up a spot in Brazil for that team.

Finally, and perhaps most frighteningly, Mexico has to realize that, much like in 2001 and 2009, things are now officially out of its hands. Javier Aguirre saved El Tri twice in those aforementioned years, now the Espanyol boss won't come anywhere near the national team for obvious reasons. The best-case scenario is a drop in form for a suddenly revitalized Honduras combined with a Mexican resurrection.

The more realistic projection is that Mexico will play against New Zealand later this year in a winner-take-all playoff that could dismally end El Tri's hopes to go to Brazil 2014 after a heap of drama. Now, more than ever, the writing is on the wall: Mexico could miss the World Cup for the first time in 24 years, just one year after winning the Olympic gold medal against Brazil and the likes of Neymar, Hulk and Marcelo in London.