Chepo faces moment of truth against Honduras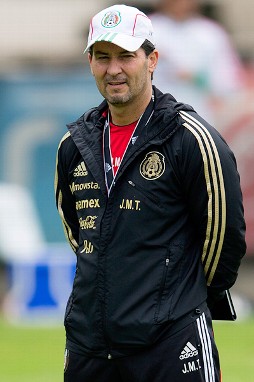 Miguel Tovar/Getty ImagesJose Manuel 'Chepo' de la Torre faces the pressure to win yet again. This time it may not be an option.
The friendly win over the Ivory Coast doesn't provide any safe harbor for Mexico coach Jose Manuel "Chepo" de la Torre. For that matter, even El Tri's failure to defend their Gold Cup title is relatively minor compared to what is riding on the next match. At this point, Mexico's World Cup qualification game against Honduras on Friday is the most important competitive result in De la Torre's life.

There is no wiggle room for anything other than a win. A loss would be complete disaster. Even a draw would be only a slightly less painful type of doom, leaving El Tri in desperate need to win the final games, burdened with a collective shattered ego from the inability to win at home.

De la Torre is aware of what is at stake. Only four other countries have been to more World Cup tournaments than Mexico (14). To miss out on the 15th is unlikely, with ESPN's Soccer Power Index putting the team's successful qualification at about 87 percent.

• Villagrana: Victory is not an option
• Gomez and Marshall: Who should start?

The odds may be in his favor, but the whims of fate can be more fickle than mere statistics. While the press tried to bait him into it, De la Torre wasn't about to issue any Namath-style predictions about the Honduras match.

Various versions of the coach's statements on the topic were written as: Chepo promises a win. However, what De la Torre said wasn't nearly as strong or confident as what was made out by the headlines.

"I still have the same vision as I did the first day, when they invited me to this project, and I'm still convinced that the team is going to do well, that we are going to win and achieve qualification for Brazil 2014."

For the coach to say that his personal conviction bodes a win for the squad is practically meaningless -- since we can be sure De la Torre's dreams for El Tri never include defeats or draws. Yet those are what Mexico has mostly garnered this year.

Perhaps De la Torre was wise in his statements to hark back to his early days with the Mexican squad, because those were the glory days for him and the players. Those times are now in the distant past, however.

At that time, a boycott by striker Carlos Vela seemed essentially inconsequential.

Of course, that was before Mexico's poor results prompted the popular hashtag, #FueraChepo, which was then joined by #PerdonanosVela, plus the latest version, #PerdonanosOchoa.

This may be the twilight hour for De la Torre, since rather than having a grand plan for Mexico to charge out against Honduras, he seems instead to be focused on petty control issues with his team.

According to recent reports, De la Torre publicly chastised midfielder Giovani dos Santos for ignoring assembled media calling for interviews in a mixed zone after the national team's practice.

First of all, De la Torre hasn't been terribly polite to the press on many occasions, so it's a bit hypocritical of him to scold Dos Santos, given that the player had done nothing more than ignore the journalists. Secondly, some players would prefer to maintain focus and not discuss their feelings about an important match with the press. De la Torre should know his players by now and understand if some are less interested in the media glare than others. Lastly, De la Torre should be focusing on a game plan and a strategy based on player skill and cohesiveness, not practicing amateur psychology about who has the "character" to win.

Yet when De la Torre was asked about the qualities a player needed to make the El Tri roster, he referred not to whether they were game-fit, with good stamina and playmaking ability. Instead, he spoke of character, as if it were some measurable element.

"Character is indispensable," claimed De la Torre.

"Character" to the coach seems to be more about whether the players will conform absolutely to his leadership. Their incentive to fall in line may be low when their coach exhibits body language on the sidelines that displays pure exasperation when things don't go well, instead of showing encouragement or support.

Administration officials may have given De la Torre a lifeline by letting him remain in charge of the squad, but he faces another jury every time he steps into Azteca stadium. There, the 100,000 fans will make their feelings known, regardless of the public calls from Mexico players for the crowds to merely be good cheerleaders. Mexico fans are faithful, but they are not fools, and they have been relatively patient in draw after draw. If De la Torre wants their fervent cheers, he must earn them.