Liga MX roundup: America is flying high
It's not that Club America have an unbeaten record in the Apertura 2013 season, though that's impressive. It's that rather than playing safe games with a lot of draws, the squad is aggressively winning, with five out of six games outright victories. It's not even that Las Aguilas are racking up wins, though. It's that they are demolishing solid teams by multiple goals. In their latest game, Club America reeled off four straight goals against UNAM Pumas, who finally got a late consolation tally from Martin Bravo to salvage a bit of pride out of the 4-1 encounter. Nonetheless, the loss cost Pumas coach Antonio Torres Servin his job.

Bravo is the big star, of course, for Pumas, but for Club America, it was harder to tell who was the headliner, given the fine constellation of top players in good form. The redeemed Miguel Layun, stalwart defender Juan Carlos Valenzuela, young Luis Angel Mendoza and veteran Luis Gabriel Rey, America's new transfer, all registered goals. Rey even assisted on two of the other strikes.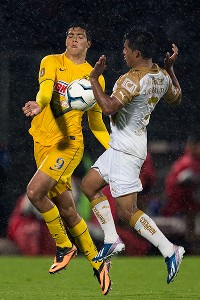 Miguel Tovar/LatinContent/Getty Images Javier Cortes (R) of Pumas struggles against America's Raul Jimenez. Las Aguilas soared, 4-1.
That Rey, their new signing, has incorporated so well into Club America just highlights how so many things have gone right for the organization of late. The squad even has the luxury of having a game or two in hand on every other team in the league, given that the schedule still hasn't evened out for the teams to have played an equal number.

Such dominance would normally cause fans of other teams to hate Club America more than ever, but even that is hard to do given the recent tragedy of Christian "Chucho" Benitez's sudden death; the former America player was mourned by teammates and Aguilas fans alike.

All that is left for other squads to do is to buckle down and chase Club America, remembering that even teams that dominate in the regular season are vulnerable in the knockout format of the playoffs.

Morelia has bounced back from being trounced by Club America last week to administer a 4-1 beatdown to Pachuca. If not for Club America's dominance, Morelia would be the story of the season thus far. As it is, they are keeping pace, reminding Las Aguilas to watch out for the clubs that seek revenge.

Leon has quietly crept up the league table, as well. Alongside Club America, it's the only unbeaten team, though it has earned three more draws than the Mexico City club. Las Esmeraldas of Guanajuato haven't racked up gaudy score lines in their four wins thus far, but they are a solid squad with a strong defense led by former El Tri star Rafael Marquez. Over the weekend, they held Santos Laguna and their star Oribe Peralta scoreless in a 2-0 victory.

Cruz Azul, meanwhile, was similarly stymied by Queretaro, losing 2-0. Los Cementeros showed that relying on veteran players can sometimes result in a team that appears old and slow to react to challenges. Two quick goals by Queretaro left Cruz Azul with plenty of time to react, but they never did so effectively.

Early-season leaders Veracruz have indicated that they're not going away quietly, fighting back against Tigres to score an equalizer at the death of the match. Scrappy Cristian Martinez is one to watch. Monterrey and new coach Jose Guadalupe Cruz also earned a draw versus Atlas.

The lightning that temporarily suspended the match between Tijuana and Chiapas FC apparently messed with the mojo of the Xolos. They didn't come back from the break strong and eventually fell 3-1 to their rivals.

The saddest story of Apertura 2013 continues to be the struggles of Guadalajara, who are still winless in Liga MX play under their new coach. A scoreless draw versus Toluca was all Chivas could manage this weekend. It may be that the season is already a wash for this club. In fact, it could even get worse, as a possible relegation battle looms.

Puebla, however, managed to squeeze pitiful Atlante for full points, with Matias Alustiza scoring the lone goal needed to secure the victory.

Servin, the former coach of Pumas, was perhaps the biggest name to lose his post this past weekend, but the ax fell on two others as well. Pachuca's Gabriel Caballero and Atlante's Wilson Graniolatti also paid for poor results by losing their coaching jobs. Atlante and Pumas, with two and four points respectively, occupy the last two spots in the league table. Pachuca's move was perhaps the most surprising, given that the club has nine points in the standings.

International play will take the focus off league action this coming weekend, but the games that will be played continue to determine the playoff fate of the clubs involved.