Vela and Ochoa refusals leave Mexico fans with questions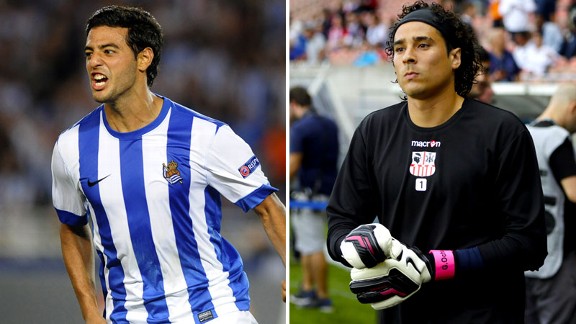 Getty ImagesCarlos Vela, left, and Guillermo Ochoa, right, have each declined calls to join Mexico for their upcoming World Cup qualifiers.
Most fans of Mexico's national team will agree that they want to cheer for a team that displays a combination of thrilling skill and dedicated effort. The value placed on the different elements may vary from one supporter to another, which is why the arguments of who should start are as timeless as they are passionate. With the recent revelation from Mexico coach Jose Manuel "Chepo" de la Torre that forward Carlos Vela and goalkeeper Guillermo "Memo" Ochoa have chosen to refrain from offering their skills to El Tri, supporters are left to question whether those players, who "abandoned" Mexico in its time of trouble, are sufficiently dedicated to be considered in the future.

- Faitelson: Chepo faces mounting challenges
- Ramos: Mexico's obligation is simply to win

A very plausible scenario for Mexico's national team is that the squad does survive the next round of Hexagonal qualifying, securing a spot to Brazil in 2014, but it does so in a stumbling, bumbling manner that causes the remaining federation administrators in De la Torre's corner to abandon him. He is replaced by another coach. Should that new coach forgive the former holdouts and welcome them back into the fold in time for the World Cup?

Forgiveness may come at a cost, but resentment has its own price. Mexico fans have long dreamed of making an impact at the World Cup level the way the squad has already done in youth World Cups and at the Olympics.

It may indeed reward service and loyalty and call only players for the World Cup who have played during the often tedious and difficult qualifying stages, but it's not necessarily the best way for a team to advance from group play, let alone deep into the tournament.

Common sense dictates that the best players are the key elements to achieve the best results possible. This is seen time and again on the world's top club teams, where skillful players from around the globe unite to win the top trophies.

Then again, others might argue that the collective whole is what really matters to a squad. The bonding of blood, sweat and tears of players who have sacrificed and come together is worth more than the prima-donnas -- no matter their ability.

On the other hand, the elephant in the room regarding this situation is De la Torre. The politically connected coach has a thin skin and a reputation for lashing out. Going public with Ochoa's supposed demands is a scorched-earth policy that seems to purposely make it difficult for the goalkeeper to get back into the squad, even under new administration.

It's also hard to reconcile Vela's statements of loyalty to his country with his actions of direct refusal to play for De la Torre. The strong implication left is that Vela is perfectly willing to play for El Tri, but not De la Torre. Vela, at least, has kept the specific reasons of why quiet, perhaps hoping that a change would come at the helm without his bridges of a return to Mexico burned too badly.

So are the players just too picky, disloyal and demanding, or is the coach too tyrannical, paranoid and incompetent? Is that choice too simplistic, or is there fault on all sides? How can fans be sure of anything and thus, decide which side deserves support? At some point, it will be sorted out and people will make their selection.

Many are putting the decision aside, though, as there are more urgent matters at hand. Despite the assumption that many have made that Mexico will qualify, it hasn't happened yet. What's interesting is that both the players and the coach involved in this latest dust-up have common ground on this count. All three -- Vela, Ochoa and De la Torre, have indicated they think Mexico will qualify, even without the contribution of the two players.

Perhaps the alternative is too horrible to contemplate. Or more likely, none of the trio wants to seem like the person who does not have faith in Mexico's ability to reach the goal. It's not potential that El Tri has lacked this year, however. It's successful execution. There have been a few decent performances, like the recent one versus Ivory Coast, but few and far between a host of listless displays.

When the squad plays against Honduras on Sept. 6, Mexico fans will wait to see if De la Torre is worth his continued tenure. Presumably, somewhere in Europe, two of Mexico's best will be watching as well.