Ranking the best of Mexico and the U.S.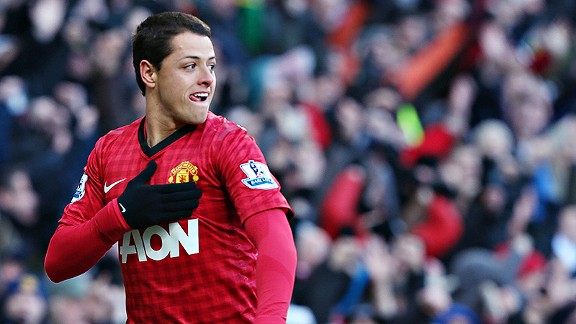 Matthew Peters/Getty ImagesChicharito is No. 1 on our combined top 10 list.
Here's a debate sure to light a fire under every soccer fan from the Canadian border to the Mayan world in the south of Mexico: Who are the top ten players, combined, from Mexico and the U.S. today?

This could surely be a source of interminable debate. The answer, of course, depends on the criteria used: Club playing time and prestige, national team success, track record or potential?

It's a mixed bag, but basing our equations on accomplishments in the club and international game, we'll give our best guess here, ahead of the showdown at El Azteca.

- Carlisle: Into the mind of Mexico's head man

Odds are that few will agree with the complete list. So we'll give our Futbol Mexico rationale, and leave space below for you to fire away at the list and tell us your own in the comments section.

1. Javier Hernandez, F, Manchester United

Hernandez has had his ups and downs in England. He's currently in a competition-induced downturn, making it easy to argue with his position as the best player from Mexico and the U.S. But who from these two countries has accomplished more in the European game over the past few seasons? Chicharito has become a phenomenon in Manchester because of his uncanny knack for scoring goals -- one that has yet to be replicated by anyone else in the region at a top club. He may eventually have to move on to maintain his spot at the top, but for now Hernandez remains our No. 1.

2. Michael Bradley, MF, Roma

Long a solid young player, Bradley has developed in recent months into a truly elite competitor. The best central midfielder in the U.S. or Mexico has seized a regular starting spot at a top-tier club in a top-tier European league, long a challenge for what has been a solid core of American internationals playing at mid-tier clubs in top leagues abroad. A modern field general in the box-to-box mold, Bradley's field vision, still-improving skill on the ball, fire and leadership put him a category above the rest of the zone's central midfield contenders.

3. Carlos Vela, F, Real Sociedad

Vela's goal-scoring form in Spain has many calling him today's best Mexican player bar none. The Cancun native has clearly hit a new pinnacle in his upward trajectory after finally finding the exit from Arsenal. Along with comparisons to Lionel Messi, he has gotten the attention of some bigger clubs around Europe. To truly establish himself as the best from the CONCACAF region, Vela will need to make that move to a top club to continue his goal-scoring success, and eventually return to El Tri to display his abilities.

4. Clint Dempsey, MF/F, Tottenham

Has Dempsey found his ceiling at Tottenham? The Texan always said he wanted Champions League football, and he just may get it in North London. But although he's scored goals, Dempsey's contributions this season have leaned toward pedestrian rather than team-leading. And without the supporting cast in attack, he's struggled to find the same form for his national team. For now, he remains near the regional top as one of the more consistent and established Americans or Mexicans in the world.

5. Tim Howard, GK, Everton

Howard has hit a bit of a downswing in his now-extended EPL career, but few other players from the region can claim such long-standing success in what many consider the world's best league. He plays just as huge a role for the U.S., meaning that the goalkeeper's fire, experience and leadership will be sorely missed at El Azteca.

6. Hector Moreno, D, Espanyol

Probably the least-ballyhooed member of this exclusive group, Moreno has quietly risen through the ranks in recent years to become one of La Liga's best central defenders. That's saying plenty, and puts Moreno firmly in exclusive company both in the region and in Europe.

7. Giovani Dos Santos, F, Mallorca

After battling injuries and playing-time struggles in the Premier League, Dos Santos finally looks to have found his spot in the club game at Mallorca. But where Dos Santos has really shone throughout his career is with Mexico, leading El Tri to its first Under-17 crown in 2005, and continuing to wreak havoc on CONCACAF defenses -- especially the U.S. -- in regional play.

8. Andres Guardado, D/MF, Valencia

Guardado has become perhaps Mexico's most consistent player at the club level in recent years, starring for Deportivo la Coruna before moving on to Valencia. Not always as much of a terror in attack for El Tri as he has been at the club level, his mission leading up to the 2014 World Cup will be to find the same form for his country that he routinely displays in La Liga.

9. Jozy Altidore, F, AZ Alkmaar

Few CONCACAF players have competed for goal-scoring titles in Europe, but since a move to Holland, all Altidore has done is score goals. This year's haul puts him among the Eredivisie leaders, but the success in Holland has coincided with a long goal drought for the national team. If Altidore is ever to be considered among the region's very best, he'll need to figure out how to score consistently in U.S. colors.

10. Marco Fabian, MF, Chivas de Guadalajara

Fabian is the only home-based player to make our list, but it's not for lack of demand that he remains in Mexico. Chivas has been able to afford to hold on to its playmaker in the face of seven-figure offers from Europe. Fabian is yet to find his place in Chepo de la Torre's lineup, and will miss the upcoming qualifiers to injury, but it seems like only a matter of time before he's putting his unique attacking stamp on games at the international and European club level.