Injuries and replacements take over El Tri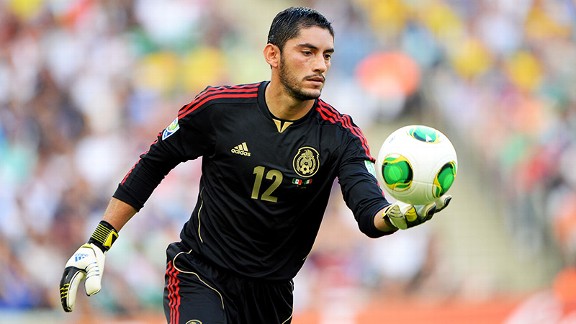 Stuart Franklin/Getty ImagesJose de Jesus Corona has secured the starting spot at goal, relegating Guillermo 'Memo' Ochoa.
MEXICO CITY -- Jose de Jesus Corona is Mexico's starting goalkeeper. On any given weekend, Corona will suit up for Cruz Azul, the Liga MX's runner-up and its domestic cup winner, and face the likes of Oribe Peralta, Herculez Gomez, Raul Jimenez, Marco Fabian and the rest of the league's best.

Meanwhile, keeper Guillermo Ochoa goes through the same routine once or twice a week, substituting the urban jungle of Mexico City for the island paradise of Corsica. His team, Ajaccio, is a perennial relegation candidate in France's Ligue 1, kept afloat largely by Ochoa himself over the last two seasons. He will usually face players like Zlatan Ibrahimovic, Edinson Cavani, Bafetimbi Gomis, Falcao and James Rodriguez. Yet Ochoa has usually backed up Corona for national team duty since 2012.

After striker Carlos Vela's continual denial to accept manager Jose Manuel "Chepo" de la Torre's invitations to rejoin El Tri following a two-year absence, de la Torre has unwittingly given players a precedent to bypass him and publicly question his decisions. Following a pitiful World Cup qualifying run that has Mexico still winless at the mythical Estadio Azteca, the match on Sept. 6 against Honduras looms as a make-or-break fixture for Mexico en route to Brazil 2014.

Despite a strong performance against Ivory Coast two weeks ago in a friendly, Mexico's confidence is not entirely back. And their coach is a big reason why. Ochoa, a regular fixture in past call-ups, was omitted from El Tri's roster for the matches against Honduras and the United States (just four days after the clash against the Central Americans).

"He [Ochoa] asked me if he was going to start for the team. I never promise anyone a starting spot," repeated Chepo ad nauseam on several TV and radio interviews over the next 24 hours after announcing the roster. "He asked to be removed from the list if he wasn't assured this." And so he was. De la Torre, usually the strong and silent type, embarked on an impromptu media tour following the announcements, predictably to shield himself from blame and, instead, dump it on Ochoa. A similar pattern has emerged when the national team manager discusses another notable absentee.

Vela, also not on the list, is Mexico's best player at the moment. Vela has started the 2013-14 season for Real Sociedad the same way he ended it: by scoring and carrying the team at key moments. Vela secured a historic spot for Sociedad in the UEFA Champions League group stage by scoring a brace against Lyon in the second leg of their qualifying playoff.

Lyon had been a fixture in the Champions League across the entire century, gaining a reputation for giant-killing, considering their multiple eliminations of Real Madrid in the tournament's final stages. Real Sociedad will now stand in the French squad's habitual spot. Vela's team will compete in Group A, sharing the spotlight with Manchester United, which means Vela will potentially square off against compatriot Javier "Chicharito" Hernandez. The Mexican international has not yet debuted for United this season because of injuries.

Since Wayne Rooney is apparently staying at Old Trafford despite transfer rumors, and given the re-emergence of Danny Welbeck's and Robin van Persie's sparkling form, Hernandez will likely see limited playing time again this season. This uncomfortable fact, coupled with his injury, has prompted an almost unthinkable debate in Mexico: Should Hernandez be benched for the all-important match against Honduras?

The answer is likely yes, with the surging Oribe Peralta lining up to take the spot. Giovani dos Santos, who also picked up a knock with Villarreal, has not yet been cleared by team doctors to rejoin the La Liga squad's starting lineup. His status remains a mystery for Sept. 6.

An increasingly probable scenario will now have Corona in goal for Ochoa, Angel Reyna or Christian Gimenez in for Giovani dos Santos, Damian Alvarez or Reyna at Vela's spot, and Oribe Peralta in for Javier Hernandez. Four Liga MX players, all fine performers in their own right, subbing for some of Mexico's best, almost unfairly conditioned by their desire to excel in some of the world's top leagues abroad.