Finally, El Tri emerges from its low point
EAST RUTHERFORD, N.J. -- There was no magic. No miracles. There were changes of all kinds: tactical, mental, hormonal and soccer-oriented.

A scalpel was not necessary to change a zombie into Frankenstein. Major surgery was not necessary.

All that was required was to act with common sense, which is the least common of the senses, according to writer and wit Jardiel Poncela.

And Mexico changed. On the pitch. Under the jerseys. With the ball. In their attitude. The team did what it knows how to do, what it always knew, what it has always known how to do.

However, it can't be denied the opposition was ideal. Five missing starters, tiredness, sloppiness, carelessness, unthinkable errors in defense for elite players from European leagues.

But at the end of the day, in the middle of these factors dampening their praise, and the aggravating criticism for the Ivory Coast, and also noting the impact of the 4-1 score line in the final assessment, they were opponents that at times made the most of their physicality, their savvy and their strength, to the extent that a couple of legs could easily have been shorn off in the inappropriate effusiveness as the score line became more lopsided.

And errors were provoked. Mexico was the cause and originator of these mistakes. For each one of the goals. Boka reluctantly confirmed this to African journalists when speaking about the goal which made it 1-0.

"It was the stupidest mistake of my life, but I didn't have time to react differently," he said.

We should be careful: The almost criminal ardor which Ivory Coast displayed at times, which should have resulted in red cards from the ravenous character and judgment-starved Canadian referee, should not be confused with what Honduras will bring to the table.

The catrachos may not have predatory instincts, but they will not give space, time or concessions.

Mexico will not find an open field on Sept. 6th; rather, it will be a minefield laid by Honduras in Azteca Stadium.

On Wednesday night, Luis Fernando Suarez filled the pages of his tactical notebook. He realized that the dying man of the Hexagonal final, third in the table, had suddenly emerged from his coma. Suarez had three napkins to take notes and he ended up asking for several pages. El Tri left him something to ponder: The team emerges from its low point to face Honduras.

The points to highlight? That Chepo de la Torre reacted to the punishment. Amid an ultimatum, the public demanded aggressiveness, goals, and personality. And that is what he put on the field. Only one holding midfielder, aided and helped by other players in his duties. And Mexico played comfortably, especially in the buildup and attack.

There is one thing in particular which the Ivory Coast could not cope with, and that for obvious reasons will present Honduras with difficulties: freedom of movements, which, to repeat, facing a less than demanding test such as the Ivory Coast, was combined with a dynamic of teammates supporting each other alongside quick buildup with the ball, without holding up play as these tactics allowed for easy passing options.

It is true: this dynamic of passing, movement, receiving the ball and being part of the team's attacking flow is enhanced when there is space. It can be disrupted with the obvious double line which Honduras will bring to Azteca Stadium, but it will, curiously, find an ideal setting against the U.S. in Columbus.

And individual highlights? There was good soccer because there were good soccer players, with the risk of sounding like a platitude.

Angel Reyna said as much: "We had players on the field who like to have possession of the ball and we combined well. It was simple, although we had never played together before. We didn't have to complicate things."

Chepo de la Torre found in Chaco Gimenez a player to play alongside Giovani dos Santos, and these two became the natural and dizzily fast conductors of the team, as there were no complications in moving the ball.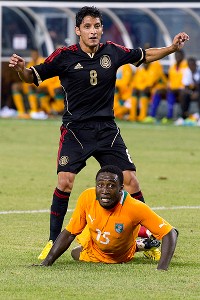 Don Emmert/AFP/Getty ImagesAngel Reyna (8) watches his goal against Ivory Coast's Souleman Bamba.
And adding to Reyna's explanations, with his own display of talent on the field, and in addition to the contribution of Chaco and Gio, on this memorable night, the contribution of Fernando Arce was on display. He not only had time to join the attack, but also to cover the defense of the wings and even to cover obvious mistakes from Gerardo Torrado, who suffered through a long night, and who will be in even more dire straits against faster players due to their greater commitment, such as the Hondurans.

Oribe Peralta? He only confirmed his reputation. He can score. He has predatory instincts. He has no mercy, and more than this, his ability to cope with knocks and his ability to anticipate them equips him with the talent to be a player who is unique in Mexico inside and outside the penalty area.

Yes, Mexico emerged from being ostracized. But the win against the Ivory Coast should now be consigned to history. It only served to confirm that it can, it wants to and it should.

But that fascinating night against Ivory Coast is a fairy tale which will surely command respect, but will not remotely intimidate or create fear or worry in Honduras or in the United States.

The Ivory Coast Elephants are an anecdote. Reality will have stronger demands on Sept. 6 and Sept. 10.